Crucial Tips for Navigating LA Traffic
Shutterstock
Shutterstock
If you've spent half your life navigating the clogged arteries of the sprawling Los Angeles landscape, you come up with all sorts of ways to work around it. Or if you can't, you at least figure out a couple cheat codes to make the life-crushing ordeal more livable. We've rounded up a slew of useful tips for owning America's most congested cityscape -- you'll feel the wind in your hair soon enough.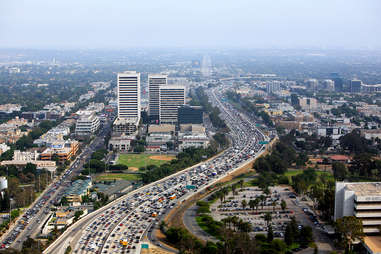 Avoid driving in gridlock hours (duh)
It may seem obvious, but this is Rule #1 of enjoying LA. Whatever you do, stay off the street from approximately 3:30 to 7:30pm (and 7:30 to 9:30am) every weekday. Of course, if you're commuting, this may be more difficult, but it's not impossible if you, say, hit the gym or get a bite to eat before hitting the asphalt. Face a flowing freeway at 8pm rather than leave at 5pm and be lodged in a soul-draining miasma for hours.
Ditch the 405 (another duh)
We're not sure what Clive Barker hellspawn civically designed Los Angeles, but the 405 might honestly be a demonic curse cast on the human race -- even with the creation of those extra lanes a few years ago. If you need to avoid congestion on the 405, the best options are cutting over the Hill on either Coldwater or Laurel Canyons. Both are very poorly kept secrets, but hey, you might see Crosby, Stills, and/or Nash.
And take Sepulveda Boulevard instead
Why take the 405 when Sepulveda not only parallels it but moves faster? It may be a little bit windier, but you're still following the freeway in the direction you need to be. Despite being voted the #1 best traffic shortcut in a 2012 in a survey of 3000 Angelenos, it's still somehow a dependable route to take.
But avoid them both if you're going to South Bay
Don't even chance the morning rush or the airport traffic -- take Vista del Mar, Pershing Drive, and Highland Ave instead of Sepulveda or the 405 to avoid any of that mess. And don't forget about Aviation Boulevard either; it runs parallel to Sepulveda, you can catch it from the 405 and 105, and it has a quarter of the traffic at rush hour.

Use the carpool lane
If you didn't know this already, the carpool lane doesn't only operate during peak hours, but 24/7 (it's easy to forget about it when you're so used to driving by yourself). And if you don't have a passenger with you, the coveted Green Clean Air Vehicle decal grants you access to an alternate universe on the 110, 134, 405 and eastern portions of the 10 where an enviro-ride can fly along in the relative freedom of the carpool lane. It's kind of a bummer that 85,000 decal cap has already been reached, but you can still put yourself on a waiting list in the hopes of grabbing one eventually.
Of course, to use any of this advice you need a car, one that can navigate freeways, gridlock, and even the incredibly rare, actually open LA road. Drop by your helpful SoCal Honda Dealer and check out the new Honda Fit -- compact enough to snag, but big enough to fit five friends, with the gas mileage to get you far, far away from the busy city.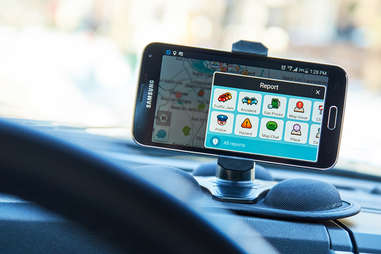 Use the Waze app to zigzag through sidestreets like a pro
Yes yes, a lot of you hate this app. WE KNOW. It's not fun to have a parade of loud, smelly cars rerouted to your street in the early morning because the freeways are hellish. And what's up with all those prompts to make "suicide lefts" against traffic on busy streets, Waze? But which is the lesser evil? Traffic that looks like a parking lot, or this app that is literally designed to reduce congestion by suggesting side streets to zig and zag through based on real time conditions?
Tune in for SigAlerts
Issued by your pals at the California Highway Patrol, Sig Alerts are one of the last defenses keeping you from languishing on the single open lane on the freeway for hours, even though they're often forgot about in this age of Google Maps. Whether it's an accident or a motorcade, a Sig Alert will be broadcast on radio, TV, their website, and signs along the highway. Most people cross reference a couple of different traffic apps to make sure their their route is truly clear or in terrible condition -- throw Sig Alert into that mix (especially because they have handy traffic cams).
Fountain street is like the magic carpet to Hollywood
Take Fountain Street; it's the fastest street going east to west or west to east -- as opposed to any of the others like Sunset or Hollywood Boulevard. It was also actress Bette Davis' answer when she was asked about the best way a young actress could get into Hollywood. ("Take Fountain.")
Don't miss your flight; take La Cienega
Do not. DO NOT. Take. The freeway. You will be a sitting duck. An angry, sitting duck who knows that if the traffic doesn't cause you to miss your flight, those TSA security lines definitely will. Seriously: though it can be rough up until Rodeo, after that the speed limit increases and it opens up. It's basically LA's hidden freeway.
Leave 45 minutes before or after a baseball game
-- or really any highway clogging event. Be aware when the Dodgers are playing, when the President is in town, or when the crowd that Weird Al pulls in at the Hollywood Bowl head to their cars.
Avoid the 10
Take a side route like Olympic Street instead, though the 10 going west into Santa Monica at rush hour is the freeway's saving grace as you sail by against traffic.