7 Incredible Cars for Sale This Weekend at Barrett-Jackson's Northeast Auction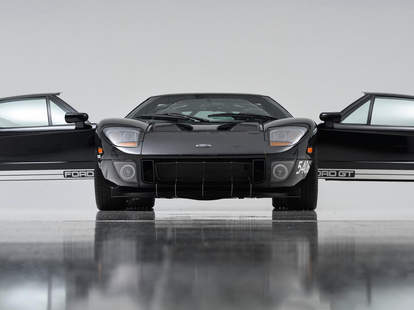 Barrett-Jackson has been auctioning off muscle cars of the highest level for 45 years now. Somehow, in all that time, it hasn't held a major event in the Northeast. That just changed, with its inaugural (and aptly named) Northeast Auction. Don't let the generic name fool you -- some of the cars going under the hammer would hold their own against the best that the famed auction house has ever sold. These are just seven of the greatest; check out the whole list, since it's basically one huge catalog of car porn.
Ford GT CP-1 Prototype

| Courtesy of Barrett-Jackson
Let's start with that stunning Ford GT at the top. The word prototype should stand out to you here. This car was built by Ford to test the fitment of various components. Officially its vehicle identification number reads "004," but make no mistake, this was the very first second-generation Ford GT to be fitted with an engine. Note the license plate: CP 1, or Confirmation Prototype 1. This car was put together so early in the development stage, many parts weren't ready. The steering column is from a minivan, the headliner is made from aluminum, and the "clamshell"-style hood in back is made from carbon fiber -- on the production version, it was aluminum, which saved nearly $45,000 in production costs, per car.
Needless to say, this car isn't street legal, but it's truly that rare piece of automotive history that shouldn't be driven around on public roads.
Courtesy of Barrett-Jackson
Not all secret option codes are created equal, and in the late 1960s, Chevy had one so utterly and amazingly absurd that it would literally be illegal today. It was known simply as L88. Very few people knew about it -- a fact that Chevy was happy about. The L88 option got you an absolute monster under the hood that was never intended for street use. Instead, it was built for GM's top racing partners, who were to use it for their assaults on races like the legendary 24 Hours of Le Mans.
Still, this was back in the days before environmental regulation took hold in the auto industry, and if you knew what you were doing, you could tell GM you wanted the engine, and it would grudgingly oblige. Today the car is more myth than anything else, if only because so few actually exist out in the wild due to its secrecy of the time.
Courtesy of Barrett-Jackson
A pro basketball career gets you many things. Fame and fortune are nice, as is the endless supply of shoes. Dan Gadzuric, though, might be best known as that Dutch basketball player... but his time spent playing for the Bucks meant he had the ability to build this. It's a '67 Mustang at heart, but don't let that fool you. The suspension is fully modernized, the frame is completely custom, and the 392cid V8 under the hood has twin superchargers. In English, it's an 850hp Eleanor clone that'll out-handle the majority of cars on the market today.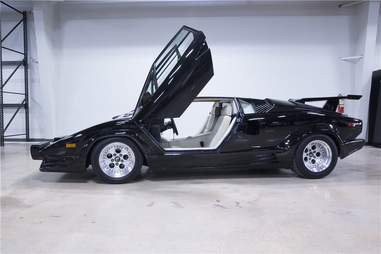 Courtesy of Barrett-Jackson
The Countach is in the Poster Car Hall of Fame. It set the bar so wildly high in the "batshit insane" looks department that, really, any car that tries to top it is merely a derivative work. That includes Pagani, whose wild looks are at the fore of modern design, and whose founder -- Horacio Pagani -- rose to design stardom for successfully doing the impossible: updating the Countach to celebrate its 25th and final year of production. The job was masterful, and just 657 were built, including this one, which is about as mint as a 27-year-old car gets.
Courtesy of Barrett-Jackson
The '56 T-Bird is a classic piece of Americana and epitomizes the best of sporty American cars in the 1950s, as well as anything this side of a Corvette. That's not why this one's here, though. This car is a work of art dedicated to our nation's war heroes. The paint job is pure airbrush artistry, depicting actual acts of heroism caught in photos. The interior features the Medal of Honor for the Army, Navy, and Air Force embroidered in the leather seats… and the entire sale price of the car goes to Wounded Warriors.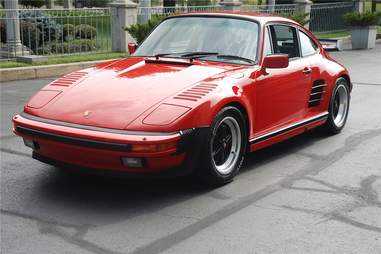 Courtesy of Barrett-Jackson
If you're not a Porsche-phile (well, you probably should be, but that's beside the point) you've probably never heard of the 930 Slantnose, or you just know it as that weirdly shaped 911 from the '80s. It's so much more than that. A rare version of the range-topping 911 Turbo (officially called the 930 in Porsche-speak), the Slantnose features special, hand-built bodywork taken straight from Porsche's 935 racing program. The big deal here is that just 300 examples made their way stateside between 1987 and 1989.
Courtesy of Barrett-Jackson
Think about the most classic off-road-ready vehicles in American history, and the Jeep Scrambler is at or near the top. In many ways it's the coolest Jeep ever produced, and this one is about as perfect as they get. It was fully restored in 2004 as an anniversary present for a loving wife… who apparently loved her husband more than she loved Jeeps, because it went into a climate-controlled garage after just 25 miles, a time capsule it's been sitting in ever since. Translation: it's the perfect toy for playing in the dirt, if you can afford it.
Want more of the world's best Cars delivered straight to your inbox? Click here to sign up for our daily email.