We Drove the $35k Ford That's So Fun, Countries Want to Ban It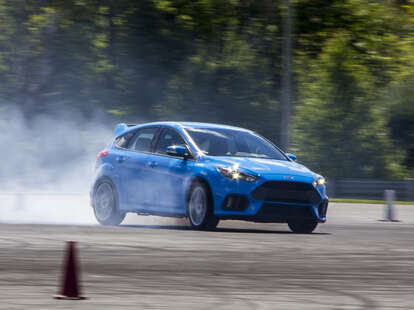 Across the pond, Ford's RS division (short for Rallye Sport) has been souping up the company's European offerings since 1969. Turning modest sedans and hatchbacks into lust-worthy high-performance machines, it's partnered with legendary names like Cosworth more than a few times. It once even made its own production car from scratch -- the now-legendary RS200.
Yet, for all of that performance heritage, one glaring omission looms large over the RS legacy: no Rallye Sport Ford has ever been offered for sale in the United States. Until now. The $35,900 Focus RS -- the all-wheel drive, 350hp, German-built hot hatch that goes 0-60mph in 4.6s -- is quite possibly the most impressive bit of souping up that RS has ever done.
The Focus RS' best party trick: Drift Mode
Take the good ole Ford Focus -- a sturdy, low-key (if not a little boring) daily driver -- and add some functional aerodynamic tweaks like brake ducts and a rear wing. Inside, there are a few strategically placed "RS" logos on the new RECARO seats, but other than that, the differences between the two cars are hard to spot. How do you really know if you're in a Focus RS? Change the performance settings via a switch next to the gearshift, and hold onto your butt.
This is Drift Mode, and it's exactly what it sounds like -- a setting that's so fun, safety advocates in Australia want to ban it before it reaches the Gold Coast, lest Aussie drivers start filling supermarket parking lots with tire smoke. It sends up to 70% of its power to the rear wheels -- specifically to create oversteer, if you're aggressive enough. It's called torque vectoring, and it makes driving sideways laughably easy. Within seconds, everything you think you've learned about drifting from the Fast & Furious movies is instantly applicable. Crank the steering wheel, mash your right foot to the floor, and hold whatever angle you want with the wheel.
The only real caveat is that your over-exuberance can sometimes result in a temporary deactivation of the system while it cools off. If you get to that point, though, you'll probably have to stop for new tires anyway. Truly, it's a tire salesman's dream.
It's great on dirt, too...
If you should find yourself on a road that suddenly transforms into a smooth, gravelly surface, you're in for a treat as the "Rallye" aspect of Rallye Sport comes into... focus. (Sorry.) Simply put the car in Drift Mode and aggressively put your right foot down on the accelerator. The car is already set up to maintain the perfect angle, so you can get through dusty turns looking like you actually know what you're doing. On dirt, Ford should name it Hero Mode and be done with it. Guess that's why Ken Block's current professional plaything is based on the RS.
... and right at home on track
This is a seriously great performance car for beginners. Almost immediately after you touch the steering wheel, the front of the car begins to turn. The result is that the rear end begins to slide out, but rather than a cause for alarm, it absolutely plays to the all-wheel-drive strength of the RS: simply apply more throttle, and the car will go where you want it to. The Focus chassis on which the RS is built does have a fair amount of understeer if you hold your right foot steady in the middle of a turn, but slightly letting off brings the front perfectly in line. Overall, it takes a little getting used to, but once you've got it, it's incredibly easy to drive fast and is insanely forgiving, even when driven with honey-glazed ham fists.
Other than being fun as hell, Drift Mode is a significant technical advancement
Ford is definitely highlighting Drift Mode for its holy-shit-this-is-fun qualities, but actually, the technology behind it amounts to a pretty significant step in terms of vehicle dynamics that could eventually find its way to other vehicles. Basically, the car is front-wheel drive when you're casually cruising down the highway. The moment you exit onto a twisty bit of road, the drivetrain uses a complex system of sensors and algorithms to determine precisely how much power to send to which wheel in order to best aid in handling. That's a big deal, because it's exactly the sort of thing that could be used on other vehicles in the future to aid handling in subtle, less drifty ways that most drivers wouldn't even notice.
Just don't expect anything too glamorous
There's no denying that the RS is outstanding as a driver's car, but its sharp duds are covering an aging body. The Focus, as we know it, is nearing the end of its lifecycle, and the interior has some hard plastics and tired-looking graphics. Ford could have taken a page from Volkswagen or Subaru and installed (or at least offered) a steering wheel befitting its sportiest offering.
The best thing that Ford did for the RS was introduce Sync 3, the latest iteration of its proprietary infotainment system, on the large, center-mounted screen. Some have said that Sync 3 is a user-interface nightmare, but its voice-recognition technology is second to none. You can tell your RS to change the song, pull up Maps, or send a text. It listens. Beyond that, it's refreshing how low-tech the RS really is. You hardly need a YouTube tutorial to figure out how to put the fantastic six-speed manual into gear. Turn off the auto start-stop when you get to the track, and leave it on in traffic.
For the price, it's awfully hard to beat
The Focus RS isn't without competition, in the form of AWD stalwarts like the Subaru WRX STI and Volkswagen Golf R. Both ride on a slightly newer chassis and present more of a performance-oriented interior, but also cost more while offering less performance. And of course, neither has Drift Mode. The bottom line? If going sideways is your thing, there's a Focus RS in your future.
Want more of the world's best Cars coverage delivered straight to your inbox? Click here to sign up for our daily email.