Badass Cars With Secret Options You Never Knew Existed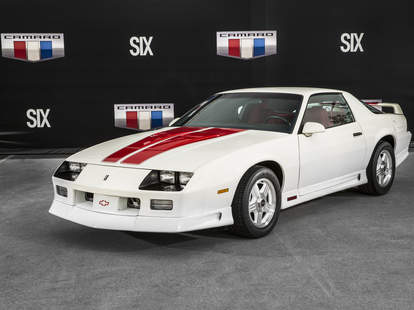 There's a certain coolness in customizing your own car, as opposed to just strolling into a dealership and picking one out. It's kind of like ordering at a sandwich shop: you're presented with a smorgasbord of options (short alpha-numeric codes) to pick and choose from. The end result can be sublime, perfectly tailored to your tastes -- or, so hideously awful, the manufacturer adds a label that essentially says "look, this wasn't our idea."
Every now and then, there's a secret Easter egg on the ordering form -- something unbelievably cool, like an unadvertised option (see: the now-legendary COPO Camaro) or a specific option combo that'll trigger additional equipment you wouldn't get otherwise. Even cooler? Sometimes you can buy these cars for super cheap -- if you get a seller who doesn't realize what they've got. 
I discovered one of these hidden options when I ordered my car last year: a BMW 228i with both the M Sport Package (ZMM) and the Track Handling Package (ZTR). As a result, it came with an extra radiator -- a happy surprise, since it means I can take longer stints on a race track in the 100-degree Texas summer without overheating my car.
This got me thinking -- how many other cool option combos are out there? The answer is tricky, since, well, these are some of the best-kept secrets in the industry. But there are a few well-known examples of brilliant hidden options from the past few decades that resulted in some truly unique, badass cars.
Porsche 924S SE
Option code: M-756
Year: 1988
Created as a "special edition" celebrating Porsche's heritage, option package M-756 triggered a few bits of coolness for drivers who were willing to gleefully sacrifice civility in the noble pursuit of performance. The result was a stripped-down, lightweight car, with manual windows and steering -- no radio, no sunroof, not even a passenger-side mirror. But owners could add back whichever features they really wanted, so of the 500 that made it to the States, few are identical. One non-negotiable, though: it only came in black.
Mazda Miata
Option code: MCS
Year: 2003
MCS (that's Miata Club Sport) is about as hardcore an option as you get. Tick that box, and buyers said goodbye to the A/C, radio, and even the power steering. If you ordered the hard top, Mazda took the unusual step of physically removing the soft top to save weight. They really intended for these to go to racers only (like the one shown here, which recently sold for around $13,000), and capped production at 50, but ultimately anyone who knew of its existence could order one.
Courtesy of GM
Chevy Camaro
Option code: 1LE (technically a package group triggered by a combination of other options)
Years: 1988-1992
If you thought the other cars on this list were kept under the radar, this one is next level: the key to ordering a 1LE more or less started with a secret handshake and ended with a request on the day of an importer's daughter's wedding. Ordering a Camaro with performance-oriented options related to the axles, and, crucially, without A/C automatically resulted in an upgrade to Corvette front brakes, increased cooling capacity, and a few other special parts to make it better on a race track.
BMW E46 3 Series
Option code: ZHP
Years: 2003-2006
I almost didn't include the ZHP on this list because it's hardly a secret in the BMW community. Just over a decade ago, though, ZHP was an innocuous item on the order sheet for the most hardcore of the non-M3-buying crowd -- people who wanted to sacrifice some ride comfort for substantially improved cornering capabilities. Visual cues inside and out were subtle hints at the car's fairly aggressive suspension workover, while unique wheels and a steering wheel wrapped in Alcantara rounded off the standout features.
Flash forward to today, and the option is so highly regarded that BMW is actually making a sequel, the ultra-limited (100 examples) 435i ZHP Edition.
Oldsmobile Cutlass Calais Quad 442 HO
Option code: W-41
Year: 1991
There's a common misnomer in Oldsmobile history that "442" relates to engine size, but outside of quantifying various mechanical components, the 442 moniker has little to do with the engine itself. When the name appeared in '91 for the Cutlass, it made zero difference that there wasn't a V8 to be found. 190hp in a 2,600lb car in 1991 put the Oldsmobile in a similar playing field as its legendary contemporary, the BMW E30 M3. Granted it's front-wheel drive, and nowhere near as agile a handler as the Teutonic legend, but it will also run you roughly one-tenth the cost today.
Why on Earth would Oldsmobile offer such a car? Oldsmobile's marketing team wanted to go racing, and it needed something remotely competitive that could be produced in enough numbers to make it legal for its class.
Want more of the world's best Cars delivered straight to your inbox? Click here to sign up for our daily email.
Aaron Miller is the Cars editor for Thrillist, and can be found on Twitter. He's sure he missed a bunch of badass secret options, and looks forward to hearing about what they are.