Red Bull and Aston Martin Are Making the Fastest Car in the World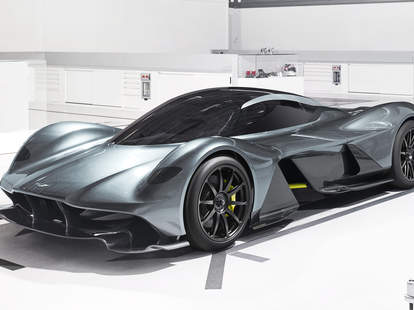 Going fast around a racetrack is nothing new for James Bond's marque of choice. Aston Martin's history is brimming with motorsport heritage, all the way back to the origin of its name -- which it took after winning a hill-climb race up Aston Hill. It won the 24 Hours of Le Mans in the 1950s with guys like Carroll Shelby behind the wheel, and today it still competes quite successfully around the world in GT-class racing.
Building Ferrari-flattening, McLaren-mauling, Porsche-pounding hypercars, though? That's a little different, but with the debut of the AM-RB 001, that's exactly what it intends to do... with a little help from the engineering prowess of... Red Bull?
Courtesy of Aston Martin
Red Bull might seem weird here, but it makes sense
OK, so it
sounds
a little weird to say that Aston Martin and Red Bull are collaborating on a world-beating hypercar, but it's truly a technical partnership and not some high-concept ad campaign about giving the car wings. If you follow motorsport even in the slightest, you'd know that Red Bull has been designing and building its own Formula One cars for over a decade now, and recently completed one of the most dominant stretches in the history of the sport.
Simply put, this partnership allows Aston Martin to use some of the most advanced go-fast technologies to build a rocket ship for the road, and it allows Red Bull, which is seemingly everywhere, to take the first foray into making its own road cars. It makes an awful lot of sense.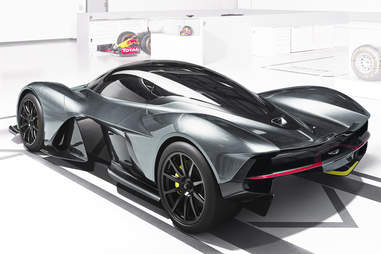 Courtesy of Aston Martin
It's game-changingly fast
Who cares about making
sense
, though? This is about making the fastest car in the world. How fast? Both Red Bull and Aston Martin are bragging that the car can lap the famed Silverstone circuit in England every bit as fast as cars like the Porsche 919 Hybrid -- a full-on prototype race car-slash-R&D project with a rumored nine-figure budget.
And that's comparing the car to an out-and-out racer, which isn't true competition. The performance of road cars like the LaFerrari and McLaren P1 will be absolutely sluggish by comparison. If this car lives up to expectations, it's a game-changer.
Courtesy of Aston Martin
The faster it goes, the better it handles
If the shape of the car looks sleek, well, that's because it's designed to cut through the air with incredible ease. You might notice there aren't any wings unlike so many other cars -- and despite the presence of Red Bull, famous for
promising to give you wings
-- but what you can't see is that the entire underside of the car is shaped to create a huge vacuum that literally sucks the car to the ground.
Theoretically, the faster this car goes, the better it can corner. With a monstrously powerful V12 mounted in a ridiculously lightweight construction, Aston claims the AM-RB 001 will have the same power-to-weight ratio of the Koenigsegg One:1. On top of all that, toss in a suspension derived from Red Bull's F1 know-how, and you've got a recipe that should quite easily result in the fastest road car on Earth.
Courtesy of Aston Martin
Can it really be that fast?
The car was designed by Adrian Newey, a man whose work on aerodynamics is far too revolutionary to discuss in depth here. Suffice it to say that his designs have been winning almost continuously since the 1980s, from multiple Indy 500s to no less than
10
F1 World Championships. While Aston is being a little coy with details right now, there's no reason to believe the AM-RB 001 will fall short.
Aston Martin plans on making between 99 and 150 AM-RB 001s, and 25 track-only versions that will test your neck muscles to their outer limits, with deliveries scheduled to start in 2018.
Want more of the world's best Cars delivered straight to your inbox? Click here to sign up for our daily email.