The Coolest-Looking Cars That Came Out This Year
Some truly remarkable cars hit the pavement in 2016, and we've already picked our 12 all-around favorites. But we'd be remiss not to highlight the cars that, regardless of how they actually drive in real life, just look cool as hell. Make no mistake, some of them are no doubt fantastic automobiles, but they're on this list because they debuted in 2016 with sensational beauty, oddly alluring lines, or crazy off-the-wall designs. Feast your eyes on the most badass poster cars of the year.
Courtesy of Lexus
When Lexus first debuted the LC as a gorgeous grand tourer concept car, it was purely that: gorgeous, and just a concept. Then, at the North American International Auto Show (aka the Detroit Auto Show), the company revealed the production version... which looks almost identical. It's rare that a car goes from concept to production with such little change, but when your designers get it right the first time, change for the sake of change is silly. Throw in the choice of a 471 hp V8 or a 354 hp hybrid V6, and this is one tempting Lexus.
Courtesy of Rezvani
Rezvani made a splash a couple years ago when it announced it was going to build a dirt cheap (relatively speaking) offering with legitimate supercar performance, called the Beast. Flash forward to today, and the newest version of the Beast, the Alpha, features two of the wildest doors ever to grace an automobile. They don't open upwards, swivel outward, or pivot, but slide forward like something you'd expect to see in a futuristic sci-fi film.
Courtesy of Mazda
When the world's best selling roadster hit the streets over a quarter century ago, the only thing separating it from absolute perfection in the eyes of enthusiasts was a hard top. Now on its fourth generation, the Miata finally has the next best thing to a proper coupe option: a retractable targa top option not unlike the Porsche 911 Targa. Its beauty is self-evident, even if the top's mechanized hiding system isn't.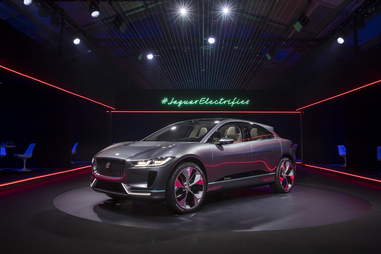 Courtesy of Jaguar
Jaguar has just had one of the most successful design rebrands any car company has ever been through. Following home runs like the F-Type, XE, and the F-Pace SUV, they've made their first ever all-electric vehicle. Just look at it. It's so beautiful and so far beyond what Jag's been doing, you'd be forgiven for thinking it's just a statement of intent for designers rather than a legitimate future product. Indeed this is the concept version for now, but Jaguar already confirmed it's going into production.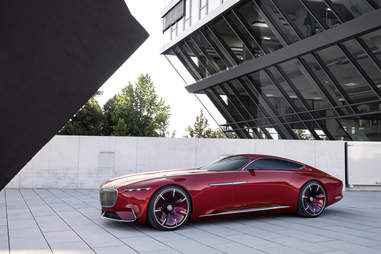 Courtesy of Mercedes-Benz
File this one under how designers would pen cars if they had no restrictions placed upon them. Its ultra-sleek lines and impossibly long front deck lend the car an almost 1930s, Art Deco-like quality. As with a few of the other cars on this list, it's mostly an artistic exercise, albeit one that will ultimately result in some of its design language leaking into the upper echelons of Mercedes' lineup.
Courtesy of General Motors
There's not really a better way to describe the Avista concept than simply stunning. The 400 hp coupe is based on the same platform as the Chevy Camaro and Cadillac ATS -- meaning it shouldn't be cost-prohibitive for GM to develop -- but, alas, it's one of the sexiest cars GM will never build. That's a damn shame, and the Avista will go down in history as one of the greatest teases in American automotive history.
Courtesy of Bugatti
A new Bugatti doesn't come around every year... or even every decade, for that matter, so when it does, the company's designers are charged with the unenviable task of drawing what will no doubt be a future poster car. Amidst that kind of pressure, all they did was pen an impossibly sleek collection of hard edges and swooping lines that are positively dripping in class.
Courtesy of FCA
On one hand, Alfa Romeo building an SUV sounds like sacrilege... but on the other, Jaguar's kicking butt with its F-Pace, and the likes of BMW and Porsche joined the game ages ago, so Alfa really had no choice. Given the Stelvio's beauty, perhaps it's actually more of a shame that Alfa Romeo hasn't been producing SUVs all these years.
Courtesy of Infiniti
Infiniti making righteous coupes is really nothing new. For the relatively young brand's third generation of its grand tourer, it outdid itself in the design department, combining angles and curves and brand DNA in ways that shouldn't work... but somehow do.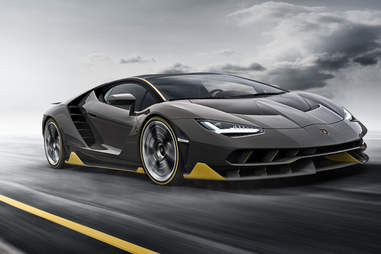 Courtesy of Lamborghini
That Lamborghini is in an unrelenting quest to redefine automotive insanity is hardly at question, but the Centenario takes the company's design language to levels of comic book-like madness. Look long enough, and you can see the not-exactly-bland Aventador (on which the Centenario is based) lurking beneath the design extravagance. Look longingly enough, and you'll start calculating how many years you'll have to work simply to afford a down payment on the roughly $2,500,000 car.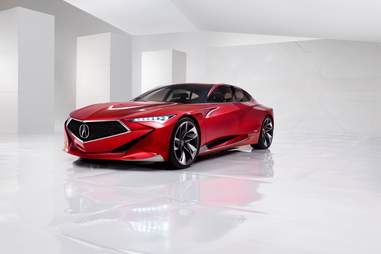 Courtesy of Acura
Yes, it's a design concept, but it's still a pretty neat exhibition of what Acura's designers are planning to pen in the future. While it's unlikely that the rear-hinged suicide doors will ever make their way onto a production Acura, the sharply pointed lines almost certainly will.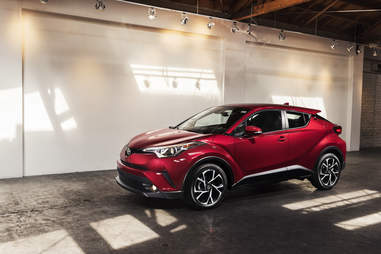 Courtesy of Toyota
It shouldn't come as a surprise that Toyota is making a compact crossover to go toe to toe against the Nissan Juke. What is surprising is how wild the C-HR's lines are. Perhaps even more beautiful than the bodywork on the C-HR is the beauty beneath its skin: It's engineered to be legitimately sporty, and early indications are that it's accomplished its goals.

Want more of the world's best Cars delivered straight to your inbox? Click here to sign up for our daily email.
Aaron Miller is the Cars editor for Thrillist, and can be found on Instagram. If Buick actually bothered to build it, he could see the Avista becoming a fantastic rival to the upcoming Supra.