What makes for a great college car? There's the obvious -- cheap, safe, reliable -- but we all know there's much, much more to it than that.
The ideal college car can get a little dirty, should someone suddenly feel nauseous in the back seat. The ideal college car should have decent cargo space with which to accommodate tailgating, camping, and schlepping to and from home. It should fly far, far under the radar of every law enforcement officer within a 30 mile radius of campus. And it should be cool.
Is there one single vehicle that epitomizes the ultimate college car? Probably not, but here are 10 that come pretty damn close.
Price: $3,000-$6,000 for an older one
New Miatas aren't exactly expensive, and older Miatas can be downright affordable. OK, so the cargo space is virtually non-existent, but on the flip side, the same can be said about the back seat. Every time your friends ask for a ride somewhere, "Sorry, no back seat," will sound that much sweeter. Add in that Miatas aren't exactly public enemy numero uno for local law enforcement, and you've got a damn fine college car. Bonus: college is basically the last time you can get away with puns about going topless in your car.
Price: Starting at $4,000
This is a no-brainer. Grab an oldie but a goodie, make sure it's got vinyl seats and a rubberized coating on the floor, and you're good to go no matter what shenanigans go on inside. There's quite possibly no greater vehicle to have at the beach and watch the sun rise on another day of spring break.
Price: $29,910 (but with killer deals right now)
An electric car? For college? Well, yeah. Zero down and $200/month make that a fairly obvious choice. It's reliable, and great for driving around town... even if you won't be taking it on any road trips. Mind you, this only really works if you live somewhere with bountiful charging stations, though at many college campuses today, EV charging is available for free with a parking permit.
Price: $14,090 (base) to $20,970 (ST)
The Fiesta starts at just over $14,000, which is considerably less than out-of-state tuition. In hatchback form, it meets every standard of road trip worthiness, and if you spring for the Fiesta ST (just over $20k), you have a car that's legitimately fun to drive, too -- so much so that buying a new car might not be the first thing you do after you get that real job.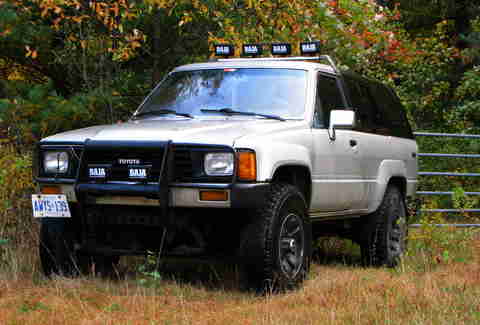 Price: Starting at $2,000
Older 4Runners are dirt cheap today, and they also look good dirty. If you've gotta park a vehicle outside for a few years, that's a serious factor to consider. You can take them just about anywhere, and their ruggedness is virtually guaranteed: the first couple generations of 4Runners were essentially SUV versions of the legendarily indestructible Hilux pickup.
Price: $16,975
Forty miles per gallon isn't exactly bad. Neither is the availability of Apple CarPlay and 4G LTE in a compact car. Toss in folding rear seats and you have a reliable road-trip-able car that'll last longer than your school's head football coach, probably.
Price: Starting at $3,000
Driving a classic in college is always a cool way to go, and if you're gonna be in a classic, the Beetle is A) incredibly easy to keep running, and B) one of the all time great go-almost-anywhere cars.
Price: Starting at $1,500
Hear me out on this one. The Aztek is nearly universally panned as one of the worst vehicles ever made, sometimes even beating the infamous Edsel. The thing is, it was actually made with the intent of supporting the kind of active lifestyle that makes it perfect for college -- you can definitely camp out of the back of it. Besides, it'll never really lose value, since it's already pretty far down the totem pole as is.
Price: Starting at $4,000
Is a Prius exciting? Um. Not exactly. But it's reliable even if you buy an older one, it's inexpensive, and it obviously has great fuel economy, which all adds up to a fine college car. The fifth door really helps in the cargo department, too.
Price: Starting at $3,500
I'm not gonna lie -- Mustangs of a certain age do tend to attract the attention of law enforcement, and they certainly don't hold a candle to the reliability of a truly modern car. Still, you can successfully move an entire academic year's worth of belongings in an old Mustang hatchback, and they're inimitably cool, and plenty of fun.

Want more of the world's best Cars delivered straight to your inbox? Click here to sign up for our daily email.