6 Cars That Prove Volkswagen Has Still Got It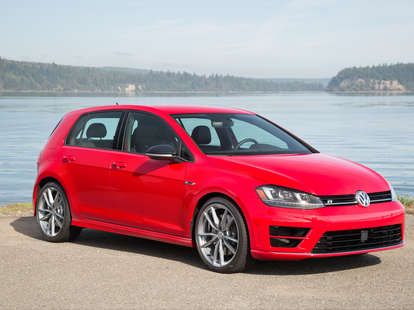 It's virtually impossible to have missed what happened with Volkswagen's diesel program over the past year -- mainly the settlement that arose following the revelations around software that skewed emissions testing and the spate of diesel buybacks about to begin. But despite that, the simple truth is Volkswagen still makes some of the best cars on the road.
I recently had an opportunity to reacquaint myself with the VW lineup, and there's much to love. Yes, it's still OK to love Volkswagen -- even if the TDI models are on the bench.
Why it's OK to love it: It's essentially perfection on four wheels.
Price: $26,415
Let's lead off with a winner. I'll readily admit I'm a bit biased when it comes to the GTI, having previously owned an older one. Still, almost everything about the GTI makes practical sense for anyone interested in an everyday performance car. It's proof that you don't need more than 200hp or so to tear up the neighborhood, and it's nigh-on impossible to fault its handling characteristics. The steering feels real. Handling is crisp and precise. The suspension lets in just the right amount of road feedback, turning off-ramps into road courses. Add in an interior that punches at least a class above its weight, the ability to throw a bike in back, and a super-reasonable price tag, and there's a lot to love.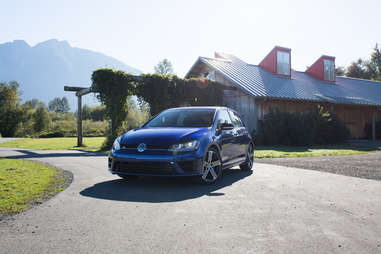 Why it's OK to love it: It's a hatchback that's also a sports car. Need I say more?
Price: $40,195
Think of the Golf R as the über-GTI. It's got everything you love about the car above, then adds 82 horsepower and all-wheel drive. Its price encroaches on Audi territory, but remember that the Ford Focus RS doesn't cost much less, and lacks the Golf R's interior quality and utility.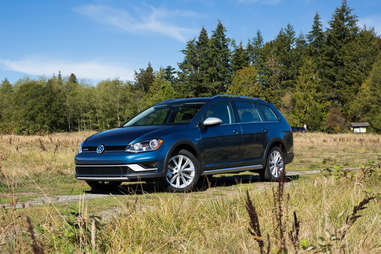 Why it's OK to love it: It's a durable, German alternative to the Subaru Outbacks of the world.
Price: $27,770
It may be little more than an AWD Golf wagon that's been lifted ever so slightly, but the Alltrack still makes a compelling case in areas of the country where things get mucky. It combines everything you like about driving a Golf -- size, maneuverability, power, build quality -- with the capability of a hiking boot. And as I learned during a brief stint off-road, it can even lift a wheel and make it through fairly tough terrain. If you like the Golf Alltrack's value proposition but don't need the two-tone trim, check out the Golf SportWagen S 4MOTION, which is nearly the same package, just lower to the ground, for three grand less.
Why it's OK to love it: The tasteful CC only gets better with age.
Price: $35,340
It's a testament to the underlying quality of the CC that the quasi-coupe is virtually unchanged since it debuted in 2007. Some people would look at those numbers and see the CC as a brand-new, 10-year-old car. I see it as arguably the most elegant four-door on the market. It's as great as ever to drive, comfortable and powerful at once. Both the 2.0L turbo engine and 3.6L VR6 are a blast to wring out. The rest of the Volkswagen lineup has modernized over time, sure, but it's almost more significant that the CC has become better with age. And at just under $35k, it's a relative steal.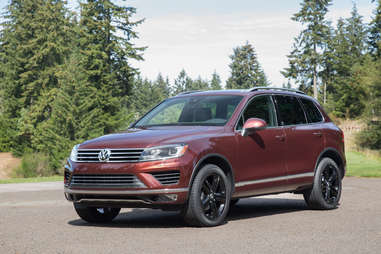 Why it's OK to love it: VW's workhorse is a reminder that toughness is a luxury.
Price: $50,405
It doesn't take much more than a spin around the block to realize that the Touareg means business, whether or not it's your first time behind the wheel. Something about its blocky, svelte build imbues the Touareg with swagger. It's a little expensive for a non-luxury midsize SUV but its functionality more than justifies the price.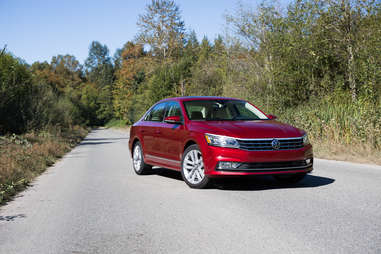 Why it's OK to love it: It makes you feel like any highway could be the Autobahn.
Price: $30,115
The Passat has definitely lost a little dynamism in exchange for size and comfort over the years, but the 280hp, V6-powered model is a happy return of some performance. In a segment where so many car companies have dropped their six-cylinder engines entirely, Volkswagen picked up the slack and unshackled the Passat. As a result, the V6 SE is a sublime mode of transport for family and friends, best enjoyed in comfort and at speed as you cruise down the freeway.
Want more of the world's best Cars content delivered straight to your inbox? Click here to sign up for our daily email.