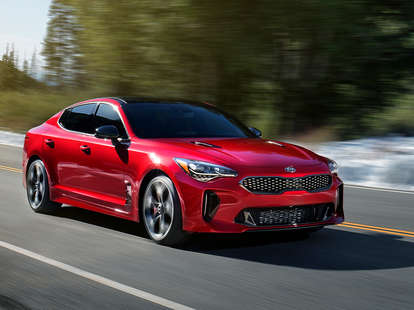 The Best Cars You Can Actually Afford From the Detroit Auto Show
The North American International Auto Show, more commonly known as the Detroit Auto Show, is still one of the most exciting events of the automotive calendar. Despite being held at the heart of our nation's second-worst winter experience, NAIAS is the stage on which manufacturers introduce many of their most important cars. This year's most exciting news, even if it wasn't entirely a surprise, is the return and rebirth of the Ford Ranger and Bronco. While you won't be able to buy either until 2019 or 2020, respectively, plenty of vehicles that will soon be on the market made their debuts.
These are some of the very best you can buy without sacrificing your spare kidney.
The definitive mass-market sedan finds an edge.
Price: TBD, but expect mid-$20,000s
The Toyota Camry has dominated car sales in the US for 15 consecutive years now, despite a reputation that even Akio Toyoda, the company's CEO-slash-legacy namesake, wouldn't exactly describe as sexy. For Toyoda, rejuvenating the entire Toyota and Lexus lineup is a matter of personal and familial pride, and that passion is in the new Camry -- poster car of mass-market sedans that will hit American roadsby the hundreds of thousands.
Camry's design team placed a heavy emphasis on style, evident from virtually every angle here. The 2018 model has a much, much more aggressive demeanor, and two distinct attitudes: boldly lined SE and XSE packages, and somewhat softer LE and XLE variants that emphasize a more cushioned experience.
Inside, the new Camry features (in addition to the stylistic redesign, obviously) tangibly upgraded tech, like a full-color heads-up display and Toyota's next-generation Entune, which offers better navigation and a host of apps that enable everything from monitoring what "guest" drivers are up to in your car, to remote starting capability.
Still, the difference between an appealing car and a good car is in the engineering, and that's the truly intriguing aspect of the new Camry. It's over an inch lower than the outgoing model, which is a lot even if it doesn't sound like it. The result is what Toyota promises to be a significant improvement in handling without sacrificing comfort. It's poised to be the best Camry in recent memory if it drives anywhere near as good as it looks.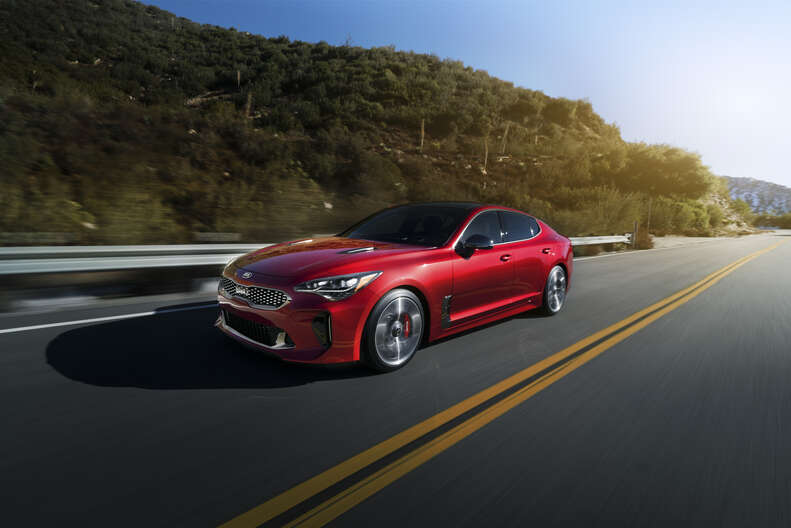 Kia gets serious.
Price: TBD, but expect low-mid $30,000s
Easily the most ambitious car to debut at the show, this is Kia's first serious attempt at attacking the established sport sedan hierarchy. The Stinger -- yes, that's its actual name and no, this isn't a concept -- shows hints of both BMW and Alfa Romeo in its design cues, but not much else that the average person would expect from a Kia. No knock on Kia, but that's a good thing.
It's big -- bigger than comparable offerings from BMW, Mercedes, Audi, Lexus, et al., and to compensate for the inevitable mass that comes with size, Kia's offering a 365hp turbo V6. Performance features are squarely in line with its competition, too, with an electronically adjustable suspension, your choice of rear- or all-wheel drive, and a mechanical limited slip differential to help put the power to the pavement (something BMW's 3 Series doesn't even offer as factory option). Kia's also delivering plenty of tech, like a full-color heads-up display, lane-keeping assist, cross-traffic alerts, and a "Driver Attention Alert" system. While not the first of its kind, it's new to Kia, and it monitors your inputs as you drive, senses if your mind's wandering off, and beeps at you and recommends a break from driving if all signs point to you falling asleep at the wheel.
It makes sense. With so much invested in the car's looks, you wouldn't want it getting crunched up, would you?
Pick your high-tech, luxurious poison: efficiency or blinding quickness.
Price: Starts in the low $50,000s, but goes as high as you'd like
BMW's showed off its new 5er, which starts in the low $50,000s, and offers a hybrid (530e iPerformance) that can drive in pure electric mode. Should you be gripped more by the need for speed than for savings, the M550i xDrive is monumentally fast -- with 462hp and all-wheel drive, it'll beat a current-generation M5 off the light -- but it's, um, not priced in the $50,000 range. All of the 5-Series models offer BMW's latest safety features like Lane Change Assistant, which will actively steer you back when you try to change lanes without looking, and Active Cruise Control, which monitors the current speed limit and adjusts accordingly, within an acceptable range that you control (i.e., it will speed a little, if you say it's OK). On the inside, the revamped interior benefits from gesture control, which means you don't have to actually touch the dashboard to make adjustments.
The best-selling vehicle in the world goes diesel for the first time. Ever.
Price: TBD, but expect it to start in the upper $20,000s
While the 2018 F-150 is largely an update of the 2017 model, with tweaks to the bodywork representing only a subtle visual change, there lurks under the skin a pretty monumental update.The F-150 adds a 3.0L Power Stroke diesel engine for those craving added torque, towing capacity, and fuel economy. Amazingly, this marks the very first time in its long and storied history that the F-150 has been offered with a diesel -- you previously had to jump up to the F-250 or higher to go that route. On the tech side, a new suite of driver aids includes both pedestrian detection and stop-and-go traffic-capable cruise control, while the truck now offers 4G LTE and an upgraded stereo from B&O.
Big tech for GMC's smallest SUV
Price: TBD, but expect mid-$20,000s
As GMC's most budget-friendly vehicle, the Terrain represents fully one quarter of the brand's sales figures. The design of the Terrain takes things up a notch... or three notches if you count how high the designers made those rear side windows. They're actually sparking a bit of controversy -- the design of the windows hinders the visibility, forcing the driver to rely primarily on GMC's blindspot monitors. Interestingly, the Terrain has a special warning system specifically intended to remind you to check the backseat for any unattended occupants before you lock the door and walk away. Also new for 2018 is a 1.6L turbo diesel that should help keep prices down at the pump, potentially saving you enough money to spring for the optional Bose sound system, to better take advantage of the now-standard Apple CarPlay and Android Auto.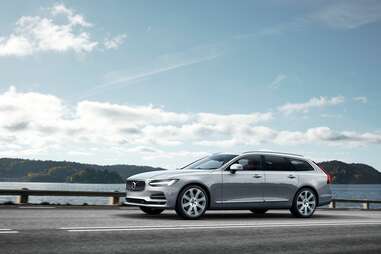 Long live sexy Volvo wagons (with state-of-the-art self-driving tech).
Price: TBD, but expect high $40,000s
Available in Europe since late last summer, the V90 made its American debut in Detroit, which means it's one step closer to a reality on our streets (look for it this spring via special order). In terms of technology and performance, it's virtually identical to the S90, which means you're getting Volvo's highway-capable Pilot Assist system, which gives Tesla a run for its money. (Check out our full first drive review of the S90, and its Pilot Assist.) The only tangible differences between the two models are the C90's extra room, and its sexy wagon profile. Volvo hasn't yet disclosed US pricing, but expect it to start just this side of $50,000, though options will certainly take it past that point.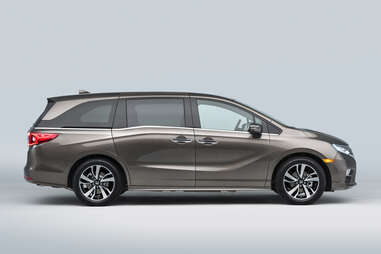 Those kids in the backseat may have met their match.
Price: TBD, but starting at around $30,000
The redesigned, 280hp Odyssey is one of the hidden stars of the show, with a host of features aimed at minimizing driver distractions -- specifically the small, living, breathing, screaming distractions that almost every minivan owner keeps in the backseat.
Interior cameras are aimed at the second- and third-row seating, enabling a quick check of what the little ones are up to without having to adjust the rearview mirror. A microphone up front can interrupt your kids' headphones, too, giving you a God-like presence in their ear and eliminating the "I didn't hear you" excuse entirely. As with previous Odysseys, there's an onboard vacuum to pick up the spilled snacks that your kids won't. All told, it's as close to a childproof vehicle as you can buy.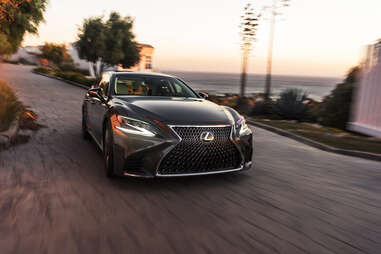 Lexus is playing hardball in the big sedan game.
Price: TBD, but expect mid-$70,000s
Yes, we're stretching the word "affordable" here, but with a price that should start in the mid-$70,000 range, the LS 500 is a relative bargain compared to the German limousines like the BMW 7 Series, and Mercedes S-Class with which it directly competes. With that in mind, the new iteration of Lexus' flagship luxury sedan just debuted with an all-new, 415hp, twin-turbo V6 and a fairly radical departure from recent LS designs. If anything, the lines, gradually swooping as they move toward the rear, are more akin to an Audi S7 or Porsche Panamera than what you would normally associate with a Lexus.
The LS was the very first Lexus introduced back in 1989, and ever since then the LS has been the marque's flagship sedan, responsible for showing off Lexus' engineering and design prowess. You can get a shiatsu massage and prop your feet on an ottoman in the rear seat, but the cool tech is up front. The heads-up display is 24in. Think about that one for a second, because it's the largest HUD on the market, by a considerable margin. That extra size means it can give you more relevant and urgent information without having to take your eyes from the road. That plays out in concert with new features like a pedestrian detection system that warns you if someone's about to cross the road. If you still somehow manage to ignore the warning, the LS 500's active steering and autonomous braking kick in to, well, avoid hitting anyone.
Want more of the world's best Cars content delivered straight to your inbox? Click here to sign up for our daily email.