The Most Badass Cars at the 2016 Geneva Motor Show
When it comes to car shows and introducing the world to new vehicles, the yearly calendar is pretty packed. Detroit is all about American iron; Los Angeles shows off ultra luxury; Tokyo focuses on technology and powertrain; Frankfurt is all business. But every spring, the automotive world looks to the Geneva Motor Show for the newest, most badass luxury and performance cars -- and unlike so many other shows, Geneva offers both auto manufacturers and major tuning companies alike the chance to show off their latest work. Here's a behind-the-scenes look at the most outrageous and notable vehicles from the year's most polished auto show.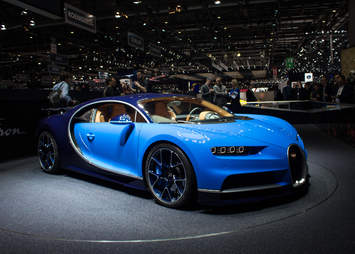 Jeff Jablansky
Bugatti Chiron
Stealing more than its fair share of the limelight in Geneva was French automaker Bugatti's first model in a decade, the 1,500hp Chiron. After all, the $2.6 million Chiron had to follow the impressive act of its predecessor, the 1,200hp Veyron, and what better way to make news than with even more horsepower, luxury, and performance baked in?
Courtesy of Newspress
Porsche 911 R
Can Porsche make the 911 an even more badass leader in performance? That's the mission of the 911 R, which infuses the key words for racing (hence the "R"): speed, lightness, and focus. Only available with a six-speed manual, the 493hp special edition caters to drivers who value performance and capability over luxury. Disappearing, for a combined 110lb weight savings, are a backseat and even door handles. Purists only, please.
Courtesy of Newspress
Aston Martin DB11
Among the most beautiful releases in Geneva was the long-awaited successor to the Aston Martin DB9, the sultry DB11. In every way, the DB11 advances the mission of Aston Martin to offer a luxury performance car that's thoroughly British in concept and execution. The interior is now a cut-and-sewn, customizable masterpiece with tech enhancements thanks to a partnership with Mercedes-Benz. And a 5.2-liter V-12 is now turbocharged with 600hp, making quick getaways even quicker. Get ready to fulfill your James Bond fantasies. 
Jeff Jablansky
Land Rover Range Rover Evoque Convertible
What could be more badass than chopping the top off a luxury SUV to create a convertible? That's the argument that fomented the creation of the Range Rover Evoque Convertible, which is set to launch in the near future.
Jeff Jablansky
Mitsubishi eX Concept
We first saw Mitsubishi's eX Concept at the Tokyo auto show last fall, where the brand with fewer and fewer product offerings surprised the home-market crowd with a new spin on the EV. In Europe, the mustard-yellow SUV received a similarly warm welcome alongside two new concepts, the less innovative "Geoseek" editions of the L200 pickup truck and Outlander/ASX. The bolder move will be for Mitsubishi to set the wheels in motion and actually produce the eX.
Jeff Jablansky
Toyota CH-R
In terms of styling, the Toyota CH-R is essentially a Nissan Juke without all the crazy. In terms of powertrain, it's a Prius on stilts. The jury is out on this one, but kudos to Toyota for developing a product beyond the usual sedan or crossover. The CH-R looks great.
Jeff Jablansky
Volvo 1800ES
It's not uncommon for automakers to flex their muscle by showing off models from their past. This mid-'70s Volvo 1800ES is a gloriously preserved example of the shapely Volvos that came to influence newer models, like the upcoming S90 and V90. Just down the hall, Jeep pursued a similar strategy, showing off a 1970s Wagoneer to a European crowd who had probably never seen one so clean.
Jeff Jablansky
Hyundai Ioniq
Among the luxurious, over-the-top introductions in Geneva was the first showing of the Hyundai Ioniq, the South Korean brand's upcoming assault on the Toyota Prius. The Ioniq looks almost exactly like the outgoing Prius model, with as much flair in flat white as a refrigerator, but it's loaded with technology. It may seem a bit boring in theory for Hyundai, sure, but launching a traditional hybrid, a plug-in hybrid, and an EV all at once? That's legit.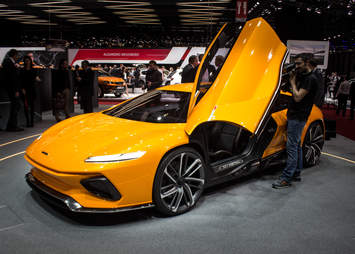 Jeff Jablansky
Italdesign GTZero
It's been a day or so now, and we're still not sure what to make of the all-electric Italdesign GTZero. The last time you heard about Italdesign was probably when you selected one to drive in Need for Speed. The design house, which is a subsidiary of Volkswagen Group, put together the GTZero to demonstrate its prowess in electrification, and prove that a 483hp EV can be a sexy proposition. We like the supercar-inspired front end and proportions, but are iffy on the gaping-hole style of the rear hatch.
Jeff Jablansky
Rolls-Royce Wraith & Ghost Black Badge 
How do you make a Rolls-Royce more badass? Dip the staid, time-honored badge in some dark paint for a murdered-out look no one knew they wanted. In the coming year, Rolls-Royce will introduce the "Black Badge" package for its Wraith coupe and Ghost sedan; the V-12 in the Ghost also gets slightly more power to back up the cosmetic upgrade.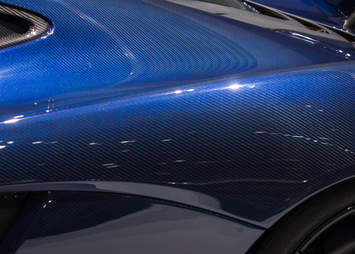 Jeff Jablansky
McLaren P1 (in exposed carbon fiber)
Applying a traditional paint finish to a show car is so 2015. On the McLaren stand in Geneva, a P1 supercar stood out for all the right reasons: its exterior was finished in exposed carbon fiber, which was flecked blue. Apparently, according to the guys from Woking, a customer ordered a P1, and sent it back to McLaren Special Operations for a brand-new exterior finish sometime after.
Jeff Jablansky
Fiat 124 Abarth Spider
You've already heard about the Fiat 124 Spider, the result of a collaboration between Mazda and Fiat that allowed for an Italian-shaped variant of the Miata. The 124 Abarth shown here takes the partnership even further. Horsepower is up to 170, thanks to forced air induction provided by Abarth turbo tuning, and with stronger brakes and a stiffer suspension, it promises to be an even more focused tool for enthusiasts. 
Jeff Jablansky
Bentley Mulsanne Grand Limousine by Mulliner
Of all the badass luxury cars at Geneva, we almost missed this one, simply because the 21ish-foot Bentley Mulsanne Grand Limousine by Mulliner was hidden away from the proletariat. Once we found the six-passenger land yacht, however, it was hard to turn our eyes away. It's a dictatorial ride par excellence, featuring windows that turn opaque, storage for all types of bubbly alcohol, an intercom to the driver, and a two-tone exterior finish. It's what Bentley's Milliner customization arm does best: make extravagant Bentleys even more excessive.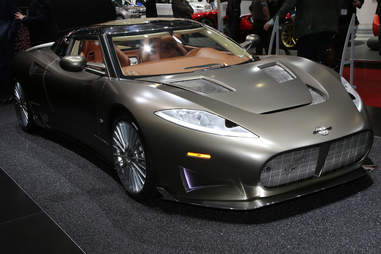 Courtesy of Newspress
Spyker C8 Preliator
Just when you thought the Netherlands' preeminent supercar manufacturer was done for, Spyker shocked Geneva with a follow-up to its C8 Aileron. It isn't as much a new model as it is an update, as the V-8 engine returns -- but with a supercharger -- and its sub-200mph capability remains. Expect to be cosseted in leather and aluminum inside, and amazed by the signature exposed transmission tunnel. The most impressive part about the C8 Preliator (we still don't know what the name means) is its slinky, killer styling, which appears to be part-Batmobile and part-Lamborghini all at once.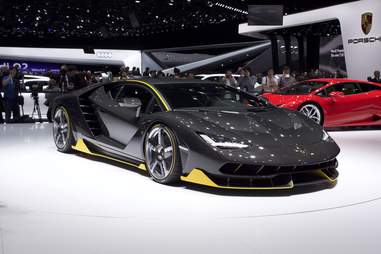 Jeff Jablansky
Lamborghini Centenario
One look at the Lamborghini Centenario proves why it's our pick for the most badass debut in Geneva. Powered by a 770hp, 6.5-liter V-12, the Centenario commemorates a century since the birth of company founder Ferruccio Lamborghini -- who we imagine would be pretty happy with the Centenario's might. It's the most extreme execution of the Lamborghini Huracan yet.
Want more of the world's best Cars delivered straight to your inbox? Click here to sign up for our daily email.
Rarely stationary, Jeff Jablansky is a journalist in search of fascinating ways to talk about the automotive industry. Follow him, if you can: @unclewithcars.