The Most Impressive Concept Cars at SEMA This Year
Courtesy of FCA
Courtesy of FCA
The 2016 SEMA show is in full swing, and it's safe to say that swing is just as crazy as ever (or did you miss that insane 2,000hp, 220mph Toyota Land Cruiser?). The annual trade show in Vegas focuses on the newest and best ways to modify your car, and we've already seen some killer ideas and truly insane vehicles. Some of them are realistic enough to envision in your own garage someday soon, and others, are, well, SEMA cars.
The highlights so far...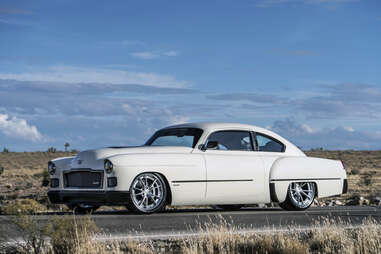 Ringbrothers' "Madam V" Cadillac
Believe it or not, building this car required parts from four different donor cars: a pair of 1948 Cadillac fastback coupes, plus a 2015 and a 2016 ATS-V. After nearly an eternity figuring out how to meld the cars seamlessly together (the carbon-fiber hood alone took over 600 hours to build) the end result is pretty stunning. This is a legitimate 1948 Caddy on a thoroughly modern Cadillac ATS-V chassis, complete with not just the engine and suspension, but the modern interior, too -- and that includes amenities like rain-sensing wipers. As custom builds go, that's about as complete as you get.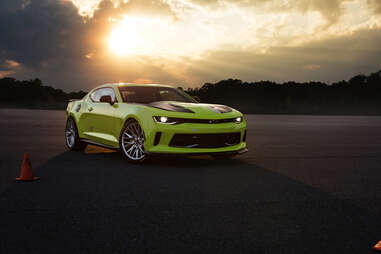 Chevrolet Camaro Turbo AutoX concept
This one's actually one of the very few that A) truly makes sense and B) you can actually own yourself. It's based on the four-cylinder Camaro, which in addition to being the cheapest, is also the lightest. Why does that matter so much? AutoX, or autocross, is a form of motorsport that places a very high premium on good handling, and this car is basically a performance parts catalog on four wheels, dedicated to autocross prowess.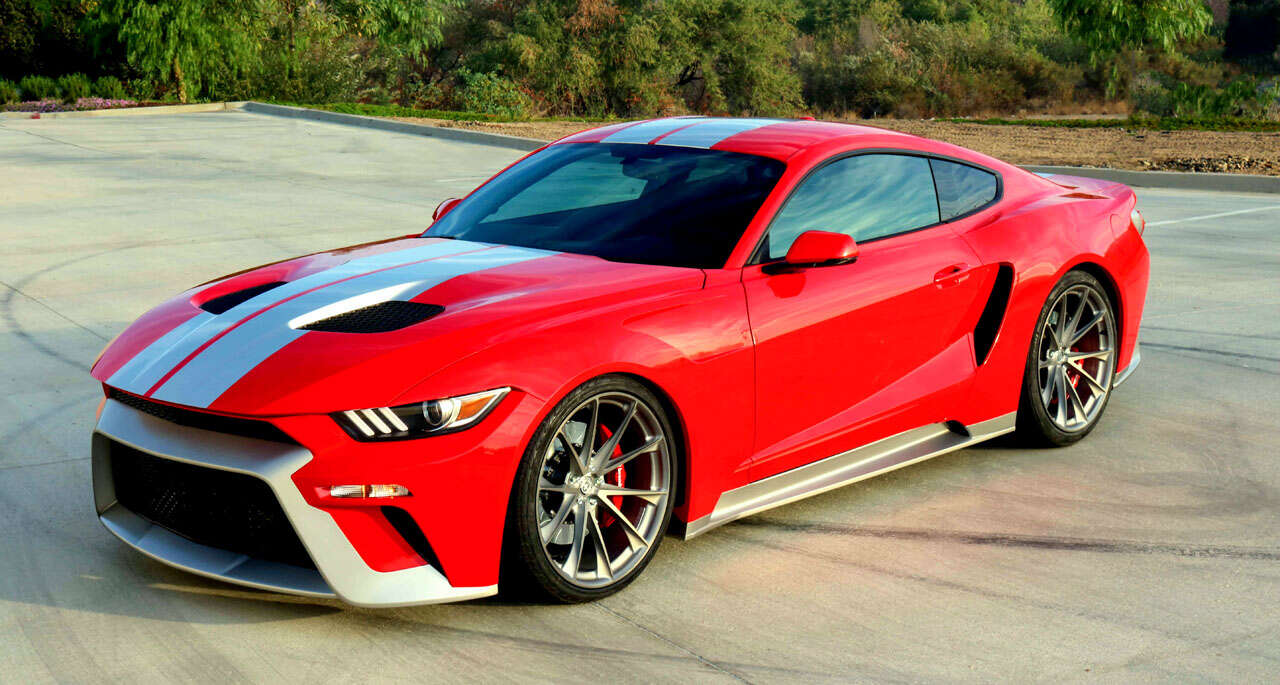 Here you have what's called the GTT, and if you think it looks a little like the end result of putting a Mustang and a Ford GT together in a warm and cozy garage with Netflix, you're absolutely right. Metaphorically, anyway. It's a very careful merging of both cars' design features into one exotic-looking SuperMustang. Is it crazy? Maybe, but not as crazy as this: The company actually plans to produce the GTT next year.
Unplugged Performance isn't the first company to offer its own take on the electric SUV with the funny doors. It does, however, offer a fairly comprehensive overhaul of the vehicle on the inside, too, addressing a very common complaint against Tesla's six-figure vehicle's fit and finish. In the company's words, "the large swaths of plastic and monochrome interior choices fall short of meeting the desires of luxury car buyers who are used to getting exactly what they want." The solution? A start-to-finish program for the Model X that ultimately gets it where it should be on the inside: exceptionally nice.
Jeep CJ66 concept
Jeep's team did some great things here that you may not even notice unless you're a serious Jeep enthusiast. Look closely, and it's actually a very artful merging of three different eras of Jeep. While the body is mostly from the '60s, the powertrain is all new, and all of it's been massaged to fit on a chassis from about 15 years ago. It might be a hodgepodge, but it's an all-American hodgepodge that would actually be great as a daily driver.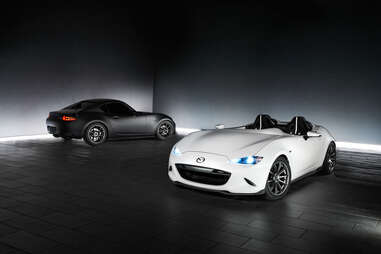 Mazda MX-5 Miata RF Kuro and Speedster concepts
Mazda did the most sensible thing possible for SEMA, and brought two aspirational Miatas. The first, the white Speedster, is basically a poster car designed to be as lightweight as possible for performance, without an eye toward production. It doesn't weigh a ton, and I mean that literally -- the whole car weighs just 1,980lbs.
The other car, the RF Kuro, is based on the upcoming Miata RF, and features (not unlike the Speedster) the suspension and instrumentation display from Mazda's Miata Cup race car. This is Mazda's way of saying "if you want the best-handling car without going broke, come talk to us."
This is a one-off commissioned by a guy who wanted to take his family on regular outings near his Aspen, Colorado home. Just one problem: The original FJ43, while a great off-roading vehicle, isn't exactly the most highway-friendly vehicle in the world. Enter the FJ Company -- a shop that specializes in Land Cruiser restoration. Under the hood now is a 210hp V6 (that's a pretty big jump from stock) and, well, too many modern touches to list here. When you check out the rest of the pics, though, look at the smart details, like the rubberized coating on the floor, which could definitely come in handy when it's time to clean up after a day in the dirt.
Dodge "Shakedown" Challenger
Restomods (cars that are modified while being restored, for the uninitiated) are some of the coolest cars out there. Restomods done by the manufacturers themselves are even better, thanks the the resources at hand. Sure, this Challenger has a modern engine at its heart (good for 485hp), but it's also full of little touches like modern Challenger tail lights and seats from a Viper. It's the kind of car you'd build if you had nearly infinite time, money, and talent.
The Ram ProMaster Pit Stop
Forget the cheesy name and all the "pit stop" nonsense and think about what this vehicle represents. This is basically a manufacturer-built bar, which means only one thing: If you know anyone that can bring an Airstream, have them meet you at the lake and you've got one heck of a party station.
Ford's Baja 1000 Raptor
When you want to prove your hardcore high-performance off-road truck's amazingess, you have to take it to a high-performance environment full of hardcore off-roading tests. The legendarily grueling Baja 1000 race has, in addition to a thousand miles of unforgiving terrain, added obstacles like -- and this is 100% true -- inebriated fans digging boobie traps along the course. It's the perfect place for Ford to show off the durability and performance the 2017 F-150 Raptor. The truck you see here has only minimal changes from the exact one you'll be able to buy in dealerships -- mostly things done in the name of safety (because, you know, boobie traps) -- and it's going to be competing in the Baja 1000 later this month.
Want more of the world's best Cars content delivered straight to your inbox? Click here to sign up for our daily email.