The Best New Cars of 2017 You Can Actually Afford
It's one thing to look back on the best cars of the year with awe and admiration at their sheer beauty and speed. It's another thing entirely to consider buying, or even qualifying to buy a legitimately wonderful car that costs as much as a house.
These are the best of the new crop of cars -- some are brand new, while some saw substantial overhaul before debuting as a 2017 or 2018 model. A few of them are in showrooms right now, and most will be before too long. Every single one is worthy of your hard-earned money, no matter if your budget is bargain-basement or top-notch.
Courtesy of Ford
Ford Fiesta
Base price: $15,000*
The littlest Ford is set for a major tech upgrade.
Ford of Europe just launched an all-new Fiesta, and while the exact date of its arrival in US dealerships isn't confirmed, Ford assures us that, "Fiesta is an important part of [its] portfolio." You'll likely see it show up around here in late 2017 as a 2018 model. That's a big deal, because the new Fiesta brings with it tons of tech like hands-free parking, traffic sign recognition, and lane keep assist, complementing new-to-Fiesta creature comforts like a heated steering wheel. It's a big improvement, and it can't get stateside quickly enough.
*Price (and on sale in the US date) is TBD at time of writing, but we still expect it to start well below the $20,000 marker.
Courtesy of Fiat
Base price: $24,995
A sporty Italian roadster that won't break the bank
Perhaps the best way to explain the Miata-based 124 Spider is this: FIAT took the Italian sister of a Japanese sports car, that itself began life as an homage to British sports cars, and turned it into an homage to a classic Italian sports car. If that sounds a little... complex, think about it this way: The Miata in general is a great car (especially if you want to play in the snow!), but the FIAT version kicks the refinement up a notch being the closest the Miata has ever come to a boulevard cruiser.
Courtesy of Toyota
Base price: $27,100
The most advanced version of the venerable hybrid
The Prime gets up to 133mpg-e when in all-electric mode, and with a range of 25 miles, that's more than enough to get the vast majority of commuters to work without touching the internal combustion engine. If you do need to use fuel, though, you won't use much -- it's rated at 54 combined mpg. Over time, it learns your commute, and makes further refinements to eek out the most efficiency possible.
Courtesy of Dodge
Base price: $33,395
The first pony car built to drag race in the snow
These days, if someone says the words "Dodge Challenger," it's almost automatic to assume the next word is "Hellcat" (the 707hp Mopar monster that Dodge unleashed a couple of years ago). Forget about that. Yeah, the Hellcat's still there, but the six-cylinder Challenger GT is the hot ticket for 2017. It's officially the first so-called pony car to offer all-wheel drive. Under normal conditions, you can leave it in rear-wheel-drive mode, or you can tell it to apply power to all four wheels for A) peace of mind, B) inclement weather shenanigans, or C) playing on dirt roads. Who are we kidding? The answer's obviously D) all of the above.
Courtesy of Chevrolet
Base price: $37,495*
The first mass-market, long-range EV
In time, your options for purely electric vehicles will outnumber your options for those with a gasoline engine. That's not the case now, though, and that's what makes the Bolt such an interesting and hugely important car. Whereas other EVs of a comparable price either have a very limited range or use a gasoline-powered generator to go further, the Bolt shatters the mythical 200 miles-per-charge barrier without external assistance, making it the very first long-range EV for the masses. As an added bonus, one of the Bolt's chief engineers is a die-hard performance car enthusiast who races on the weekends. The Bolt isn't your average ecologically friendly vehicle.
*$29,995 if you account for the federal tax credit
Courtesy of Alfa Romeo
Base price: $37,995
Sex on wheels for under 40 grand
The Giulia name returns to the Alfa lineup after taking some time off since its now-classic forebear roamed the streets in the '70s. Very quietly, we've wandered into a golden age for very sporty entry-level luxury sedans. The price point is a big deal, because, at under $40,000, the Giulia squares off against some of the very best cars on the market. The Italian sedan has the sexy-as-hell looks to compete with any of them, and if you somehow refrain from springing for the $72,000-and-up Giulia Quadrifoglio -- no one's blaming you if you pawn a spare kidney to do so, by the way -- you'll have yourself a very serious competitor in the most competitive market this side of compact crossovers.
Courtesy of Jaguar
Base price: $41,990
A Jaguar that doesn't mind getting dirty
Jaguar entering the crossover SUV fray was inevitable. The company continues its rapid ascent following years of malaise and outdated jokes about reliability. Along with the XE (Jaguar's answer to the Alfa Romeo Giulia, above) the F-PACE is arguably the most important Jaguar since the E-Type. Its beauty is self-evident, and the value is perfectly in line with the rest of the class. More importantly, it's a legitimate performer that can traverse jagged trails far more treacherous than any Jaguar owner would sanely ask of it. We would know -- we drove it.
Courtesy of Volvo
Base price: $46,950
More tempting than a bag of Swedish Fish
It's hard to say enough good things about the Volvo S90. As a sedan, it's beautiful. As a family car, it's among the most safe on the road. As a technical showcase, it shines. We called it Volvo's middle finger to Tesla, but that undersells it. Between the S90 and lust-inducing V90 wagon, the car represents more than the sum of its parts. It's a statement of intent on Volvo's part to produce avant-garde cars you'll be proud to drive into your office parking lot. It's been a while since we've said that about a Volvo, but it's time.

Courtesy of Land Rover
Base price: $49,990
The most advanced Land Rover ever
Any brand-new Land Rover is going to be noteworthy, but the Discovery holds a special place: It's the compromise between the luxury-oriented Range Rover and the dearly departed, go-virtually-anywhere Defender (although rumors persistently state that it's coming back). The new Disco raises the stakes in a big way, with beautiful and modern lines inside and out, tech that only the most jaded Silicon Valley junkie would find lacking, and improved capabilities across the board. You can cross a mountain or tow your race car, and still impress your mother-in-law with the full-sized third-row seating.
Courtesy of BMW
BMW 530e iPerformance
Base price: TBD*
BMW's continuing march toward the electric future
The BMW 5 Series has been a mid-sized sedan stalwart for decades, and the seventh generation is about to hit the road. While there are some legitimately cool pricier options -- the M550i xDrive is going to be faster and more luxurious than the current M5, for example -- it's the 530e iPerformance that stands out in the lineup. The plug-in hybrid can drive in pure electric mode for 14 miles, and at speeds up to 87mph. That might not sound like much, but it's not bad at all for a truly luxurious sedan that can out-handle many smaller sport sedans.
*Pricing information isn't available at the time of publication, but mid-to-high $50,000s is a safe bet.
Courtesy of Chevrolet
Base price: $61,140
Supercar performance in a pony car package
In 1993, Chevrolet debuted an all-new Camaro with an impressive horsepower figure (275hp) and reasonable-for-its-day handling. You can double that horsepower and throw in a brand-new smart fortwo, and still not have as much oomph as the 650hp ZL1 does today. It shares its world-class suspension with the track day-oriented Camaro SS 1LE (a car we consider the best performance bargain under $50,000). With nearly 200 more ponies than the 1LE, the ZL1 isn't just competing with cars in the $60k-$70k range -- it's competing with quarter-million-dollar supercars.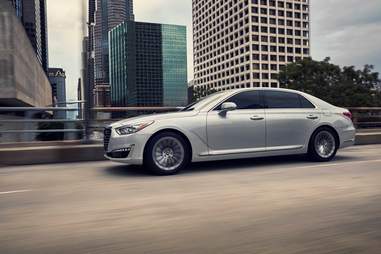 Courtesy of Genesis
Base price: $68,100
Hyundai's old luxury sedan is all new, all grown up, and gunning for Mercedes.
In the past, Hyundai made its own version of a luxury car, called the Genesis. Not nearly enough people bought it, in no small part because it was called a Hyundai. The solution was two-fold: make the car immensely better in every respect, and ditch the Hyundai name. Genesis is its own brand now, with the "entry-level" G80 and the legitimately refined G90. It might not quite be on the level of a new Mercedes S-Class (which starts $30,000 higher up the ladder), but it's right up there with, say, the last generation of Mercedes' top luxury liner. If the word you'd most like to call your commute is "serene," it's hard to find a better bargain at this end of the market.