There Are Some Absolute Steal Car Leases to Be Had in January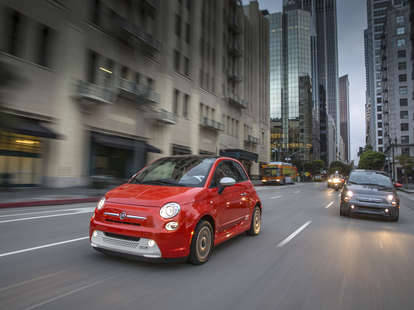 While it isn't yet as easy to upgrade your ride as it is to swap out your phone, getting behind the wheel of a new car is within your reach. As regime changes go, a new lease is a relatively good idea, provided you have about $200 per month to spend.
Each month, we highlight the new car deals that won't break the bank, and January is no exception. Some folks argue that the best time of year to buy a car is around the holidays, but most of December's deals carry over into 2017 -- and some are even better. Behold all that you can afford.
Remember, these figures below are only the advertised deals. With some skillful negotiation, you can often do even better. Ask about reducing or eliminating the signing costs, if your credit is top-notch, or negotiating the monthly rate itself. Check back for updated deals as they appear. At the time of writing, there are fewer advertised deals than usual, which is why companies like MINI and Volkswagen are entirely absent. Check back for updated deals as they appear.
2017 FIAT 500E
Monthly payment: $69 (really)
Due at signing: $2,499
Term: 36 months
FIAT's lease deal essentially offers a nearly free 500E electric hatchback. For approximately $2.30 per day, you can lease the pure electric 500E. After $2,499 down, your monthly payment is essentially one meal at a nice restaurant... but it gets better. At at least one dealership, that $2,499 down covers the "clean vehicle" rebate -- you could get the entirety of it back from Uncle Sam in certain states. Factor in electricity from renewable sources obtained at off-peak hours, and running this FIAT is damn near free. If you live in California or Oregon (check on your own state to be sure) and still haven't jumped on this deal, what's wrong with you?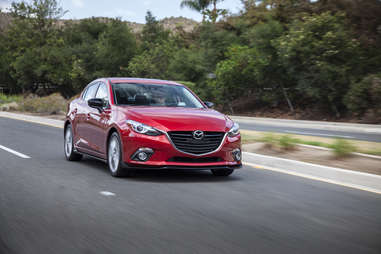 2017 Mazda3
Monthly payment: $159
Due at signing: $1,999
Term: 36 months
Please: Do yourself a favor and lease a Mazda3 sedan. The most satisfying compact sedan is also among the most affordable in the class. For $159 per month, Mazda's small sedan dances dynamic circles around its competitors: Its handling feel and general driving behavior are very much the part of a more expensive and refined product. Just $20 more gets you the added trunk space and more shapely rear of the the Mazda3 hatchback. Pick either. You'll thank us later.
2016 Dodge Charger SXT AWD
Monthly payment: $199
Due at signing: $2,999
Term: 39 months
No, this deal isn't for the 707hp Hellcat (what a deal that would be), but the Charger SXT AWD is well-equipped and can hold its own on the highway. Its 3.6-liter V6 is a sweetheart, and all-wheel drive is a useful assist when the weather turns nasty. Beyond the Charger, it seems that FIAT Chrysler Automobiles is trying to offload a selection of its 2016 models at bargain-basement prices. Check out the Dodge Challenger SXT at $149 per month, or the bevy of cheap Jeeps on the list below.
2017 Chevrolet Cruze hatchback
Monthly payment: $174
Due at signing: $2,000
Term: 39 months
Right out of the gate, the Chevrolet Cruze hatchback is a smoking value. (It's so fresh out of the box that we haven't even driven it yet!) For just less than $175 per month, you get European styling, a 1.4-liter turbo engine that offers more punch that its 153hp would suggest, and 22.7 cubic feet of cargo space -- and that's before folding down the rear seats. It's rare that a great deal on paper encompasses so much real-world value.
2016 Ford F-150
Monthly payment: $249
Due at signing: $4,629
Term: 24 months
Ford's deal on its remaining 2016 inventory of F-150 pickups isn't a fire sale, but it's an opportunity to snag a full-size truck at a midsize price. Pickup trucks aren't usually attached to such short lease terms -- in this case, two years -- as owners tend use their trucks for the long haul. But if you need large-scale towing, hauling, and mall-dominating capability and are anxious for the redesigned 2017 F-150 (and hybrid) to arrive, this is a worthy conduit.
2017 Jeep Patriot Sport FWD
Monthly payment: $185
Due at signing: $2,999
Term: 36 months
You can practically count the number of cars sold in America with a manual transmission on your digits, and you'd probably be surprised to learn that the most basic Jeep Patriot is among them. While it's not up to the same driving standards of its all-American 4x4 brethren, it offers space for five, good looks, and reasonable fuel economy: Think of it as a modern-day beater, and there's little more fun than a vehicle you don't have to care much about.
2016 smart fortwo
Monthly payment: $89
Due at signing: $1,983
Term: 36 months
The last time we looked, the monthly lease rate for a fortwo was $139, making this smart a 35% wiser decision in January. If you're parking as much as you are driving, and your commute involves slicing through tight spots in traffic, the fortwo makes a heap of sense. Grab a buddy, keep your luggage at home, and venture out into the city.
Everything else
2017 Acura ILX ($219/mo, $2,499 due at signing, 39-month lease)
2017 Buick Encore ($199/mo, $2,619 due at signing, 39-month lease)
2017 Buick Verano ($199/mo, $2,689 due at signing, 39-month lease)
2017 Chevrolet Cruze LT ($171/mo, $2,000 due at signing, 24-month lease)
2017 Chevrolet Cruze hatchback LT ($174/mo, $2,000 due at signing, 39-month lease)
2017 Chevrolet Equinox ($159/mo, $3,059 due at signing, 24-month lease)
2017 Chevrolet Malibu LT ($199/mo, $3,319 due at signing, 36-month lease)
2017 Chevrolet Sonic hatchback ($219/mo, $1,839 due at signing, 39-month lease)
2017 Chevrolet Trax ($179/mo, $2,749 due at signing, 39-month lease)
2016 Dodge Charger SXT AWD ($199/mo, $2,999 due at signing, 36-month lease)
2016 Dodge Challenger SXT ($149/mo, $2,999 due at signing, 24-month lease)
2017 FIAT 500E ($69/mo, $2,499 due at signing, 36-month lease)
2016 Ford C-Max ($199/mo, $1,999 due at signing, 36-month lease)
2016 Ford F-150 ($249/mo, $4,629 due at signing, 24-month lease)
2016 Ford Fiesta SE ($179/mo, $1,699 due at signing, 36-month lease)
2016 Ford Focus Sedan ($179/mo, $1,999 due at signing, 36-month lease)
2016 Ford Focus Electric ($169/mo, $1,999 due at signing, 36-month lease)
2016 Ford Transit Connect ($229/mo, $2,839 due at signing, 36-month lease)
2017 GMC Canyon ($249/mo, $4,029 due at signing, 24-month lease)
2017 GMC Terrain ($199/mo, $1,619 due at signing, 24-month lease)
2017 Honda Accord LX Sedan ($199/mo, $1,999 due at signing, 36-month lease)
2017 Honda Civic Sedan LX ($179/mo, $1,999 due at signing, 36-month lease)
2017 Honda Civic Coupe LX ($179/mo, $2,499 due at signing, 36-month lease)
2016 Honda CR-V FWD/AWD ($199/mo, $2,599 due at signing, 36-month lease)
2017 Honda Fit ($149/mo, $2,399 due at signing, 36-month lease)
2016 Honda HR-V FWD/AWD ($189/mo, $2,799 due at signing, 36-month lease)
2017 Hyundai Accent ($169/mo, $2,199 due at signing, 36-month lease)
2017 Hyundai Elantra ($169/mo, $1,999 due at signing, 36-month lease)
2017 Hyundai Elantra GT ($189/mo, $1,499 due at signing, 36-month lease)
2017 Hyundai Sonata ($179/mo, $2,199 due at signing, 36-month lease)
2017 Hyundai Tucson ($209/mo, $2,499 due at signing, 36-month lease)
2017 Jeep Patriot Sport FWD ($185/mo, $2,999 due at signing, 36-month lease)
2016 Jeep Compass Sport 4WD ($194/mo, $2,999 due at signing, 42-month lease)
2016 Jeep Cherokee Latitude FWD ($195/mo, $2,995 due at signing, 36-month lease)
2017 Jeep Renegade FWD ($209/mo, $3,699 due at signing, 48-month lease)
2017 Kia Optima LX ($183/mo, $1,999 due at signing, 24-month lease)
2016 Kia Soul EV ($199/mo, $1,999 due at signing, 36-month lease)
2017 Kia Soul ($189/mo, $1,999 due at signing, 39-month lease)
2017 Kia Forte ($139/mo, $2,499 due at signing, 39-month lease)
2017 Kia Forte5 ($139/mo, $2,499 due at signing, 39-month lease)
2017 Kia Sportage ($199/mo, $2,799 due at signing, 39-month lease)
2017 Kia Sorento LX ($209/mo, $2,799 due at signing, 39-month lease)
2017 Mazda3 4-door ($159/mo, $1,999 due at signing, 36-month lease)
2017 Mazda3 5-door ($179/mo, $1,999 due at signing, 36-month lease)
2017 Mazda6 ($209/mo, $1,999 due at signing, 36-month lease)
2017 Mazda CX-3 ($199/mo, $1,999 due at signing, 36-month lease)
2016 Mazda CX-5 ($209/mo, $1,999 due at signing, 36-month lease)
2017 Mitsubishi Lancer ($189/mo, $2,488 due at signing, 36-month lease)
2017 Mitsubishi Mirage G4 ($179/mo, $3,378 due at signing, 36-month lease)
2017 Mitsubishi Mirage ($159/mo, $3,333 due at signing, 36-month lease)
2017 Mitsubishi Outlander Sport ($189/mo, $2,888 due at signing, 36-month lease)
2016 Nissan Sentra ($129/mo, $3,099 due at signing, 36-month lease)
2016 Nissan Altima ($189/mo, $2,899 due at signing, 36-month lease)
2016 Nissan LEAF ($199/mo, $1,999 due at signing, 36-month lease)
2016 Nissan Rogue ($189/mo, $3,499 due at signing, 36-month lease)
2016 smart fortwo ($89/mo, $1,983 due at signing, 36-month lease) 139
2016 smart fortwo electric drive ($139/mo, $1,353 due at signing, 36-month lease)
2017 Subaru Legacy ($175/mo, $2,585 due at signing, 36-month lease)
2017 Subaru Forester ($209/mo, $1,709 due at signing, 36-month lease)
2017 Subaru Impreza ($175/mo, $1,875 due at signing, 36-month lease)
2017 Toyota Camry ($189/mo, $1,999 due at signing, 36-month lease)
2017 Toyota Corolla ($169/mo, $1,999 due at signing, 36-month lease)
2017 Toyota Corolla iM ($169/mo, $1,999 due at signing, 36-month lease)
2016 Toyota Prius C ($179/mo, $1,999 due at signing, 36-month lease)
2016 Toyota RAV4 Hybrid ($209/mo, $3,199 due at signing, 36-month lease)