The Best New Car Features of the 2017 Detroit Auto Show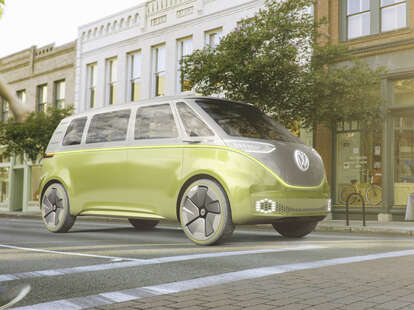 At this year's North American International Auto Show, aka the Detroit Auto Show, there weren't as many groundbreaking vehicle debuts as some might expect, but as the saying goes, "it's what's inside that counts." There was tremendous innovation and beautiful design tucked away in the details rather than the big picture. Take a closer look at some of the best new features, and you'll see new innovations that will impact the way we drive for years to come.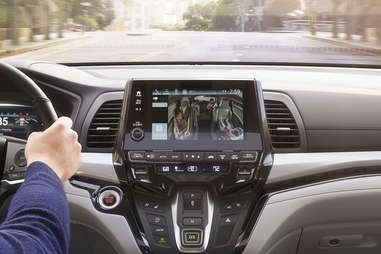 CabinWatch
Vehicle: 2018 Honda Odyssey minivan
What it is: CabinWatch allows parents to keep an eye on kids in the backseats without having to turn around, or even look in the rear view. A fisheye camera mounted along the ceiling broadcasts video of the second and third rows of seating onto the infotainment system in the front cabin. Combined with CabinTalk, a voice-of-God microphone system that can interrupt your kids' headphones, this could make the Odyssey feel like the ultimate Griswold-mobile. Do you need it? Probably not, but Honda's child management system could soon be one of several to debut in a tech-heavy class of minivans.
The Stinger's air vents
Vehicle: 2018 Kia Stinger GT sedan
What they are: They're vents! Glorious air vents, sitting prominently in the center stack of Kia's missile aimed right at German sport sedans. Why are we including air vents, you ask? They're beautiful, and different than the Kia-as-usual glossy vents on the sides of the dashboard. Look closely at the three round vents and you might wonder where you've seen that design before. The guy responsible for them previously used circular vents on the Audi TT. It's a continuation of a trend of luxury car features trickling straight down to the mainstream vehicles. Let's be real for a second, though. These vents work like most others do: Air flows through them, but we welcome the attention to detail of one of the most used parts of any car's interior that is all too often completely overlooked.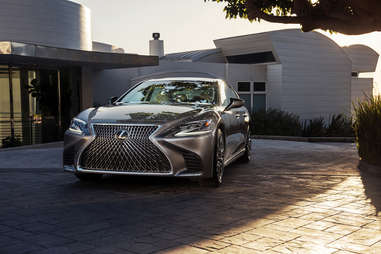 Intuitive Pedestrian Detection
Vehicle: 2018 Lexus LS 500 sedan
What it is: Intuitive Pedestrian Detection presumably makes it harder to mow down an errant pedestrian, available as part of the LS 500's "advanced safety package." While the technical specifics of how it functions haven't been released, Lexus claims that "if a pedestrian is detected in the lane ahead and a collision is imminent, the LS is designed to automatically brake and potentially steer around the person while staying in the lane." In other words, using active steering assist, the LS 500 could potentially swerve to avoid hitting a wayward walker, but it's not clear yet how the system judges other, surrounding obstacles or what it counts as a "lane."
Laser scanners
Vehicle: Volkswagen I.D. Buzz concept
What they are: Volkswagen's electric minibus concept employs lasers as autonomous driving aids that help it "see" the road ahead. Adding lasers to a Microbus revival is much more than an Austin Powers-style fantasy. There are four laser scanners mounted to the roof of the I.D. Buzz that light up based on which driving mode is selected. The I.D. Buzz is supposed to be capable of full autonomy, and the laser scanners extend and light up in its self-driving mode. VW wants you to think of them as a set of technological eyes looking down the road. Considering they'll focus their light on you if you happen to be walking by, they're not all that far off. While the I.D. Buzz clearly isn't a production vehicle, you can take these frickin' lasers as VW's way of showing off the tech it's currently working on for actual cars.
Dynamic steering
Vehicle: 2018 Audi SQ5 SUV
What it is: Dynamic steering is Audi's way of making steering feel more natural and intuitive. It's an advanced steering mechanism that makes it easier not only to drive harder in corners, but maneuver deftly through parking lots. Technically speaking, it means a variable-ratio steering unit that changes how much force you have to use to turn the wheel, based on vehicle speed and other monitored systems. Think of it as two steps beyond what a normal "sport mode" can do. For now, Audi only offers dynamic steering on its S models: That's a hint that the SQ5 means business. Do you need it? We'll wait until we can drive the SQ5 to see if adjustable steering is really what a performance SUV needs, but in theory it's meant to be the best of both worlds.
GMC's new turbo-diesel
Vehicle: 2018 GMC Terrain SUV
What it is: GM's most gutsy call in a while. Look, there are plenty of other features to discuss on the new Terrain, like a push-button transmission and the stylistic treatment of the rear, but it took guts to introduce a 1.6-liter diesel -- mostly for the sake of fuel economy -- in a midsize American SUV. In a class of SUVs where the models all tend to look the same and play catch-up to offer similar features, the Terrain joins Mazda CX-5 on a unique selling point. Expect about 140hp and 240lb-ft of torque, and estimated highway fuel economy of 40mpg. That's enough to propel the Terrain to the top of the pseudo-luxury, "premium" class in terms of fuel ratings.
Want more of the world's best Cars content delivered straight to your inbox? Click here to sign up for our daily email.