Regardless of if you're in the market for something brand new or used (but definitely not certified pre-owned, right?), you're probably doing a few things wrong when you buy a car. And I'm not even talking about your feeble attempts at negotiating while tweeting, "OMG totes buying a car today! #newride #baller." The physical options on the car make a huge impact -- not just on your wallet and daily enjoyment of the car, but on your resale, or even the ability to sell it at all. Here are five things you're doing wrong that you absolutely must take into account when you pick out a car.
You're buying new straight off the dealership lot instead of custom ordering
You could just waltz onto a dealership lot, point at the first car that strikes your fancy, and drive off a couple hours later while the salesman high-fives everyone within reach (please don't do that). Or, you could largely bypass the dealership and deal only with the manager, as you custom order your car with exactly the options you want (please do that!). It's really the best way to go when you're buying new -- it saves you time and energy, and potentially saves you money. Plus, getting the perfect car is a reward unto itself.
You're wasting money on options that aren't right for you
Think about what you're really going to use the vehicle for. If this car is going to be your day-in, day-out commuter, performance options are going to be a huge burden when you're stuck in traffic, regardless of how sexy they may seem in your window-shopping fantasies. If you're schlepping kids from muddy soccer practices to greasy pizza parties, you might want to reconsider those cloth seats. If you plan on using it for backroad jaunts or track-day fun, upgraded brakes or a track package might be legitimately worthwhile. 
It's easy to say you just want one car that can do everything, but you're better served sticking with what makes sense for you and the car -- and not going overboard and wasting money on fancy features you won't use. Often times the more desirable car truly lives up to the less is more motto.
You're not taking full advantage of the car dealer
Once again, if you're ordering your new car instead of picking what's on the lot, you'll have a seemingly endless combination of options to choose from. You should feel free to take your time and treat the dealer like a Starbucks barista, because an honest and good dealer (yes, such a thing exists) wants to make sure you get precisely what you want. They'll make sure you notice that contrasting blue trim piece on the dashboard -- the kind of special distinction that sometimes makes all the difference, often at no extra cost -- much like when your barista adds a smiley face on your macchiato.
You're getting leather seats when you really shouldn't
Some people absolutely adore leather seats (we tend to disagree). The demand is so overwhelming that many higher-end cars only come with them. But if you routinely park your car outside and live somewhere with hellish summers, you have to ask yourself if the look and smell of leather are worth the searing discomfort when you climb in -- and the potential Ted Striker-from-Airplane look when you get out. In general, make sure you're taking your climate into account. If you live in the frozen tundra of America's dairyland, a convertible sports car might not be the most sane choice as your primary mode of transportation.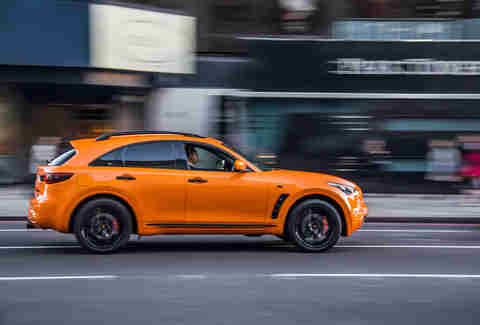 You're blowing money by not considering the resale value
Your choice of car color says a lot about who you are (it's true, we asked an expert). If you're planning on owning the car for a very long time, then you do you, and enjoy every day you spend with your bright-orange dream machine. But if you're going to want something else a few years down the road, you'll eventually have to find a buyer who shares your love of neon.
The same goes for the options you pick. If you get a very high-tech car except for the stereo, or go for the manual transmission but skimp on performance options, you'll end up with a mismatched car that will be a headache to resell. It's like getting an otherwise insanely delicious burger and loading it down with mushrooms and jalapeños. And painting it orange. No one wants to eat that. 
Want more of the world's best Cars content delivered straight to your inbox? Click here to sign up for our daily email.