The Coolest New Car Tech Just Dropped at CES 2016
Courtesy of Faraday Future
A ton of badass drones, robots, speakers, wearables, and all around face-melting tech were just unleashed on the showroom floor at the Las Vegas Convention Center. But these days, the Consumer Electronics Show (CES) is just as much a car show as it is an "electronics" show. Many manufacturers head there to show off not the latest and greatest cars, per se, but the state-of-the-art tech that will soon be going in them. This year delivered a bunch of announcements and game-changing concepts that will ultimately revolutionize how we drive down the road.
Courtesy of Faraday Future
OK, sure, the looks are somewhat polarizing, but the entire point of the FFZero1 is to be shocking. Well, not literally shocking -- it's all electric, so that would be bad. It's a 1,000hp electric supercar, capable of 200mph, and is all about drawing attention to itself and its technology. Don't think of it as a threat to Tesla, though; its development is purely to test concepts ahead of a (presumably) more toned-down car in the future.
Courtesy of GM
Chevy Bolt
This one, however, is very much a threat to Tesla. With a range of over 200 miles between charges, the average commuter can go nearly a full work week without having to recharge… though the simple act of plugging it in whenever you get home means never having to worry about running out of juice. Simply put, this is a highly plausible electric economy car for the masses.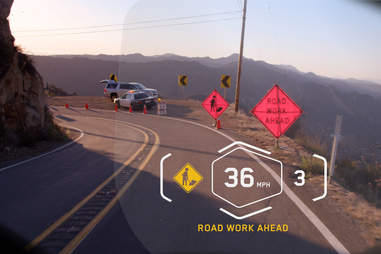 Courtesy of BMW
BMW's HUD motorcycle helmet
When done right, Head-Up Displays are one of the most helpful bits of military tech to trickle into our vehicles in ages. BMW's HUD-equipped helmet is the first step toward making that a viable tech for motorcyclists on a mass-market level. Conceptually, it's not all that different from any other HUD: by putting the important information in front of the rider's field of view, there's a greatly reduced need to look down, which is always dangerous, but much moreso on a bike.
Courtesy of VW
VW BUDD-e concept
Volkswagen wants to talk about how efficient this little electric van is, and how well connected it is in terms of syncing to a smart house. Let's be realistic, though: it's the friggin' return of the VW Bus! Everything else is just electrified gravy.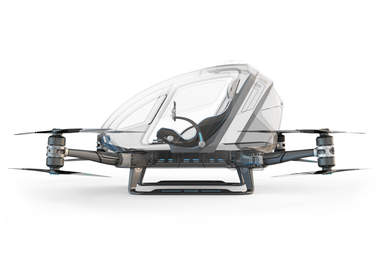 Courtesy of Ehang
Credit where it's due: the Chinese creators of the EHang 184 are masters of creating a boring name for an otherwise fascinating product. This is a drone with that'll carry you for over 20 minutes, and you don't even have to know how to fly it -- simply tell it where to go, and kick back. Will the EHang 184 wind up on your neighbor's helipad? Doubtful, but it's still a cool concept, and frankly, one that's not all that hard to imagine coming to fruition.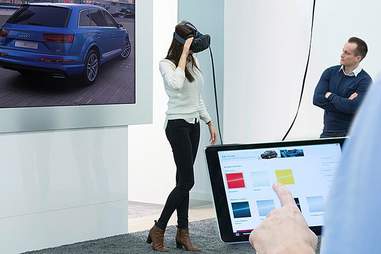 Courtesy of Audi
Audi's virtual reality dealership experience
Audi has been toying with implementing virtual reality in dealerships for a few years now, but this might be its big breakthrough. It's not merely state-of-the-art tech -- it's pushing the tech envelop. Partnering with giants like Nvidia, Oculus, and HTC, Audi was able to take advantage of the companies' combined resources to engineer a VR car configurator that allows customers to examine every possible combination of car options in immersive photorealistic animation, and it does so with a refresh rate of 90 frames per second. Translation: it's good enough to fool your brain into thinking what you're seeing is real.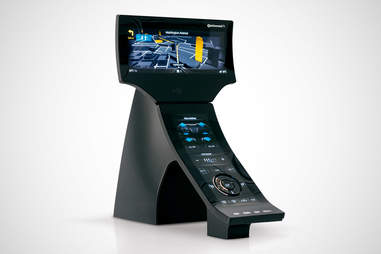 Courtesy of Continental
Continental's Curved Center Stack and eHorizon
Continental -- yes, the tire company does advanced tech, too -- dropped this beauty at CES. It's basically the future of center consoles, with two curved 12.3IN AMOLED touch screens that will provide physical feedback when you're using them (like, you can feel when you've made a selection), so you can get your attention back on the road a fraction of a second earlier. You can also move content from one screen to another, and potentially even onto your instrument cluster, depending on what the information is.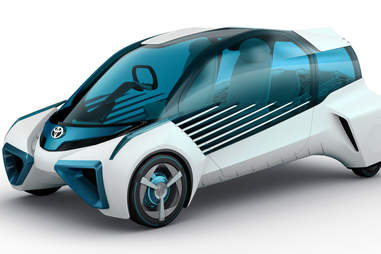 Courtesy of Toyota
Toyota's FCV Plus concept
This is a hydrogen fuel cell vehicle, but its intent is to show off the potential for a "connected, sustainable hydrogen society." What does that mean? Well, it means that in Toyota's vision, we'd all keep extra hydrogen around to power our houses, as well as our cars.
Courtesy of Ford
Ford wants to use SYNC to control drones
Ford's grand idea here is to have other companies develop a drone that can semi-autonomously go check out war and disaster zones for organizations like the UN. It's even putting out a $100,000 purse for anyone who successfully makes a drone controllable via SYNC.
Courtesy of Delphi
Delphi's new 3D instrument cluster
This one's such a simple application of great tech that it's beautiful. Basically, the automotive R&D giant took an LED back light, placed a 3D background on top of it, then put a see-through screen on top of that. The result is simply stunning.
Want more of the world's best Cars delivered straight to your inbox? Click here to sign up for our daily email.
Aaron Miller is the Cars editor for Thrillist, and can be found on Twitter. He can't wait until he has a helmet with a built-in HUD.