The World's Fastest, Loudest Museum of Vintage Race Cars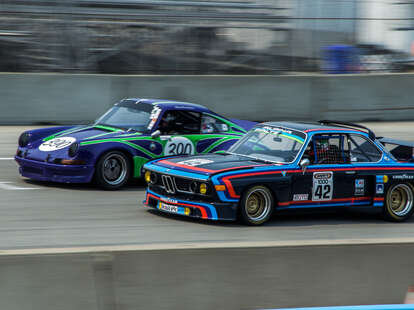 There are a handful of meccas in the automotive world that demand pilgrimage of the vehicular faithful, but perhaps none quite like Car Week in Monterey. Many of the world's most treasured rolling idols descend on the town (along with their owners). Show queens gather at Pebble Beach, and there's also a Motorsports Reunion (formerly the Monterey Historics) where the prized race cars of eras past roar to life to do battle once more. Mazda asked if I wanted to join them at Mazda Raceway Laguna Seca for this year's Reunion. I'm not saying I jumped at the opportunity, but I did fill an entire camera card with photos. These are the very best.
If time is an illusion, so is any concept of reality -- at least at the Historics. Cars like this $30,000,000 Ferrari 250 GTO simply do not break free of their climate-controlled pedestals in the real world, but they do here.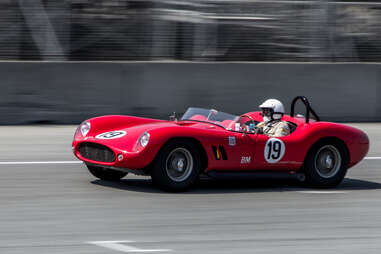 It's the kind of place where those vaunted wonders can compete against an American kit car from the 1950s, like the Chevy V8-powered Devin SS, whose exhaust you see glowing as it powers up Laguna Seca's front straight.
It's a place of juxtapositions, where large men crammed into tiny cars wear modern safety equipment while surrounded by virtually nothing else.
It's also a reminder of the tremendous progress made in the past century. Cars are no longer driven by temperamental engines that might run perfectly fine one minute, and refuse to start the next.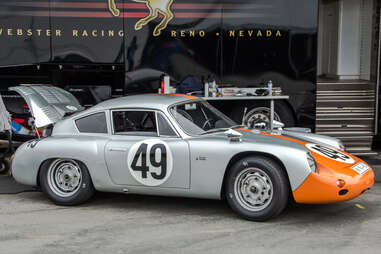 For many of the vehicles at Laguna Seca, their beauty lies in their simplicity, not just of engineering, but of livery. In a world before corporate sponsorship, race cars appeared naked, and every inch of sculpted line is on clear display.
At the Historics, you can see and hear the evolution directly in front of you. The newer cars, ever vying to go faster and faster, are infinitely more complex.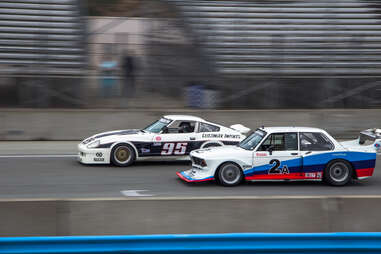 These magnificent icons of motorsports' past actually compete with one another -- their owners walk the walk after talking about how they were built to be driven.
The danger to the drivers is real, as soon as you realize they're competing in machinery from the most lethal eras of the sport, with little to no structural protection.
There's nothing quite like the sounds of small race cars powered by large engines.They're cars of tremendous history and astronomical value, sure, but in Monterey, they're more than that.
They're living, fire-breathing exhibits in the world's greatest, loudest, and fastest museum. There are plenty of photos below. Enjoy. I sure as hell did.