These Insanely Real Model Cars Are Like Hot Wheels for Adults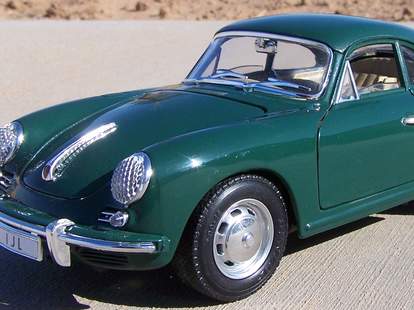 You don't have to be a full-fledged car nut to like model cars. After all, the lifelong relationship with all things automotive begins with that first 99-cent Hot Wheels given to us sometime just after infancy. As we grow up, diecast models are a constant reminder of the long wait for that driver's license and all the sweet, sweet freedom it represents.
That's where a company called Your Car in Diecast comes in. It's the brainchild of a man named John Fox, whose aim is making... well, your car, in 1/18th-scale diecast form. Think of it as the grown-up version of the cars that lined your shelf as a kid, or as a desktop-sized reminder of all the great memories you've made in your favorite car. If you have a car you want to replicate in scale, this model artist -- and make no mistake, that is what he is -- is up to the challenge.
Courtesy of John Fox
John has been a car nut ever since his first diecast car, a red Jaguar XKE, and after 20 years in the automotive paint and body business, his company arose after a futile search for a scaled twin of his own 1969 Plymouth Road Runner. Realizing it might be easier to repaint an existing 1/18th-scale version red, he did just that. When the public showed interest, the bespoke diecast-modifying business was born.
The general principle is that Your Car in Diecast offers anything and everything needed to replicate your exact car in 1/18th scale. Fox doesn't build a car from scratch, but provided there's a basic starter car available in model form, he'll make whatever you have into (smaller) reality.
Courtesy of John Fox
This isn't just about enthusiast options, either, although that's certainly his largest draw. If your first car was a beat-up old sedan with different-colored doors and a broken taillight, but you had some incredible road trips in it, he'll make sure it matches the original.
A typical project might take three to six months and can range in price from $300-$600. Expensive? Perhaps, but quality like this seldom isn't. What Fox does is so much more than just slapping on a coat of paint.
Courtesy of John Fox
The man takes attention to detail to a beautifully absurd level
Before any work is undertaken, Fox does copious amounts of research in tandem with the customer.
"The key to what I do is pictures, because most diecast cars are manufactured in [only] one version," Fox told me. "For instance, a manufacturer might make just a 1970 Charger R/T SE. So, if a customer has a stock 1970 Charger in real life [without the R/T and SE packages], then there are many things I need to change from the R/T SE, like removing the chrome wheel-lip moldings and fender turn signals, and converting the interior to a manual roll-up window set-up, since all the diecast SE versions have power windows. Pictures tell me everything needed for me to replicate someone's real car and they are the key to the research."
Just think about that for a moment. He's talking about converting a tiny plastic switch into a still-tiny plastic window crank... inside the door of a model car, just to make it more accurate.
Courtesy of John Fox
The models are prepared and painted just like real cars
After the research, there is disassembly, stripping, priming, and prepping. Fox uses automotive-industry products as much as he can, down to the thinners, primers, and paint, and mixes the customer's preferred colors per the factory paint code, but re-formulated to work well at 1/18th scale. After the first coat is complete, Fox then recreates all the emblems and logos needed to replicate the real car. If stripes are needed, these are added before clear coating is done. It's a painstaking process involving incredibly small strips of tape -- see above. Upon drying, the whole car is wet sanded and polished using 1,500-grit sandpaper, then 3,000, then 5,000 grit, leaving a factory-like finish. The repainting process alone can take  eight to 12 hours depending on what the starter car is.
Courtesy of John Fox
There's virtually no limit to what you can have done
This 1939 Chevrolet Fleetmaster Woodie Wagon commissioned by a customer illustrates the upper end of the spectrum. The only model available was cheaply made, so Fox used the stock parts and pieces as templates to cut, trim, and form the real wood framing. He used the wood liners from high-end cigar tubes for the inlay pieces, dash, and inner-door panels, and real leather with the backside shaved to paper-thin thickness to recover the seats. After searching many craft stores, he finally found small caps heads that looked like the bolt heads for the wood trim in scale. Lastly, Fox found some vinyl with the same feel and look of the roof material. When completed, it was one of his most time-consuming replicas ever, and at $1,600, it was the most expensive project he ever completed. Pretty damn impressive.
Check out more examples of Fox's work below, and call him up for your own if you've got the means.
Courtesy of John Fox
Courtesy of John Fox

Courtesy of John Fox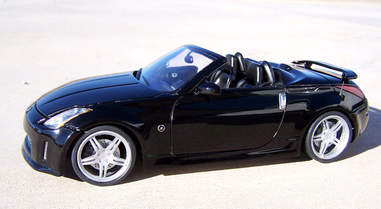 Courtesy of John Fox
Benjamin Shahrabani is a contributor to Thrillist Cars. He can be found on Facebook. His parents swear his first word was "car-sa."