Before your favorite actors and famous personalities could make down payments on spiffy convertibles, they rode around town in old rust buckets just like the rest of us. Some even got their start on motorcycles; others couldn't even remember the first vehicles they piloted, presumably because their shiny new car memories overwrote the old ones. Here's what they had to say about their first rides.
Anthony Bourdain
Best known for: the best-selling Kitchen Confidential, Travel Channel's No Reservations
He says: "I just got my first car a few years ago. I didn't even get a license until I was 30. I was driving on a forged license for a lot of it -- when I'd go on vacation, I'd rent. I got a four-door BMW family car, suitable for a child seat in the back, in 2012. That was my first car. I didn't even have a beater -- my parents didn't give me a car [and] I didn't buy a used car as a teenager. So I'm still a ridiculously happy car owner. I'll drive my daughter four blocks to school given the opportunity. Any opportunity, I love driving."
Colin Farrell
Best known for: Miami Vice, True Detective season two
He says: "A little 20-year-old MGB Roadster, a little convertible. I'd just drive it around Dublin. Wasn't too many places to go. No preciousness."
Ray Liotta
Best known for: Goodfellas, Field of Dreams
He says: "It was an orange Cyclone that was my dad's car. I was a senior in high school, and it was orange, literally an orange Cyclone. And the dashboard -- anybody who knows me -- the dashboard was held on by a clip, and the clip was broken, so when you stepped on the gas, the dashboard would start falling forward. And I would get so pissed off that I'd hit the dashboard to get it back into its clip. I mean, I was grateful for the car, but an orange Cyclone. With me all through college. It was great I had a car, but it was loud. I'm not an orange guy."
Rick Ross
Best known for: the album Teflon Don, the rap label MMG, Wingstop wings
He says: "My first car was a '76 Caprice. I loved it."
Christian Bale
Best known for: American Psycho, The Dark Knight 
He says: "I drive a pickup [now], but my first car was like an old tank that I shared with my dad, which was some... I don't even know what model. I think it had been ripped off the back. I don't know what it was -- but some Buick. Bounced around the road all over the place."
Vincent D'Onofrio
Best known for: Full Metal Jacket, Law & Order: Criminal Intent
He says: "My mother actually drove a lime green Nova with black stripes going up the hood and down the back. And as soon as I was old enough, she let me start driving that, and I just loved to drive that. And then when I got a little older, my stepdad, who I loved dearly, who raised me, he had an El Camino that was really fast. I used to jump into that as much as I could. And then when I left home, I traveled the country on my own for a while -- my friend and I, we bought a Toyota Corolla and drove from Miami to California. And it broke down in Stinson Beach, outside of San Francisco. And then I ended up in Colorado and I got a Willys, 1942 Willys Jeep, and it was painted purple. And I ran that into the ground, until the engine froze up. And then I didn't buy a car again until I did a movie in Argentina once, and they gave me so much per diem that -- because the country had just switched over and the economy changed drastically -- I ended up coming home with like $30,000 with the per diem. And I bought a Toyota Land Cruiser for cash, like a drug dealer would."
Mario Batali
Best known for: Eataly, Babbo restaurant, wearing Crocs
He says: "My first car was a '61 Impala. I bought it for $1,000 when I lived in Santa Barbara. We shaved the roof off and made it into a convertible that couldn't be converted back. You could fit 10 people in it very comfortably."
Eric Bana
Best known for: Hulk, Munich
He says: "Oh, well, that's a 30-year-old story. I've still got it. It's a car that I bought when I was 15, and I've still got it today. It's a '74 XB Falcon coupe. [I found it] in the newspaper... [I paid] $1,100. Still got it."
Jorma Taccone
Best known for: The Lonely Island, explaining Justin Bieber's Instagram
He says: "I've had three great cars in my life -- four great cars. These are cars I purchased myself. Each of them was $500, except the last one was more expensive. The first one was a 1977 Plymouth Volare, which was a gigantic boat of a car that was described to me as 'doja green' inside and out. Doja is a slang word that was only used for about a year in the Bay Area in 1993 for weed. So it looked like weed inside and out. It was owned by an 80-year-old woman who had two pillars at the end of her driveway, and she was senile, so she would crash into both sides, so both sides of the car were completely dented up and down. I had two bumper stickers on it that were from a group called the Whoridas in the Bay Area, and they had a song called "Shot Callin' and Big Ballin'," and so I had one bumper sticker on one side that said "Shot Callin'" and one that said "Big Ballin'." Very ironically."
Carl Weathers
Best known for: Predator, the Rocky movies, Happy Gilmore, getting a stew going
He says: "I was maybe 16, 17, and my grandmother purchased this car for me. And it was a Studebaker, and it was a piece of junk -- but I loved it. It was one of those sort of bullets on each end, you know? And it was old, it was a stick shift -- but I had wheels, baby! ... But over the course of like two and a half years, I had three different cars. But that was the first. It was that ugly brownish-green Studebaker. You know, it was ugly. But man, I loved it ... This was in about 1966. Before you were born."
Noah Emmerich
Best known for: The Americans, The Walking Dead season one
He says: "Yeah, I'm not a car person. I grew up in New York City, I didn't have a car until I got to college. I got a secondhand motorcycle, was the first vehicle I owned. It was a Yamaha Seca. I just looked for it -- there was like an ad posted at the college bulletin board and I thought, That sounds like a lot of fun. So I bought a cheap secondhand motorcycle... [My family was] not happy, but I didn't tell them. I inquired to how they would feel about it, and they were very negative, so I just decided to leave it at that… I think I paid like four or five hundred dollars. Yeah, it was pretty cheap."
Samantha Bee
Best known for: The Daily Show, Full Frontal With Samantha Bee
She says: "I have owned the worst cars, I've never had a cool car in my life. I literally drive a Toyota Sienna minivan. It has milkshake all over the inside of it. I've never loved a single car that I've owned."
Marlon Wayans
Best known for: the Scary Movie franchise, White Chicks
He says: "My first car was -- well, after I crashed my sister's Ford Taurus. I'm going to let you know I gutted the whole bottom and I thought it was a paper bag I was running over, and I actually ran over a cement statue. That wasn't good. I was like 14. I had no business driving. But, look -- I've been taking care of her for 30 years, so we even, Devon. All right, and then the other one I did, my first car was a Honda Accord EX that I bought from my brother, Shawn. He bought it for $12,000, he sold it to me for $14,900. What an ass. And then I gave it to my nephew, who crashed it and left it on the side of the street, abandoned. Yeah, it's sad. I told you, it's not a good story. Ask a different question. Now I'm in a bad mood. I just lost $14,900."
Mary Elizabeth Winstead
Best known for: Death Proof, Scott Pilgrim vs. the World, 10 Cloverfield Lane
She says: "Mine's dumb. I was already acting a lot, so I actually had... I think it was like an Audi A4 or something. I feel dumb. I wish I was like, 'It was like a hand-me-down from my friend.' I bought my own first car at 16 with my own money, and it was an Audi A4."
Dylan Baker
Best known for: The Amazing Spider-Man 2 and 3, Happiness, Selma
He says: "Well, there was a Toyota Tercel along the way that was handed down to me in my family, and I drove that thing into the ground. It was such a great car, and I finally sold it for a hundred dollars to this young kid who was like as excited as I was the whole time... I was only about 22 [when I first got it], I think. And I was not in New York yet, so it still made some sense to actually have a car [chuckles]... Yeah, we sold it for $100, and I thought that was a pretty good deal. [Laughing] I couldn't believe I got $100 for it."
Eric André
Best known for: The Eric André Show, Man Seeking Woman, giving bad dating advice
He says: "A Honda Civic that was banged up. I took a Xanax and I drove into traffic."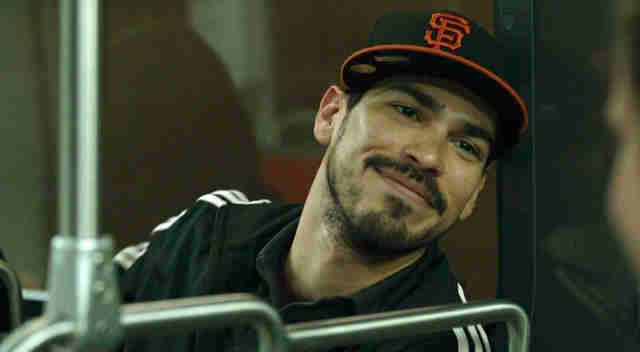 Raúl Castillo
Best known for: Looking
He says: "I guess in my family, we only had one car growing up, always. And when I was in high school, going into college, my parents bought this black Cherokee -- was it a Wrangler? Was it a Laredo? It was a Cherokee. It was a black exterior with a red interior. And I grew up in Texas, which, as you know, is ridiculously hot. And that car was so old, the radiator was busted, and it would get overheated all the time and the air conditioning didn't work, and you burned yourself on the seatbelts if you were wearing shorts. [I] sort of [inherited it]. It wasn't my car but it was, like, the car I shared with my siblings."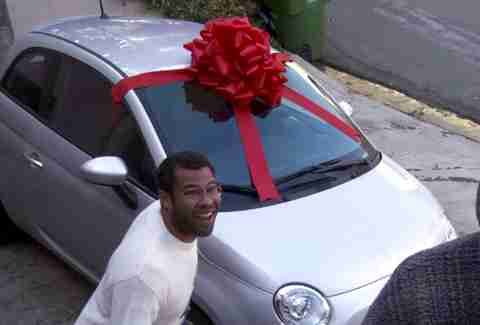 Jordan Peele
Best known for: Key & Peele, Keanu
He says: "I just got my license to drive about four months ago. I still have not bought a car. That's true New York for you. I've lived in L.A. for 13 years and I just basically, I looked at a map and carved out a Manhattan-sized island out of Hollywood, and I just walk around there and cab from here to there and Uber. I'm going to be getting a car soon."
Sign up here for our daily Thrillist email, and get your fix of the best in food/drink/fun.
Interviews conducted by Thrillist Entertainment writers Matt Patches and Dan Jackson, along with contributors Jenna Marotta, Anna Silman, and Keith Staskiewicz.