How to Buy a Reliable Car for $2,000 or Less
There are millions of perfectly good cars at the lower end of the market, but can you find one for $2,000 or less? That really depends on your ability to stop buying with your eyes and focus on less-popular vehicles that oftentimes come with a superficial scratch, dent, or what we call in the auto industry, "a whiskey lick." A lot of folks believe that a pretty used car is a good used car, but the shiny paint and popular brand name might be hiding costly regrets of apocalyptic proportions. For the ultimate bargain-basement bin, you need to look past an ugly facade, and seek inner beauty. So how do you know when you've found the one worth your cash?
Invest in "real" knowledge
It's tempting to read old car reviews online and think this wisdom alone will guide you to the right cheap vehicle... but don't bet on it. The only person who can truly find the real story behind a car's current level of health is a mechanic who has a lifetime of experience inspecting and fixing used cars. A third-party inspection, either from an independent garage that has a great reputation, or a from specialist in that particular brand, can tell you far more about a used car's worth than any new-car review from 15 years ago.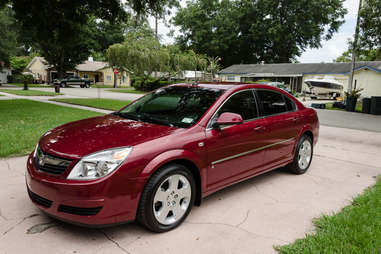 Forget looks and popularity
There's a tendency in the used-car marketplace to put huge price premiums on certain cars just because they happen to be popular. If you want a better deal, explore the long-term quality of those vehicles that have the toughness and build quality to outlast the hype.
There are a slew of models out there that have great owners and excellent long-term reliability. As it happens, they're unpopular because either the brand no longer sells new cars (RIP: Pontiac, Mercury, Saturn, Hummer, and Scion) or the specific model name is no longer sold in the new-car market (so long, Buick Park Avenue, Mitsubishi Galant, and Chrysler Crossfire). The Long-Term Quality Index is an excellent source for finding these gems of opportunity. (Full disclosure: I run the LTQI, and while yes, that's a plug, it's still a damn good resource chock-full of data sent in from hundreds of thousands of mechanics from across the country.)
Don't be a lowballer in negotiations
Most folks are just plain nuts when it comes to measuring the price flexibility of the current owner. To be brutally blunt, your chances of finding a good car for $2,000 that's advertised for $4,000 is about the same as getting a hole-in-one at miniature golf with your eyes closed and swinging the putter with your mouth. Don't make price your primary focus. Always put condition first.
Map out your future car investment
Just like you shouldn't go on a road trip without at least a map or a GPS to guide you, the same goes for getting tens of thousands of miles out of a bargain-basement used car. Some will have a ton of upkeep needed in the near future. That's going to be expensive and, to help overcome the cost, you need to become familiar with what the manufacturer recommends for maintenance before buying your car. A visit or two to an enthusiast forum for that specific model, like this one for the Buick LeSabre, will give you a far better understanding of the road ahead.
Put the car's mechanical condition first
The current mechanical condition of a vehicle is more important than any other factor when buying a car for $2,000 or less. When you buy a used car, you're really investing in the driving and maintenance habits of the previous owner (I've said it before: shop for the right owner, not the right brand). Like an athlete who is given the right foods and exercise, a car performs best when it's given the right fluids, filters, and scheduled maintenance so that little issues never become chronic ones. When you find a car that's been well taken care of, there's a high chance you've found a reliable daily driver that can go the distance for years to come.
Sign up here for our daily Thrillist email, and get your fix of the best in food/drink/fun.
Steven Lang is an auto auctioneer, car dealer, and former part-owner of an auto auction near Atlanta, Georgia. The car business is an incredibly big part of his life so if you ever need guidance, feel free to reach him directly at his Facebook page which you can find here.