Secrets to Buying a Used Cop Car, the Best Bargain on the Road
This has likely happened to you a few times in life: you see a cop car in your rearview mirror, instinctively check your speedometer, and hit the brakes -- only to realize, oh, it's just some quirky civilian who has procured an old cop car for God knows what reason. Weird.
Here's the deal: an ex-cop car can be a great daily driver for many reasons -- beyond just scaring the shit out of texters and encouraging other cars to stay out of your way. They can be amazingly comfortable and fun to drive, thanks to the heavy-duty "police package" that makes them powerful enough for a high-speed chase. Plus, they're cheap to maintain and durable as hell.
That being said, some ex-cop cars are used, abused, and worth more in pieces than whole. Others have received the crème de la crème of care and upkeep. So how do you know when you've got a winner? Here's where to look and what to look for.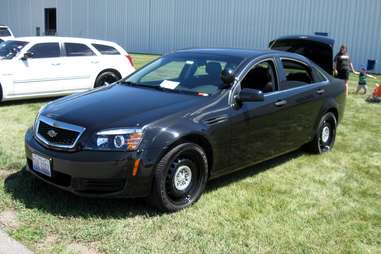 Remember, not all cop cars are treated equally
Many cop cars are not actually used for police duty. State and county officials will oftentimes get a vehicle that comes equipped with the police package, but never sees a high-speed pursuit or a donut-intensive patrol. The package comes with a heavy-duty suspension and beefed-up internals and cooling systems -- everything you'd need for a high-speed chase or hours spent idling -- but these cars don't receive the everyday abuse that their on-duty siblings experience.
What you really want is an off-duty car
Off-duty cars have all the ingredients that make a cop car worth driving, but they also feature nicer, more conventional cloth seats, instead of the industrial-grade vinyl a police cruiser will tend to have. A chosen few even come with leather seats, but those are rare and generally given to county commissioners, chiefs of the fire and police departments, and other bigwigs. Not too coincidentally, these vehicles also have the highest frequency of diligent maintenance.
But don't assume that all patrol cars are junk
When you're shopping for any cheap used car, it really comes down to the maintenance and upkeep that the previous owner put into it. Some patrol cars are given plenty of attention from departments that have the financial resources and manpower. Suspensions are rebuilt, powertrains are repaired, and in many cases you can end up with a virtually brand-new vehicle for less than 10% of the cost.
Each version has its charm. More times than not, the ones used by the men in blue can be bought for less. They are also the genuine black-and-white cars with the on-road feel and battle scars to prove it. Still, if you have a family or significant other that might not share your love of a bare-bones plastic interior, you may be happier with an off-duty version.
Narrow your search online before checking cars out in person
GovDeals and Public Surplus are the kings of online auctions and regularly liquidate cop cars for local municipalities. There are thousands of cars to choose from, ranging from mint-condition cherry rides that have barely been put through their paces, to those unfortunate many that have been smashed to hell and have potentially fatal amounts of bodily fluids staining the seats.
Don't take the listing at face value, though
Most agencies selling old cars absolutely suck at it. Sometimes the pictures online are for the wrong car, and the maintenance records are almost never listed online, even when they would boost the final sale price. For example, I once bought a vehicle for $700 that I later sold for over $7,000. The listing had the wrong pics, wrong miles, and featured a shockingly common phrase you see a lot at police auctions: "Working condition unknown. Mechanical condition unknown. Mileage unknown."
You're gonna need to figure out the history for yourself
CARFAX can be somewhat valuable, but only if the agency had a dealership or an independent repair facility handle the maintenance needs -- and larger cities are less likely to do that. Looking at the pictures online can help you quickly cross out the cars that look like they got into a fight and lost -- so long as you're reasonably sure the photos are of the right car. The remaining cars can all be inspected and verified for their condition by you or a mechanically inclined person. That takes a bit of planning.
Conduct your own forensic investigation
Has the transmission been recently replaced? Has the engine received recent repair work? What about the suspension? These are the three big expense components of most police vehicles, and to figure them out, you need to contact the official who posted the online listing. Or, if the government agency in question isn't online quite yet -- yes, that still happens -- contact the maintenance department and find out who keeps these records.
Either way, ask the official when you can come by and see the records in person, and whether there is a specific time of day when you can inspect the vehicle. Every place has rules and policies that are set in stone.
Start it up and look around
Some places will offer an escort and a battery jumper, while others have folks who will simply point, grunt, and let you do the heavy lifting of hoods, etc. Most car batteries will be DOA so make sure you have some juice with you if the agency won't give you a jump box.
In nearly all cases you will be allowed to start the vehicle up and do a detailed inspection, but driving the car is not an option. As for the records, it's almost always best to go over them with a fine-toothed comb beforehand because you really have no idea what you're getting yourself into otherwise.

Want more of the world's best Cars delivered straight to your inbox? Click here to sign up for our daily email.
Steven Lang is an auto auctioneer, car dealer, and former part-owner of an auto auction near Atlanta, GA. Feel free to reach him directly at his Facebook page.