Jeep Just Revealed 7 Badass Concepts in the Middle of the Desert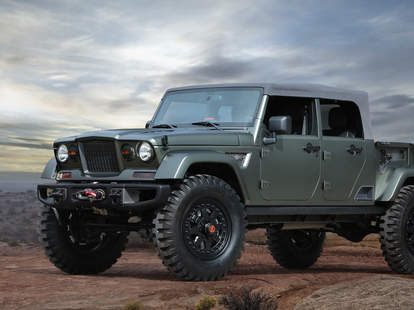 Every year, the most loyal, batshit-insane Jeep fans gather in Moab, Utah for what's known as Easter Jeep Safari. Jeep celebrates the occasion by unveiling a badass new concept car -- last year, it upped its own ante in a big way with seven concepts, each and every one jaw-dropping enough to make you fail a doping test for excessive testosterone.
This year? It's the 50th Easter Jeep Safari, and also the 75th anniversary of Jeep. That means seven more designs, executed with preposterous levels of quality, each with its own unique spin on the past and future of Jeep.
Courtesy of FCA
The Trailcat
Close your eyes and imagine you're sitting in the driver's seat of a Viper, and when you fire up the engine, you hear the supercharged rumble of a Charger Hellcat's V8. Open your eyes and suddenly you're on a desert trail in a fully prepped Wrangler that's screaming at you for a more liberal use of your right foot to unleash all 707hp -- which required a full extra foot added to the Jeep's body in order to install. 
Yeah. The Trailcat is much more of a dream car than the brilliantly disturbed engineers that built it likely realize.
Courtesy of FCA
Jeep Crew Chief 715
The beautiful thing about this concept is that Jeep's guys didn't know when to stop. They had us at retro military homage but kept on with details like on-board air compressor for when nature strikes back. It's a complete beaut, inside and out.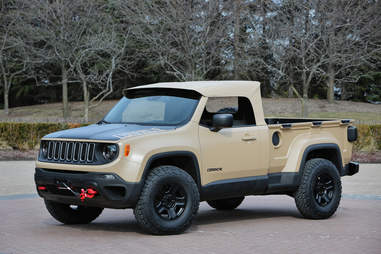 Courtesy of FCA
Jeep Comanche
It's been a long, long time since Jeep made its own pickup truck. Hence the Comanche -- the front half of a Renegade with a pickup back, whose incongruity with the rest of the body somehow seems perfectly, and paradoxically, harmonious.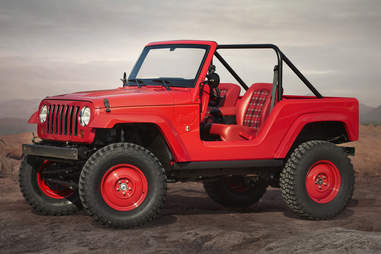 Courtesy of FCA
Jeep Shortcut
Why Shortcut, you ask? It's literally been chopped shorter to pay tribute to the old CJ-5 from the '50s. Those plaid seats do a pretty good job of invoking the decade as well... until you get them covered in mud, since the Shortcut has all the performance refinements you'd expect.
Courtesy of FCA
Jeep Trailstorm
This one's for the Jeep fans who drive a Jeep the way God intended. The floor features a rubberized coating in lieu of carpet, since carpet sucks to clean after a day spent off-roading. The doors are actually half doors, so you get all the advantages of no doors (seeing big-ass rocks when you're navigating between boulders) without all that extra dirt.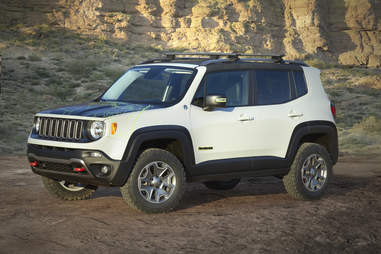 Courtesy of FCA
Jeep Renegade Commander
At first blush it might not look like much was done to this Renegade. But a 2in lift and plenty of undercarriage protection mean it's actually far better suited to off-road use than a lot of larger, showier aftermarket Jeeps.
Courtesy of FCA
Jeep FC150
If this one looks a bit more vintage than the others, that's because it's an original 1960 FC150, sitting atop a 2005 Wrangler chassis. As a result, it's rolling on much more modern capabilities than the original, despite the classic patina vibe.
Want more of the world's best Cars delivered straight to your inbox? Click here to sign up for our daily email.
Aaron Miller is the Cars editor for Thrillist, and can be found on Twitter. He's digging the Trailcat. Big time.