Holy Crap: Jeep's Really Making a Wrangler Pickup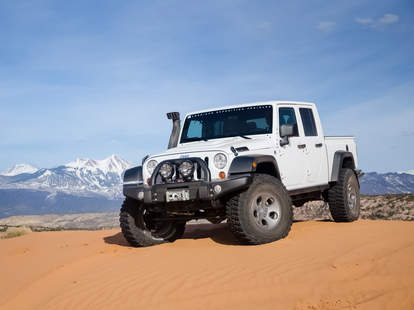 Courtesy of AEV Conversions
The Jeep Scrambler is a legend in its own right, a sort of unicorn among Jeeps, as the only true pickup/CJ-style Jeep hybrid. Since its demise more than 30 years ago, Jeep lovers the world over have been clamoring for a redux -- so much so that aftermarket conversion company AEV began making its own version (shown here), simply to fill that rather conspicuous gap in the market.
Now, at long last, Jeep's making an all-new pickup version of the Wrangler. That much was confirmed earlier this year, but today, we have physical proof. One of the Jeep forums grabbed a slew of spy shots that not only prove its existence, but give more than a passing look into what to expect. Head over to JL Wrangler Forums to check 'em out... then wait impatiently while Jeep's engineers finish creating it.
Want more of the world's best Cars delivered straight to your inbox? Click here to sign up for our daily email.