Mercedes Benz Is Actually Making a Pickup Truck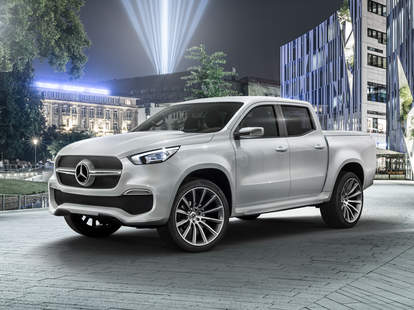 Courtesy of Mercedes-Benz
When news broke that Ford was likely bringing back the Ranger pickup truck (along with the Bronco), there was much rejoicing. Now that Mercedes has confirmed -- yes, confirmed -- that it's joining the small pickup brigade next year, the appropriate reaction is probably to look up and see if the sky is falling.
Meet the Mercedes-Benz X-Class concept pickup. While not totally unexpected -- Mercedes has been whispering about this for ages -- its debut is more than a tad bit jarring to the senses. It's going into production next year, but before you get too excited, that doesn't mean you can buy one stateside.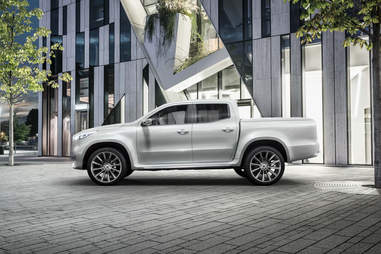 Courtesy of Mercedes-Benz
Let's start with the facts. The line of pickups, known as X-Class, is intended to be the "first true premium pickup for the modern urban lifestyle," which is manufacturer-speak for luxury truck that you can drive down congested, narrow lanes without running everyone off the road. As for how big it is, it's what you'd count as a small truck -- think Chevy Colorado or Toyota Tacoma, instead of the full-sized F-150. That makes sense, considering the markets Mercedes is targeting: Europe, South America, South Africa, and Australia.
Courtesy of Mercedes-Benz
Inside, it's basically what you'd expect from a modern Mercedes. Plenty of connectivity for your phone, apps galore, quality leather, and so on. There's no word yet on whether Mercedes will offer its glorious seat-massager option, which would be perfect after a long day of work, even if the kind of "work" is more of the daily commute and weekend "football" practice variety.
As for how much of a performer it will be, the X-Class is essentially the next-generation Nissan Frontier underneath a Germanized skin. Renault-Nissan will be producing the truck for Mercedes in both Spain and Argentina.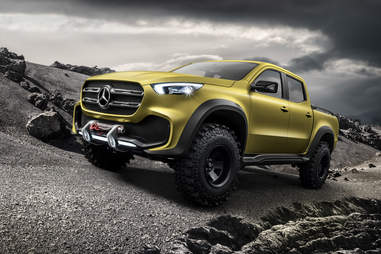 Courtesy of Mercedes-Benz
The idea of a Mercedes truck as a nicened-up Nissan might seem odd at first, but once you get past the novelty, it's actually pretty easy to see it as the start of a trend. Ford's lackluster experiment with a Lincoln version of the F-150 notwithstanding, there's plenty of room to grow in the resurgent small-truck market in the US. A Lexus-ized Tacoma or Cadillac-ed Colorado would be very easy competition for a Mercedes truck, should Mercedes decide to bring it stateside.
For the record, Mercedes should decide to bring it stateside. We're demonstrably thirsty for the practicality of a truck without the ginormity of a full-size, and a sea of luxuriously appointed small trucks makes much more sense on American roads than on the roads where the X-Class will actually be sold. 
Want more of the world's best Cars content delivered straight to your inbox? Click here to sign up for our daily email.