When McLaren launched the F1 in the mid-1990s, it obliterated any notion of what a supercar could be. Sure, it accelerated with neck-snapping force and its cornering was tremendous, but its top speed of 243mph made it the fastest production car in the world -- a record that stood for nearly a decade until the Bugatti Veyron claimed the crown.
The F1 wasn't just about outrageous speed, though. It was about brilliance in engineering, and being a good car to drive to the grocery store if you wanted to. Rowan Atkinson (Mr. Bean, Blackadder) used to do exactly that with his. It famously won the 24 Hours of Le Mans outright, and its seating arrangement, with the driver in the middle and a passenger on either side, is legendary.
And now, the F1 is coming back. That's what the folks at Autocar say, anyway. Having spoken with an "insider" source, they were confident enough in the new car's details to commission these renderings. If this is accurate, we're all in for a treat.
Let's start with the interior, because for all the original F1 was and is, that centrally positioned steering wheel is still the most iconic detail on the car. The new one's going to have it, too. Technically, that means it will be a grand tourer in McLaren's estimation, because it's going to be a three-seater instead of two. That's an important distinction, and like the original, the intent of this car isn't to be a flat-out performance machine (though there will be plenty), it's to be the first "Hyper GT" -- that is, the fastest car in the world with more than two seats.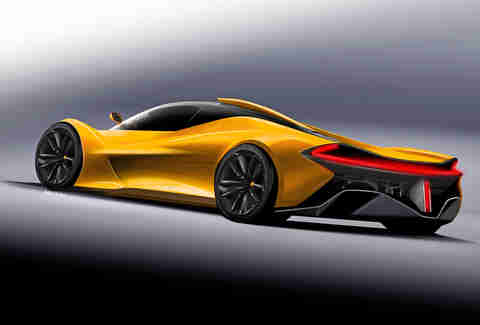 The 700hp V8 is derived from the current McLaren lineup, with a projected top speed well beyond 200mph. That's hardly surprising, but what is surprising is the softened and retuned suspension, aimed at making the new car a truly comfortable ride. Considering McLaren's current offerings are already pretty comfortable for a supercar, the new F1 (expect a couple letters added to its name when it's all said and done) will set an impressively high bar.
Then again, so did the old F1.
Want more of the world's best Cars delivered straight to your inbox? Click here to sign up for our daily email.