The Most Drop-Dead Gorgeous Cars at the Monterey Auctions This Weekend
In the automotive world, there are auctions (dealer-to-dealer auctions, eBay, etc.)... and then, there are auctions. This weekend, a veritable slew of the world's finest cars are gathered in Monterey, CA, destined to go under the hammer for monstrous prices that are expected to stretch all the way into the eight-figure zone.
These are the most drop-dead gorgeous cars at the Monterey auctions this weekend, and RM Sotheby's happens to employ some of the finest automotive photographers out there. That some of these cars have as much historical relevance as beauty is simply icing on the automotive cake.
Darin Schnabel ©2016 Courtesy of RM Sotheby's
Estimated price: Your guess is as good as anyone's
It's rare that you can point to a single car and say, "That's one of the most important vehicles of all time. That exact one, right over there." This is one of those occasions. You're looking at the original Cobra. Not an original. The.
Carroll Shelby bought this car as an AC Ace, worked with his team of hot rodders, and shoehorned a Ford V8 into the little English roadster. It's not just some prototype developed by a multinational corporation using an army of researchers. It's a small group of friends that basically built a street legal race car in a garage, and blitzed the automotive world with it. Were it not for this exact car, the GT350s and GT500s wouldn't have been born. The GT40 project wouldn't have been the dramatic success that it was. There would be no Viper. The list goes on.
Even more incredible? This car has never come up for sale before. Shelby's eponymous car company owned it until the day he died, and the seller is officially The Carroll Hall Shelby Trust. You simply do not get more authentic.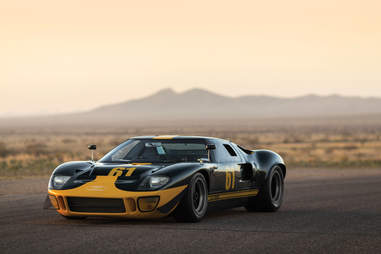 Courtesy of RM Sotheby's
Estimated price: $3,750,000 - $4,250,000
With all of the racing success of the GT40, it's a bit easy to forget that Ford legitimately produced it as a road car back in the '60s, albeit in limited quantity. They were hardly tame, but they did at least have niceties like carpeting. As you might expect, the lucky few who got their hands on them had a propensity to take these street-legal race cars and... race them in vintage races. That's been the legacy of this one after a stint doing marketing work for Ford, and that's a good thing. This GT40, as with all of them, is a beautiful beast, and as such it belongs on the automotive wildlife preserve that is the race track.
Tim Scott ©2016 RM Sotheby's
Estimated price: No one knows
Stop and look at this car for a second and take in its shape. The bodywork's sole purpose was to help the car go faster on a race track, visuals-be-damned. That didn't stop it from being one of the most striking racers ever to represent Maranello. Regardless, it's what's beneath the skin that counts, and this car certainly has beautiful components. The 268 SP is a thoroughbred racer, and as such was built with no expense spared. It's an extremely close descendent of the very first mid-rear engined Ferrari -- changes included very minor tweaks here and there, plus the addition of a 2.6 liter V8 engine (hence the 268 moniker). This car, and its offspring, were at the fore of Ferrari's rise to racing superpower, and the price it will command is pretty much on par with such importance.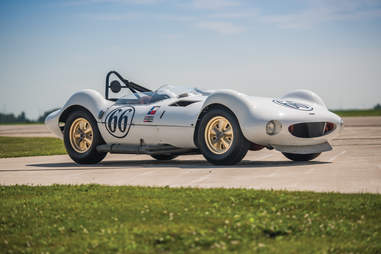 Darin Schnabel ©2016 RM Sotheby's
Estimated price: $900,000 - $1,400,000
There were two Texans in the 1960s who took on the best that Europe had to offer in the world of motorsport. Jim Hall is the one everyone forgets about in lieu of Shelby. Nevertheless, the Chaparral racing team -- it's named after a flightless bird that runs quickly in west Texas -- set a tremendous legacy for engineering, with innovative aerodynamic solutions that were at times so advanced they quickly became outlawed. This is the very first Chaparral, which was actually built to spec in California. It stood toe-to-toe with the Lotuses and Maseratis of the world, and while this exact car didn't win, it's the patriarch of one of America's most outside-the-box racing legacies.
Patrick Ernzen ©2016 RM Sotheby's
Estimated price: $20,000,000 - $25,000,000
Eighteen-year-old single malt. Sean Connery. The Ecurie Ecosse D-Type. That's how important this car is to the history of Scotland. When Ecurie Ecosse -- that's French for Scotland Stable -- won the 24 Hours of Le Mans in 1956, it was with this exact car. It's hands down the most important single Jaguar in existence today, and it's a huge part of the exceptionally rich legacy that is Ecurie Ecosse. The rudder-like wing behind the driver's head is for high speed stability -- just a tick under 170 mph in the mid-1950s was no small feat -- and the car's advanced chassis dynamics ultimately influenced the also-legendary E-Type.
For those reasons, Jaguar D-Types in general are a big deal, but the Flag Blue Metallic livery of Ecurie Ecosse remains one of the most iconic liveries in motorsport 60 years later. Say hello to the most expensive Jaguar ever made.
Courtesy RM Sotheby's
Estimated price: $1,000,000 - $1,300,000
In 1969, Mustang and Camaro waged a titanic duel for the Trans Am Championship. Peter Revson -- heir to the Revlon fortune and a Formula One driver -- raced this exact car against fellow Formula One man Mark Donohue's Camaro. For the first half of the season, the Mustang dominated before being roundly beaten to the title by the Camaro. This is the lone surviving Mustang out of three that Carroll Shelby prepared for the '69 season -- the other two didn't make it through the year. Basically, look at any classic Trans Am race with a Mustang in it, and you've got a reasonably good chance that this is the car in the photo.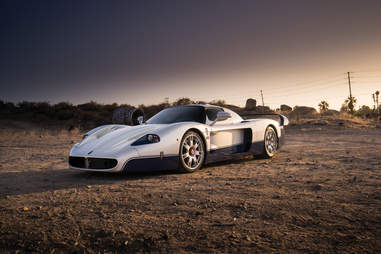 Karissa Hosek ©2016 RM Sotheby's
Estimated price: $1,300,000-$1,600,000
You know the Ferrari Enzo, of course, and if you didn't already know it's even-fancier Maserati sibling, now you do. Take an Enzo, give it a svelte coachwork that somehow makes the wildest Ferrari of the 2000s seem tame, and make 50 of 'em. The result is the MC12, a 630hp monster-slash-rolling-artwork that can hold its own against today's supercars in virtually any respect.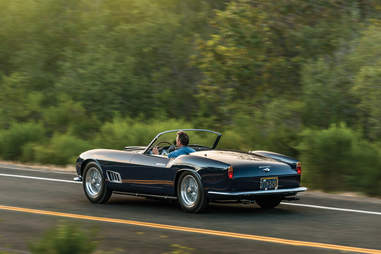 Robin Adams ©2016 RM Sotheby's
Estimated price: $12,000,000 - $14,000,000
No, this is not the Ferris Bueller car...but you'd be forgiven for thinking it is. That was the short wheel base, or SWB version. This one's its longer direct predecessor. Interestingly, it only exists because a few Ferrari insiders saw a market for a drop-top Ferrari for wealthy clientele that would rather drive along the PCH than go racing -- hence the name. Some still raced it anyway, and did so successfully, too. It's considered by many to be the pinnacle of Ferrari design, and the prices... well, they reflect that.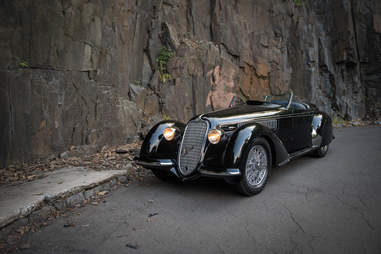 Darin Schnabel ©2016 RM Sotheby's
Estimated price: $20,000,000-$25,000,000
Take a good, solid look at this car. Chances are you've never heard of it and can't imagine that price tag is anything but a typo. That's OK -- the truth is that it's one of the most incredible cars ever built, when compared to others of its time. Powered by a twin-supercharged double overhead cam V8 -- that would still be a headliner on a brand new engine today, for the record -- the 8C 2900B was pretty quick, especially considering the exceptionally low power by other cars of the day. That's not why this car's important, though. This was the first car built by Carrozzeria Touring using the "superleggera," or super-light method -- which would ultimately lead to the company changing its name to Touring Superleggera. Why does that matter? From Ferrari to James Bond's Aston Martin of choice -- the DB5 -- Touring Superleggera's reputation for building the best, most beautiful, and lightweight car bodies is unparalleled.
Robin Adams ©2016 RM Sotheby's
Estimated price: $1,300,000 - $1,650,000
There are those that consider the 300 SL, with its Gullwing doors and then world-beating performance, to be the original supercar... then there are those that consider the 300 SL Roadster to be an even better performance car... despite having an open-air roof. The reasons for this are technical, and frankly moot, considering the performance of today's cars. None of that changes the fact that today, the 300 SL Roadster is every bit as desirable a collector's car as its more famous Gullwing variant. Can you honestly look at this stunner of a car and not imagine what it must have been like to drive it down the autobahn in the late 1950s?
Courtesy of Mecum Auctions
Estimated price: $2,300,000-$3,300,000
Technically, this one's at the Mecum auction, not RM. But who cares? It's absolutely stunning, and the symphony emanating from the mellifluous V12 sounds every bit as good as the Vulcan looks. Aston Martin produced just 24 of these carbon-fiber monsters, and with over 800hp to back up the visceral appeal, the Vulcan is much, much more than mere sound and fury. It signifies the very best of Aston Martin. For a company with over 100 years of nothing but the finest vehicles, that's saying a lot.
Want more of the world's best Cars delivered straight to your inbox? Click here to sign up for our daily email.