How Tesla Built the Millennial Dream Car
Courtesy of Tesla Motors
Courtesy of Tesla Motors
When was the last time you checked Twitter and noticed your average Joe Schmo engaged in a discussion about cars? There's been tons of buzz about Tesla's Model 3, tuning people into a larger conversation about the absolutely transformative shift occurring in the auto industry right now. The Model 3 does what so many other cars have failed to do: get young people talking, and it's being described as "new" and "exciting" by prospective buyers who otherwise view most cars as UGH SO BORING.
There are plenty of arguments to suggest millennials are growing less and less interested in owning cars, or even learning how to drive them: a daunting buying process, the costliness of insurance and maintenance, environmental concerns, better access to public transportation, and the convenience of ride-share programs like Uber are all chief among them. So the ease of ordering up a super-affordable Model 3 online and having it show up at your door, just like an Amazon delivery, is pretty intriguing. Throw in the promise of cool technology and minimal driver interaction (as in, push a button and the car parks for you) and you've got a recipe to transform millennials from reluctant drivers to enthusiastic end users.
Has Tesla designed the ideal car for the millennial lifestyle? It certainly looks that way -- and with it, Tesla is positioned to successfully bridge the gap between tech-driven consumerism and the automotive space.
It appeals to the millennial ethos of technology and functionality
Your smartphone bundles hundreds of apps that are all accessible from a central screen. Why shouldn't your car? One look at the Model 3's interior and iPad-like dashboard screen and it's almost as if this is the car Apple wishes it had brought to market. It appeals to millennial sensibilities; that is, those who are blasé toward purpose, but obsessed with form and function.
When it comes to technology, user interface and experience are the entry points to design. As the fourth vehicle from the first truly connected car company (i.e., it offers owners over-the-air updates for key vehicle software), the minimalist Model 3 exemplifies function over form.
But what remains unclear is the real reason for the lack of features (and clutter) in the Model 3's interior. It may have had something to do with cost cutting -- it's not inexpensive to design, develop, purchase, and install batteries and motors -- and it's also telling from Musk's elusive tweets that the production-ready interior might not be anything like what we've seen so far.
The next best thing is always around the corner
Tesla will not ever be Apple, but the hype around both brands is notably similar. Just as leaked rumors and Apple keynotes get us excited about the next iPhone, Musk's tweets promising a next-level spectacle at part two of the Model 3 launch already have people speculating about what's to come. The Model 3 is a product of the moment, but also the next coming moment.
It's highly likely that the auto market will take a page out of Tesla's (and Apple's) book in the future: traditional "model years" could go away, replaced by much-anticipated numeric updates. We can't say Toyota Corolla 11.5 with a straight face, but, hey -- car companies have used internal codes for years to designate model changes. Even if you can't distinguish your W123s from F10s and MP4s, if you pay attention to the difference in camera megapixels on your iPhone updates over the years, you'll catch on quickly.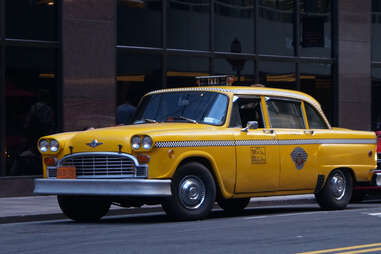 It might be the Checker cab for a new generation
The Model 3 could very well function someday as a ride-share app's custom-designed car, not unlike the Checker was to the cab industry back in the day. General Motors has Maven -- in addition to a strategic partnership with Lyft. BMW has rejiggered its own captive ride-sharing program as ReachNow. Uber may have just purchased 100,000 Mercedes-Benz S-class sedans.
But where is Tesla, the manufacturer of the industry's most connected cars to date? The company could be in the throes of developing its own answer, not just to young drivers, but to riders who would rather not own a car. The mass-market, semi-autonomous Model 3 could make a snazzy solution. If that happens, then ironically (and millennials love irony), they may never really own the car that's designed with their needs in mind.
Finally, where's the charge port?
It wasn't immediately apparent at the crowded, chaotic launch event, but the charge port for the Supercharging-capable Model 3 was invisible to the naked eye. Could this be the Tesla vehicle that embraces wireless charging in a big way? Will it be the first one to adopt the robotic charging arm? Is this the future of full-service fueling? Stay tuned.
Sign up here for our daily Thrillist email, and get your fix of the best in food/drink/fun.
Jeff Jablansky is a contributor to Thrillist Cars. He's a journalist in search of fascinating ways to talk about the automotive industry. Follow him, if you can: @unclewithcars.