The Coolest-Looking Cars to Hit the Road in 2016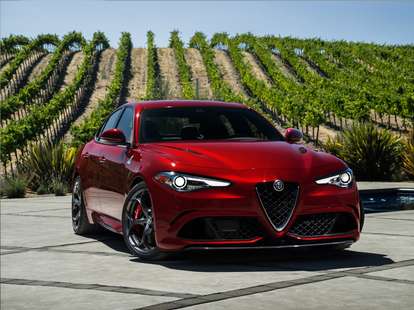 Some new cars arrive on the scene with a subtle charm that grows on you slowly over time; others are so white hot straight out of the gates, it's a wonder they don't just burst into flames. Looking back, 2015 certainly had its share of face-melting debuts, and most of the finest will finally be hitting the road in 2016. Feast your eyes, people.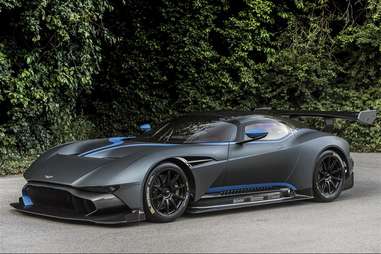 Price: $2,300,000
What makes it so cool: Somehow, the company that makes suave and sophisticated cars for Bond managed to build a racetrack-only, 700hp supercar that's more at home in the Bat Cave than Q's lab. That's perfectly fine by me. I want to make a pun about living a long and prosperous life so I can afford a Vulcan some day, but I'll settle for sharing a link to the in-freaking-credible sound emanating from its monstrous V-12. God of war, indeed.
Price: $165,000
What makes it so cool: If the regular Cayman GT4 is the ultimate street car for enthusiasts, the Clubsport is the buy-it-now race car we all have in our garage, at least until our dreamland revelry is pierced by the dreaded alarm clock. Not only did Porsche build a car that would appeal to only the purest of the performance-driving enthusiasts of the world, but it made it damn sexy, too. Translation: Porsche = good. Cayman = hell yeah. GT4 = giggity. Clubsport = sploosh.
Price: "Around $70,000"
What makes it so cool: When the Alfa Romeo 4C dropped, enthusiasts swooned, but it was too early, because as a properly gorgeous sports sedan, the Giulia is no novelty toy. With early performance numbers that make an M3 blush, the Giulia Quadrifoglio is the true face of Alfa Romeo's resurgence in America.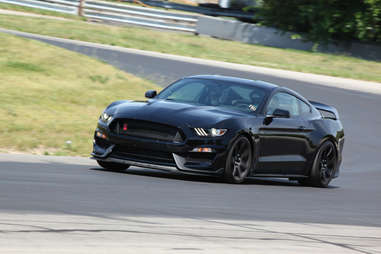 Price: $47,795/$61,295
What makes it so cool: Not to take anything away from the current-generation Mustang -- it's a wonderful embodiment of so much of its own DNA -- but the proper return of the GT350 and GT350 R after oh-so-many years is a sight for sore eyes as much as it is a beautiful iteration of an important performance vehicle.
Price: TBA, but $400,000 is distinctly possible
What makes it so cool: The car's English-born grandfather (the incomparable GT40) is basically the patron saint of American motorsports, and all the new GT did was throw down a perfect blend of visual cues driven by cutting-edge tech -- just as the GT40 did two generations ago. Every ounce of the car is functional, which makes its beauty all the more amazing.
Price: $175,900
What makes it so cool: There's a lot to drool over in Porsche's love letter to its most loyal and hardcore customers. What got me, though, were those little louvers on each fender. They're not for show; their purpose is to allow air to escape from the wheel wells, a function that's only necessary to keep the front from taking flight at speeds that are guaranteed to land you in jail if you attempt to reach them on the street.
Price: TBA, but expect in the neighborhood of $250,000
What makes it so cool: In the early 1980s, the Ferrari 288 GTO was a game-changer for the company, with its twin-turbo V8 mounted behind the driver. The 488 GTB is the only Ferrari sans the 288 GTO-related F40 to replicate the mid-mounted turbo V8 formula, and it's an absolute stunner of a replacement for the outgoing and still-not-at-all-shabby 458 Italia.
Price: TBA, but expect in the neighborhood of $150,000
What makes it so cool: Once upon a time, Honda/Acura made a car that changed the way everyone looked at supercars. It was called the NSX, and today, it's a legend. Rumors of a successor swirled for what seemed like an eternity, before the production-ready, state-of-the-art, hybrid NSX made its debut. With its pedigree, it's hard for the NSX to be anything but gorgeous, and at its price point, its biggest competition is its own past.
Price: $2,570,000
What makes it so cool: James Glickenhaus has been around Hollywood for longer than most of the cast of the new Star Wars, but his opus is made out of almost nothing but carbon fiber. The race-car version, the SCG 003 C, is already out on race tracks, and the street version is well on its way.
Price: $1,890,000
What makes it so cool: Coming on the heels of Koenigsegg's all-conquering, 1,340hp One:1, the Regera is hands down the ballsier and more advanced car. Stylistically, it's more subdued... right up until the body panels open and make it look like a Transformer. Of course, it's also a plug-in hybrid with over 1,500hp and a top speed of 249mph.
Price: TBA, but expect it to start below $55,000
What makes it so cool: Take BMW's smallest and most svelte car and put it on enough steroids to win a MLB home-run derby, and you've got the idea. It's a gorgeous car whose beauty lies in its simplicity: add flares for larger wheels, enlarge the holes to let air keep things cool, and transfer over a host of suspension goodies from the M4, and you have a time-tested recipe that has been in play for generations.
Price: $118,795
What makes it so cool: If you're struggling to see why the ACR is so bloody cool looking, you're probably looking at something other than the ACR. It's that distinct. All those little (and freaking huge) aero bits are absolutely functional, leading the car to the kind of downforce-led race-car performance you've gotta be a pro to properly exploit. Not bad for a "street car," huh?
Price: N/A (yet)
What makes it so cool: There was a time when Bentley was synonymous not with uber-luxury machines, but with gorgeous grand tourers that would set your heart all aflutter. That time was back when people used words like "aflutter" in conversation, and W.O. Bentley was still alive. The EXP 10 Speed 6 may have been just a design exercise, but there's increasing signs that it will get confirmed for production early in 2016.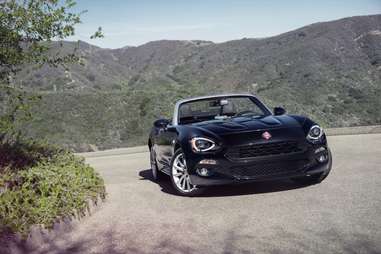 Price: TBA, but likely in the mid-$30,000 range
What makes it so cool: Last year brought us the Mazda MX-5 Miata, and it was good. This year, though, we saw the iconic Japanese-take-on-an-English-roadster take on a decidedly Italian flavor. With more horsepower and even better looks that hark back to classic Italian sports cars of old, we have no beef with that.
Want more of the world's best Cars delivered straight to your inbox? Click here to sign up for our daily email.
Aaron Miller is the Cars editor for Thrillist, and can be found on Twitter. He needs a bigger a) garage, and b) bank account to be able to own all of these.