The Absolute Best Cars of 2015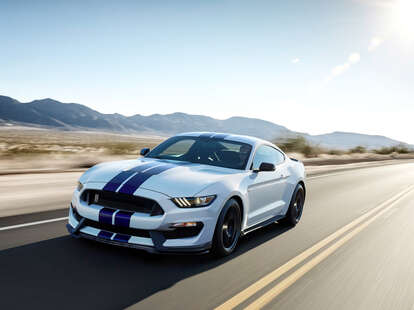 Whether you're a die-hard enthusiast or a casual car guy, 2015 was a banner year for the automotive industry. Some of the brilliant cars announced in 2014 finally hit the streets, along with a slew of righteous machines that really excel in terms of performance and that special shut-up-and-take-my-money quality. Which begs the question: how to separate the best from the best?
To help identify this year's crème de la crème, we assembled a panel of experts that live and breathe anything automotive. Let's meet the judges -- chances are you've either heard of them or read their work:
Adam Carolla: In addition to his own CarCast podcast, Adam collects Paul Newman's old race cars -- and races them.
Sharon Carty: Sharon's the Editor-in-Chief of Yahoo! Autos.
Matthew Phenix: Matt is the Editor-in-Chief of BBC Autos.
Bob Sorokanich: Bob is the Online News Editor for Road & Track.
Aaron Miller: Aaron (hey, that's me!) is the Cars Editor for Thrillist.
Here are our definitive picks for the 10 best rides of 2015.
Nominated by: Matthew (BBC Autos), Bob (R&T) and Aaron (Thrillist)
Price: $24,915
What makes it great: "It's got all the luxuries you expect in a brand-new car -- including a fantastically easy-to-use touchscreen -- and absolutely none of the crap you don't need. Plus, it sounds just like my 1990 NA Miata on acceleration." -- Bob
The bottom line is that the Miata is losing ground to exactly no one when it comes to shedding copious amounts of weight, with the never-heavy roadster now clocking in at a svelte 2,332lbs.
Nominated by: Adam (CarCast)
Price: $105,000
What makes it great: The Model S has been around for a while now, obviously, but the P85D, especially the P85D with the software upgrade Elon Musk not-so-subtly calls Ludicrous Mode is, well, ludicrous. Over the course of 2015, there was probably no other car responsible for more speechless gawking, as the novelty of a nearly silent car repeatedly kicking ass in drag races never seemed to wear off.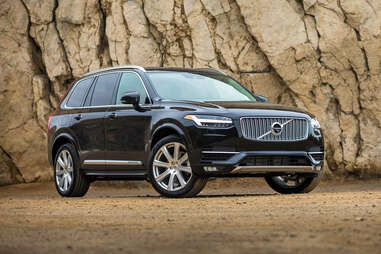 Nominated by: Sharon (Yahoo! Autos)
Price: $48,900
What makes it great: "We named it the Yahoo! Autos Ride of the Year, because it's just simply awesome. It feels like driving the future, in a car that's big enough to carry your family and safe enough to let your teen drive." -- Sharon
The Swedish safety mavens have been on a high-tech tear lately, and the XC90 is probably more aware of your surroundings than you are -- all part of the company's pursuit of a very explicit goal: zero deaths in its vehicles by 2020.
Nominated by: Adam (CarCast)
Price: $130,400
What makes it great: Not that the 911 is slow in any guise, but the GT3 is the track-ready 911 for the Porsche faithful who want to employ all of the latest and greatest technology in pursuit of driving perfection. One of the finest transmissions on Earth, 475hp, and subtle tricks like rear-wheel steering make it worth every part of its $130,000 price tag. The GT3 RS (shown) kicks things up to another level, right down to the slits in the fenders to help let air out from the wheel well at high speeds.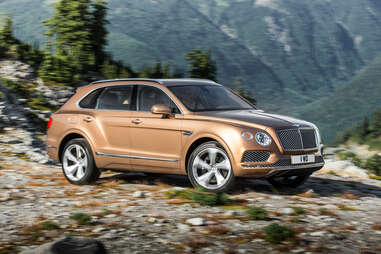 Nominated by: Matthew (BBC Autos)
Price: $229,100
What makes it great: If the mere existence of a 600hp, 187mph-capable SUV that can hit 60 mph in four seconds flat isn't a big deal to you, consider the fact that, as a fully fledged Bentley, the Bentayga is one of the most luxurious vehicles on the planet. With Rolls-Royce and others still scurrying to develop their own ultra high-end luxury SUVs, Bentayga's also the very first of a new breed, and that's gotta count for something.
Nominated by: Adam (CarCast) and Aaron (Thrillist)
Price: $84,600
What makes it great: The dirty little secret about the Porsche 911 is that its rear-engined layout isn't exactly state of the art. The much-lower-priced Cayman fixes that, and now that Porsche has dropped a GT4 version dripping in enthusiast aphrodisiacs, the GT4 is probably the best manual transmission-only car you're gonna find on the road today.
Nominated by: Adam (CarCast), Bob (R&T), and Aaron (Thrillist)
Price: $47,795
What makes it great: "When Ford made a Mustang that beat the Z06 in [Road & Track's] Performance Car of the Year competition, our jaws hit the floor. Holy damn." -- Bob
​Unlike some other variants in the past, the latest Mustang to revive the Shelby crown is perhaps the first to truly earn the famed moniker since the original in the 1960s.
Nominated by: Matthew (BBC Autos)
Price: $79,400
What makes it great: The Z06 is still the benchmark in terms of bang-for-the-buck performance. In terms of pure speed, it'll outpace most supercars that cost three times as much, and it fights the good fight against those who think Americans can't built cars that corner.
Nominated by: Bob (R&T)
Price: $37,295
What makes it great: "Muscle car acceleration, sports car handling, and finally an interior you won't have to explain with caveats about torque." -- Bob
If nothing else, the new Camaro serves as GM's quick-strike answer to arch-rival Mustang's 2014 revamp. The SS now rides on GM's magnetorheological suspension, which is a super-fancy way of saying it has shocks that can adjust to the conditions in milliseconds to optimize handling.
Nominated by: Adam (CarCast)
Price: $129,900
What makes it great: A 500hp Mercedes? Yeah, that's been done. But a 500hp Mercedes that's a classic-looking grand tourer, built to go toe-to-toe with beauties like Jaguar's F-Type and athletes like the ever-present Porsche 911, is a new breed. It's kinda hard not to love that.
Want more of the world's best Cars delivered straight to your inbox? Click here to sign up for our daily email.