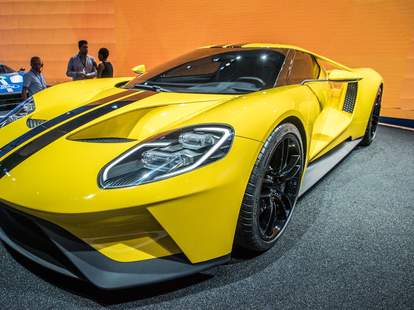 The Coolest Cars at This Year's LA Auto Show
The LA Auto show is one of our favorites of the year: one of a handful at which the top manufacturers unleash some of their brand-new cars and show off a few one-of-a-kind concepts for the very first time. It's also the first time some of Europe's finest vehicles get to touch ground in North America, so of course we sent a photographer to capture everything he could. These are the coolest cars of the bunch.
Courtesy of FCA
Fiat 124 Spider
For the first time in a few decades, Fiat's going to bring a convertible sports car stateside. Underneath the skin, the new 124 Spider shares most of its structure with a Mazda Miata, so we know it's going to drive great. The engine's all Fiat, though, and the 160hp should be more than enough to put a smile on your face.
Dustin Downing/Thrillist
Mercedes-Benz SL-Class Cabriolet
The apex of Mercedes' topless lineup just received a bunch of tweaks to look a bit more like the still-new AMG GT. The real fun is under that long hood, though: in its lowest, SL-400 guise, the car has 367hp, but that number skyrockets as you step up the wallet-lightening ladder. The all-singing, all-dancing SL 65 AMG version packs a 630hp V12 under the hood.
Courtesy of Audi
Audi S8 Plus
We knew Audi's S8 Plus was going to be fast, especially for a large and luxurious sedan (it hits 60mph in 3.7 seconds, en route to a top speed of 190mph) but what we didn't know was the price. Starting at around $115,000, it's hardly cheap, but it's quite possibly a bargain.
Dustin Downing/Thrillist
Alfa Romeo Giulia Quadrifoglio
505hp, 3.8 seconds to 60mph, and a lap time around the legendary Nurburgring track that's faster than any sedan that's come before is all very nice, but combine that with the beautiful Italian styling and a soundtrack to match, and it's undoubtedly one of the hottest cars of 2016.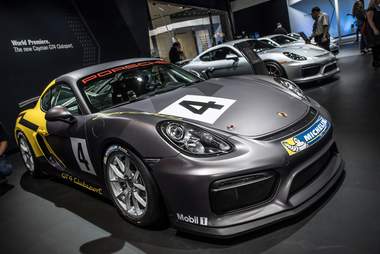 Dustin Downing/Thrillist
Porsche Cayman GT4 Clubsport
Make no mistake, the $165,000 Cayman GT4 Clubsport isn't meant for public roads. You know what? Who cares? It's a drop-dead sexy, bona-fide race car. It comes with all the safety equipment you need to keep you out of harm's way, because by the time you realize it's too much car for you to handle, you're gonna need it.
Dustin Downing/Thrillist
Range Rover Evoque Convertible
Range Rover has always been the luxurious arm of Land Rover, and with that in mind, the Evoque was built to conquer the urban jungles of the world. This new convertible version is not exactly cheap, though: reasonably equipped, it'll set you back about $60 grand.
Dustin Downing/Thrillist
Volkswagen Beetle Dune
Volkswagen's homage to the supremely cool Baja Bugs of old is actually going into production. The Beetle Dune is raised 0.4in and widened 0.6in from the base model to lend it a bit more of a let's go play in the dirt vibe. It hits the market in a few months, and a convertible version's going on sale later in 2016. No word on a diesel version, though.
Dustin Downing/Thrillist
Volkswagen Golf GTE Sport
When alarmists claim the end is nigh for automobiles, concepts like the Golf GTE Sport are the perfect comeback. It's a hybrid, sure, but it's the kind of hybrid hot-rod car guys will be tinkering with in their garage in a decade. The carbon fiber body keeps things light and adds a bit of flash, but the star of the show is the engine, which is plucked straight from VW's World Rally Championship efforts, then combined with a hybrid system for the kind of acceleration only a handful of cars can beat today.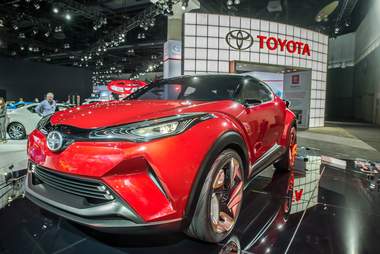 Dustin Downing/Thrillist
Scion C-HR Concept
Compact size, and High Ride height. Just in case you're wondering what that acronym stands for. Scion's cool little concept is part of an ongoing trend that's seeing an ever-increasing number of what you could either call very high cars or very small crossovers, like the Nissan Juke and BMW X1. Either way, it's only a matter of time before a manufacturer makes one that's legitimately desirable. This might, possibly, be it.
Courtesy of Lincoln
Lincoln MKZ
Wait. A 400hp Lincoln? Yep. A twin turbo V6 comes with either traditional rear-wheel drive or an all-wheel drive system that's based on the state-of-the-art unit Ford recently debuted on the Focus RS. What that means is the car's drivetrain is smart enough to power each wheel at a different rate to get you through tricky corners faster than your dad's Mark VII could go in a straight line.
Dustin Downing/Thrillist
Fiat 500e Stormtrooper
Here's something that Fiat Chrysler Automobiles US wants you to know: it's signed on with Lucasfilm to work some promotional gigs ahead of Episode VII. Yes, that's an officially licensed stormtrooper Fiat. No, you can't buy it.
Dustin Downing/Thrillist
Honda Project 2&4 Concept
This technically debuted in September at the 2015 Frankfurt show, but it's just made it's American debut. Combine the raw speed and ferocity of a MotoGP bike with the stability of a car, and you'll get the idea of exactly what it is the Honda development team was trying to accomplish. Will it see production? Only in our dreams.
 
And the best of the rest:
Dustin Downing/Thrillist
Dustin Downing/Thrillist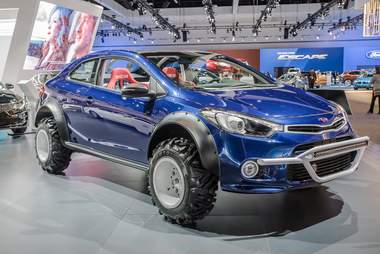 Dustin Downing/Thrillist
Dustin Downing/Thrillist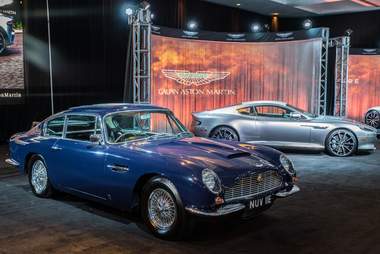 Dustin Downing/Thrillist
Dustin Downing/Thrillist
Dustin Downing/Thrillist
Dustin Downing/Thrillist
Dustin Downing/Thrillist
Dustin Downing/Thrillist
Dustin Downing/Thrillist