With another season of Formula One set to kick off, it's high time we took a look back at the coolest cars the series has ever seen. Maybe there have been better, there have been prettier, and there have been more important -- but each one of these cars exhibits that certain je ne sais quoi that helps it stand out as coolest, even amongst the greats.
Recommended Video
This Road Trip Is Like 'The Amazing Race' Except Way Crazier
Ferrari 312T - 312T5
When it raced: 1975 to 1980 (ending with the 312T5)
The Ferrari 312T won four Constructors' Championships during its run. Niki Lauda piloted it to two of his own championships, on either side of his famous duel with James Hunt in '75. Gilles Villeneuve's on-edge heroics, though, are just as big a part of the car's legend.
Matra MS11
When it raced: 1969
Don't worry about the front half of the car. Look at the sexy-as-hell exhaust sticking out of the V12 in back. Then put your headphones on, click here, and thank me later.
Williams FW15C
When it raced: 1993
In some respects, the 1993 Williams challenger remains the most sophisticated F1 car of all time thanks to antilock brakes, traction control, and a form of active suspension that literally raised and lowered the car to affect aerodynamic drag. It was good enough that Ayrton Senna begged for a chance to drive it, even for for free. Instead, his arch rival Alain Prost won his fourth and final championship in this car.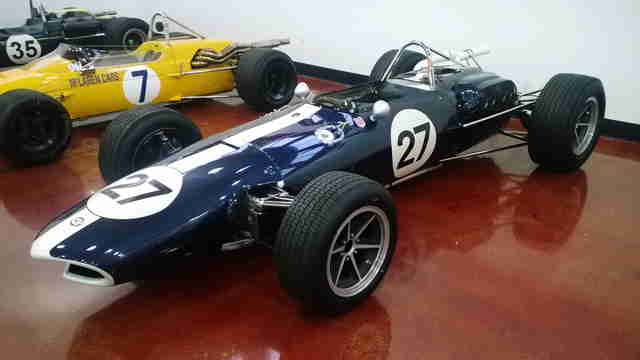 AAR Eagle
When it raced: 1966 to 1969
Dan Gurney's All American Racers stands as the most successful American-run Formula One team in history. That its Eagle race car ranks among of the most beautiful of all time is just a very nice coincidence.
McLaren M23
When it raced: 1973 to 1978
On its debut, Emerson Fittipaldi drove the M23 to a World Championship. Two years later, the car was immortalized for its role as James Hunt's car opposite the aforementioned Ferrari 312 of Niki Lauda.
Tyrrell P34
When it raced: 1976 to 1977
The only six-wheeled car to ever race in F1, it seems strange but it actually made a lot of aerodynamic sense. The only problem was, since the P34 was the only car in the field using the tiny front tires, Goodyear focused its development efforts elsewhere. And you can't win without good tires, so that was that.
Lotus 79
When it raced: 1978 to 1979
I won't bore you with terms like Venturi tunnels, but just know that Lotus boss Colin Chapman was a firm believer in aerodynamics, and his race cars were always cutting edge. This is the car with which Mario Andretti took the championship, in no small part because it was virtually glued to the ground at high speed.
McLaren M7C
When it raced: 1969 (for the Guillotine wing)
The late 1960s were an exciting time in Formula One, as the cars had just started to sprout wings. Eventually, engineers realized that placing the wings higher meant they'd work better. Then, almost inevitably, someone wondered what would happen if you put another wing on the car, right over the front wheels. The practice was ultimately banned because it was frightening -- you get one guess why the M7C is sometimes called "the Guillotine."
Brabham BT46
When it raced: 1978
See that fan in the back? It's "technically" to cool the radiators, but what it really does is suck air out from under the car, literally vacuuming it to the ground. It only raced once -- and won -- before being withdrawn for reasons of F1 politics. But the car's designer, Gordon Murray, eventually went on to design the McLaren F1.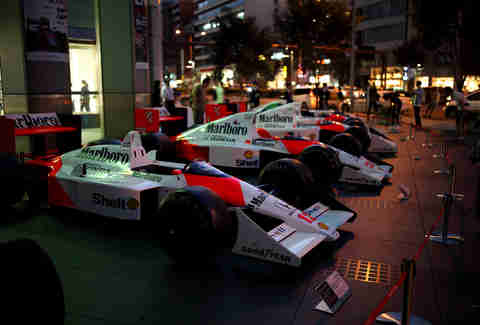 McLaren MP4/4
When it raced: 1988
It's hard to overstate the coolness of the MP4/4. Honestly I get goosebumps typing the name sometimes. In the course of achieving levels of domination previously unheard of in F1, it was the iconic red and white weapon of the great battles between Ayrton Senna and Alain Prost. As the pair came one race from sweeping the entire season, the MP4/4 made sure they looked good doing it.