The Most Underrated American Muscle Cars of All Time
"In my journey to the end of night, I must rely not only on dialectical paths of reason. I must have a good solid automobile, one that eschews the futile trappings of worldly ennui and asks only for basic maintenance. My Dodge Dart offers me this elemental solace, and as interior parts fall off I am struck by the realization of their pointlessness. I might not know if the window is up or down. It is of no consequence." -- Jean-Paul Sartre
It's a damn shame when very special cars are forgotten over time, lost in the shadow cast by their many mediocre brethren; J-P Sartre's philosophic waxing about the awful Dodge Dart, for example, did no favors for several of its legitimately fantastic variants. Others are simply unappreciated in their time, collateral damage from marketing that missed the mark, while some are too-soon condemned to cancellation by a changing economy.
This is for them: the muscle cars that haven't (yet) gotten their full due praise. You might be able to debate what constitutes a muscle car, but any one of these would rightly take a prideful place in a collector's garage.
Years: 1964-1965, 1969-1970, 2003-2004
The Marauder has come and gone in three distinctly different generations, but each time it had one common denominator: a stealthy attitude toward power that was borderline sinister. The first and second generations came with optional 427 cid and 429 cid V8s, while the third came with virtually the same engine as a 2003 Mach 1 Mustang.
Years: 1964-1967
The 2+2 began life as an option package on the full-sized Catalina before becoming its own car a couple years later, but it didn't last very long. It was huge, significantly larger than its legendary smaller brother, the GTO, at a time when pony cars like the 2+2's other sibling, the Firebird, dominated the market. Still, with up to a 375 hp, 428 cid V8 under the hood, the 2+2 was no joke.
Years: 1968-1971
Technically, the fastest iteration of the Torino wasn't officially called Torino Cobra until 1969, but the 429 Cobra Jet engine came out on April 1st, 1968. This is the car that went toe-to-toe with the famed Superbird for NASCAR superiority, and especially in its 1968 and 1969 guise, it kind of embodies everything great about the muscle car era.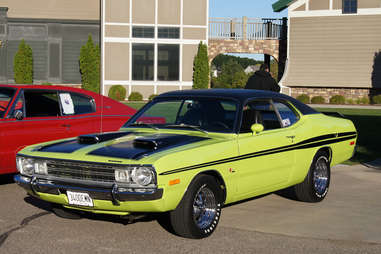 Years: 1968-76 (all three combined)
It's easy to forget that Dodge made some pretty amazing Darts at one point. Top of the heap was actually a super-limited run of Hemi Darts, which were produced as street legal drag racers, and for which you had to know the right option code when ordering (L023). For cars you could realistically buy off a dealership's lot back in the day, the Dart Swinger and Demon deserve a spot in the hall of fame for naming practices. The Swinger was quick in its own right, but it was replaced as top Dart in 1972 by the Demon -- which according to legend was originally slated to be called the "Beaver" until someone explained the concept of double entendre to the good folks at Dodge.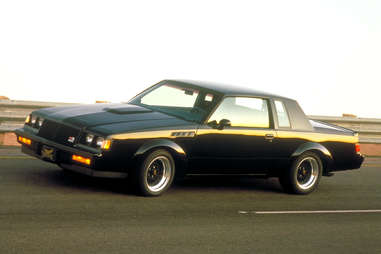 Year: 1987
The Grand National eXperimental almost didn't make this list because it's finally starting to get the respect it deserves, but for years there were some who questioned if it could really be counted as a muscle car. If you're not familiar with the car affectionately referred to as "Darth Vader's car," in lieu of an oversized V8, there's a turbocharged V6 under the hood featuring heavy modifications prescribed by McLaren (as in, McLaren, McLaren). Officially listed at "only" 245hp, in reality it's just a fraction slower to 60mph than a 2016 Mustang GT. Considering it's nearly 30 years old, that's not bad.
Years: 1966, 1968-1969
Let's keep this simple, shall we? 425hp. 427 cid V8. Two doors. Why does that matter? Because the entire car was simple. The Biscayne was a no-frills affair, which kept it relatively light compared to other cars in its category. Translation: when ordered with the top engine available, it had some quickness to it.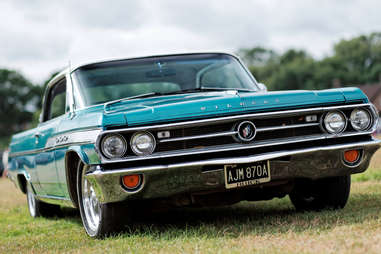 Years: 1970-1971
In the beginning, the Cyclone was merely a beautification package for the Comet, but by 1969, Cyclone meant you got a 335hp 428 under the hood. By 1970, the Cyclone was its own car, with an optional performance package called "Spoiler," which, among other things, gave you a 375hp Super Cobra Jet 429 dedicated to destroying tires.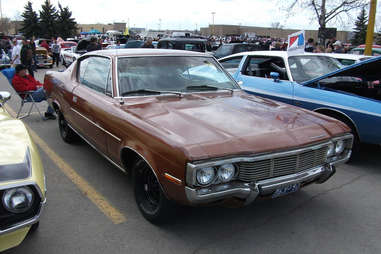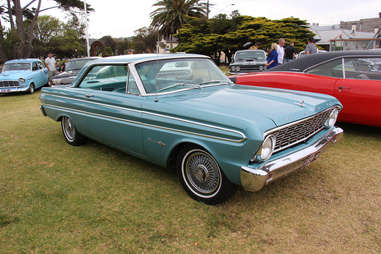 Years: 1964-1965
Sometimes fate can be cruel, and that was certainly the case with the Falcon Sprint. When the Mustang debuted using the second generation Falcon's underpinnings and rewrote the sales record books, Falcon sorta began a gentle descent into its eventual cancellation. It didn't go without a fight though: the Sprint package included heavy duty springs and the same V8 from its pony car offspring -- and it was cheaper, too. Buyers didn't care, though, at least not enough to buy it great numbers. By 1970, Falcon was gone from the American market entirely, and was built purely as an Australian car that you might recognize from a certain film series about an angry man named Max.
Want more of the world's best Cars delivered straight to your inbox? Click here to sign up for our daily email.
Aaron Miller is the Cars editor for Thrillist, and can be found on Twitter. He's proud of himself for not making any jokes about grabbing a Swinger's keys out of a bowl until just now.