The Story of the Ford GT40, Told by 25 Rare Photos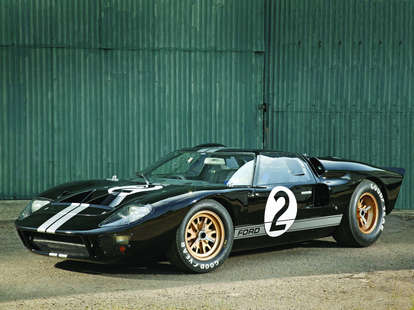 Courtesy of Ford
Courtesy of Ford
There's not really another car as emotionally charged as the GT40. It was born out of intense hatred between two industry titans -- Henry Ford II and Enzo Ferrari -- and refined with the help of an Enzo-hating Carroll Shelby, who once famously quipped, "Next year, Ferrari's ass is mine." The program demonstrated the very best of American might, and with the sort of intense development rivaled only by the space race, the GT40 dominated the world's finest race cars and became an enduring American icon.
With the newest Ford GT set to hit the world's race tracks 50 years after the original's dominating 1966 season, we hit Ford's archives and found a slew of rarely seen images from the 1960s that really hammer home the incredible story of the GT40. They all show how, in Henry Ford III's words, the car is "exploding with emotion."
Enjoy.
For the uninitiated, the GT40's background lies in a bitter feud between Henry Ford II and Enzo Ferrari, stemming from a dispute over the control of Ferrari's racing team during negotiations for Ford's (ultimately unsuccessful) purchase bid.
Henry II was hell-bent on hitting Ferrari where it would hurt the most: beating his race cars in the most prestigious races in the world. After searching for an appropriate racing partner, Ford paired with English racing legend Lola, which had a promising race car already in development.
There were only two examples of the car, and it's not like engineers could just email CAD data in 1964, so one of the cars was quickly loaded onto a plane and flown across the Atlantic so that Ford's engineers could take a look. They signed off on the car, and it went right back on the plane back to Europe so it could take part in practice sessions for the 24 Hours of Le Mans.
To put this photo into a little perspective, it was taken in New York on April 16th, 1964. The very next day, the Mustang debuted at the world's fair.
The engine in those first cars was a de-stroked (smaller) variant of Ford's famous 289 cid V8, and it put out 350hp. That was pretty good for back then -- today, that level of power is barely even newsworthy from cars costing less than $40,000.
By the time the season began, it was ready to compete. This is the GT40 going through pre-race inspection ahead of its very first competition, at the infamous Nurburgring in 1964.
The drivers involved were top notch, to say the least. This is American Formula One World Champion Phil Hill going around the outside of a Shelby Cobra during that first race.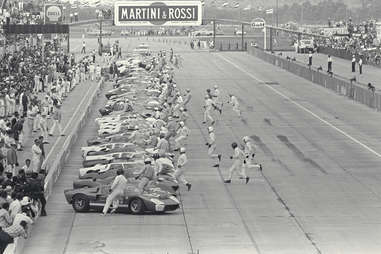 While the car showed some promise in that first year, it was largely unsuccessful, due to reliability issues.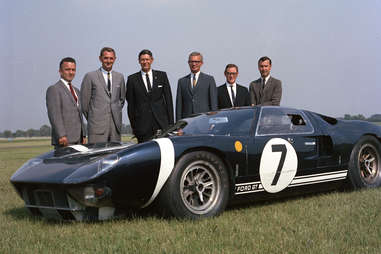 Good looks don't count for anything in motorsports, so near the end of 1964, Carroll Shelby (not shown) was brought in to work with the team's engineers and get the car in shape.
Success under Shelby was both immediate and short lived, with a victory to start the season at Daytona, followed by... well, disappointment.
1966, though, would prove a little bit different, and ultimately it wound up as one of the most legendary years in motorsport any car has ever had.
Shelby's contributions weren't small. The car -- which had previously been somewhat unstable above 180mph -- went into a wind tunnel for testing, and its ultimate shape was right at the bleeding edge of the day's technology. Combined with a much larger 7-liter engine for that year, 200mph was easily attainable.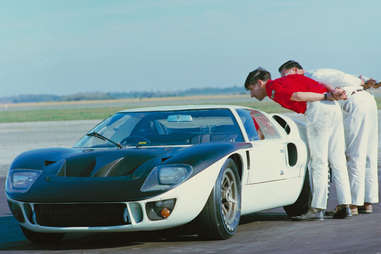 And of course, the car saw plenty of testing in the off-season, to make sure it was ready for the 1966 season.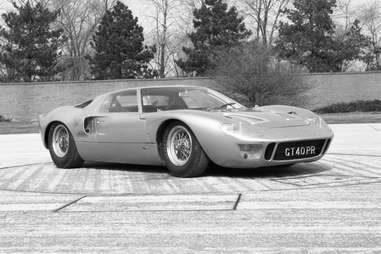 Simultaneously, Ford's engineers back in Dearborn were preparing a street version of the car. A few of them actually saw the light of day, too, but it sadly never went into production.
Following a pair of utterly dominant victories in America, where it finished 1-2-3 at both Daytona and Sebring, it was off to France for its now-famous date with destiny.
Only it wasn't some seamless coronation. You've no doubt seen this photo, since it's one of the most famous shots of any race car. In it, you have three GT40s crossing the finish line to claim a 1-2-3 finish at Le Mans, accomplishing Ford's and Shelby's dream of kicking Ferrari's ass. Controversy ensued, though, since the race was decided by total distance, which meant the black car on the left had traveled about 60ft farther.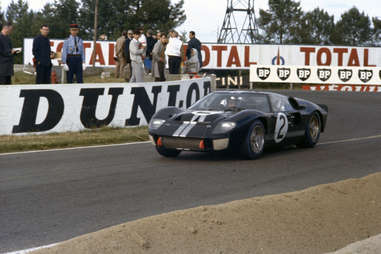 Ultimately, that meant that this car, co-driven by Chris Amon and Bruce McLaren (as in, McLaren, McLaren), went into the history books.
At the same time in 1966, work was underway to develop a newer, even faster, and 100% American version of the GT40. This is it in the wind tunnel; it featured advanced lightweight construction techniques and experimental aerodynamic shapes.
Sadly, both of those are considered contributing factors in the crash that claimed the life of Ken Miles, the driver who finished second at Le Mans just weeks earlier.
As a result of that crash, Ford and Shelby added a heavy, but effective, roll cage, a fairly radical step, since this was still in an era when safety was usually an afterthought.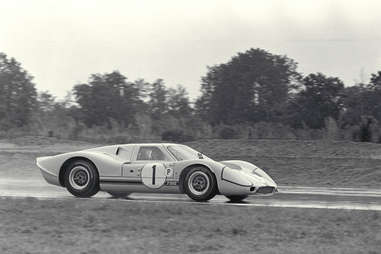 The resulting Mk IV GT40 only raced twice: this photo shows the car en route to a win at Sebring with Mario Andretti and Bruce McLaren sharing the driving duties. At the other race, Le Mans, Andretti had a major crash but was virtually unscathed, thanks largely to that roll cage.
The 1967 win at Le Mans was a big deal for several reasons. With the Mk IV having been designed and built 100% in America, and with American drivers Dan Gurney and AJ Foyt behind the wheel, it became the first all-American combination to win the race outright.
Then, at the end of the race, an understandably joyous Gurney shook up his Champagne and began spraying it everywhere, thus starting the now-ubiquitous celebration tradition.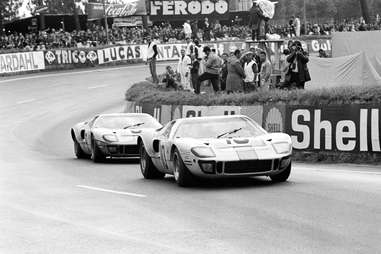 Ford's point was made, and combined with rule changes that meant the Mk IV would be illegal for 1968, the company handed the program off. The now-privately run GT40s reverted to their original Mk I configuration and won again in 1968 and 1969, and in so doing established one more legend.
They competed in the orange and blue livery of Gulf Oil, a color scheme that would be a first ballot hall-of-famer if there was a hall of fame for color schemes. Of note -- the same team switched to Porsches for 1970, since GT40s were by then six years old and had no more factory development support. This is why Gulf featured so heavily in Steve McQueen's Le Mans.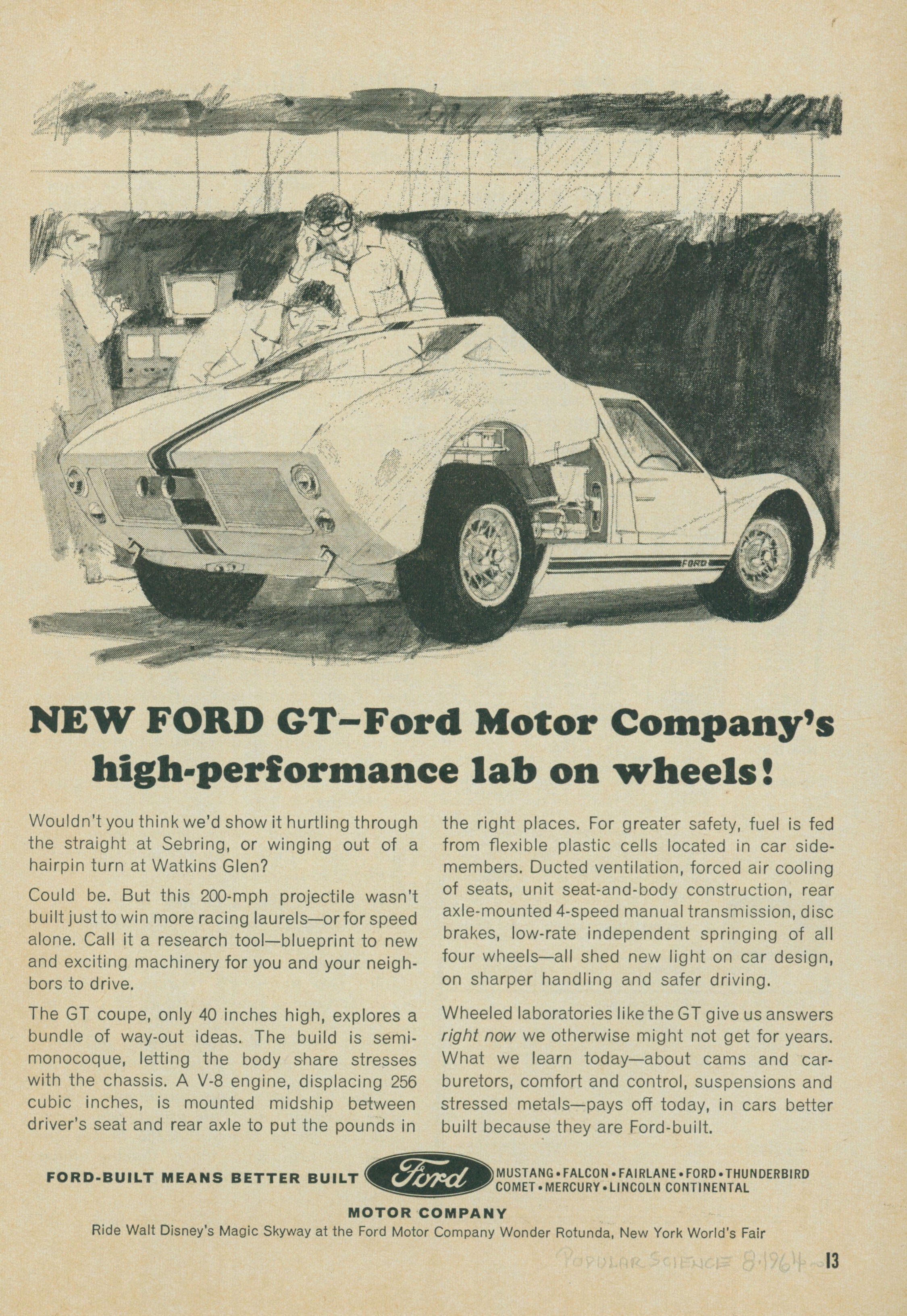 Thinking about the car in its historical perspective is interesting. Ford used it as a mobile research tool, and certainly enjoyed the fabulous publicity that came with beating its Italian enemy.
When Ford produced the "new" Ford GT in 2005, it wasn't built to race, but it was every bit as much of a mobile lab. A decade later, some of the aluminum chassis manufacturing techniques developed for this car are now employed in the F-150, which is why you see all those "military-grade aluminum frame" commercials during football games.
That mobile-lab philosophy continues today with the current GT. There's so much tech in this car, from its extensive use of carbon fiber, to an amazing airflow route through the inside of the flying buttress in the rear, to a newly developed glass that's 30% lighter and significantly stronger than anything you'll find on a car today. Like its predecessors, this will all trickle down in due course.
But first, the GT has more racing to do...
Want more of the world's best Cars delivered straight to your inbox? Click here to sign up for our daily email.
Aaron Miller is the Cars editor for Thrillist, and can be found on Twitter. He just spent a bunch of time chatting with the guys who created the newest GT; stay tuned for some really cool content in 2016.