The Toyota Tacoma's 21st Birthday Party was Better than Yours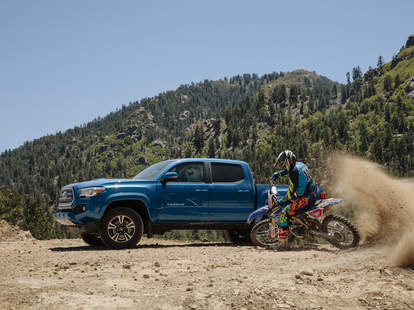 Your 21st birthday is a right of passage. Like losing a tooth or earning your first scar… which were all very real possibilities at the Toyota Tacoma's 21st birthday party, an event called Hotel Tacoma. The bacchanal took place in the Hualapai Mountains of northwest Arizona, and over the course of the weekend, I ripped a Tacoma through mountainous terrain, partied with multiple Olympic gold medal winners, watched 960lbs of meat get cooked, and went on a cliffside Can-Am ride that left me caked in a healthy layer of dirt and adrenaline.
The cause for such a celebration? The 2016 Tacoma, which for the first time in 10 years, has received a commendable upgrade: a 3.5 liter V6 with a direct injection system and a six speed automatic transmission. Translation: more power from the engine -- 278 HP to be exact -- and improved transmission control.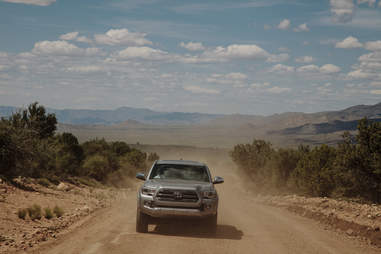 Courtesy of Toyota
When I first stepped into the 2016 Tacoma, I'd be lying if I said I wasn't immediately impressed. The interior was sleek and modern, yet maintained the typical degree of functionality you've come to expect from Toyota (not a lot of fancy bells and whistles… aside from the brand new moonroof, which was dope). However, it was the truck's capabilities and performance I was most interested in -- I wanted to see how that new powertrain held up in the Hualapai mountains on an off-road trail chock full of sandpits and rattlesnakes.
Teaming up with Drew Bezanson (a pro BMX rider, who does impossibly rad stuff that defies my basic understanding of physics), I hopped in the driver's seat and slammed on the gas. The truck was tremendously responsive, and I always felt in complete control -- even when opening it up to drift through a few precarious turns that left no shortage of racing stripes (read: long scratches) along both sides of the vehicle. The truck's tweaked suspension -- the old Tacoma's suspension, while basic, was perfectly fine, so Toyota didn't feel the need to get fancy -- was surprisingly responsive over the rocky terrain. The JBL sound system, which featured a subwoofer behind the back seat, kept the adrenaline flowing as we naturally bumped everything from 2Chainz to Slayer. If this truck were an album it would be "Reign in Fun."
Courtesy of Toyota
Later that afternoon I ended up at the fairgrounds with a couple pros from Nitro Circus, riding dirt bikes and doing a damn fine job of not completely wrecking myself. After ripping around for half an hour or so, I looked up and saw a Tacoma drifting across the horizon, leaving what looked like a sandstorm following in its tracks. I had to get in on this.
Although I wasn't allowed to drive, sitting shotgun and watching while the driver (a professional drifter whose name I unfortunately forgot) expertly whipped the wheel and threw the e-brake was still an insane experience. No less than 10 times did I think we were going to flip this truck… and no less than 10 times was I proven wrong (see above re: tweaked suspension). Slayer's "Black Magic" played on.
That's the point of the Tacoma: it's a pickup made for pure enjoyment, fun and play. It wasn't made for surly ranchers hauling around trailers filled with barn animals and/or livestock and/or Mumford & Sons -- although, if you're wondering, it's capable of towing up to 6,800 lbs. It was made for the adventurer: the weekend warrior who doesn't need a full size, but something reasonable that will haul around their gear as they go play around on the trails for the afternoon. It's one of those vehicles that opens up doors to adventures you couldn't take otherwise.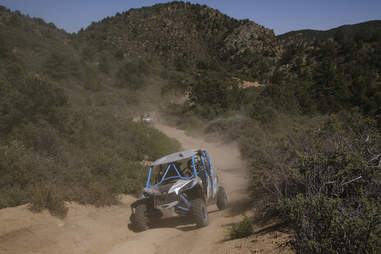 Courtesy of Toyota
The next morning, after a gallon of coffee and eating my weight in eggs and bacon, it was time to hit the Can-Ams. I partnered up with Brad Oberhofer (lead singer of the band Oberhofer… who you should give a listen to) and jumped in a 2-seater Commander.
"You ready?" I asked Brad.
"I guess so. I've never ridden in one of these before," he replied. I nodded, told him we're about to get dirty, and then drove off a cliff.
Wait… no… and then drove off on a trail adjacent to a cliff. If you've never had the pleasure of ripping around in a Can-Am, the experience is akin to driving a go kart… that's lifted… with incredible suspension, four-wheel drive, and the ability to literally drive over anything in its path. At one point, we might have even driven over another Can-Am. I really don't know, it was super dusty.
Courtesy of Toyota
At night, assortments of meat were passed around and conversations with professional athletes, like Elena Hight and Anastasia Ashley, about double-backflips and other tricks I couldn't do echoed off the mountains and into the valley. Our last night there, Oberhofer put on one hell of a show, we devoured suckling pig, were treated to a bourbon tasting, and tried to make s'mores by the fire that was entirely too big to make s'mores by (I burned off ⅓ of my eyebrow). Behind us, 28 beautiful, brand new 2016 Tacomas slept with the moon glinting off their hoods.
Happy birthday, Tacoma. You throw one hell of a party.