Paid Content For
Honda Civic
Thrillist, JackThreads, and Honda Reimagined the Driving Shoe
Paid Content For
Honda Civic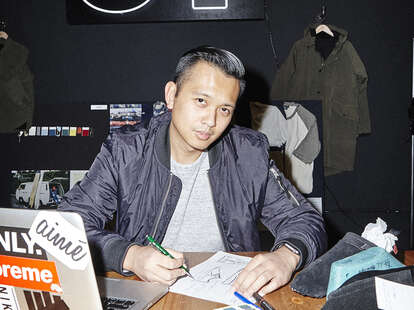 Before 1963, when it came to driving shoes, form and function were not married, or even seriously dating. People who cared about both wore plain, studded slip-ons for driving, and carried a second, more stylish option, for when they reached their destination. Then Italian shoemaker Gianni Mostile added rubber plugs to the soles of a pair of elegante moccasins, and suddenly driving shoes were no longer too heinous to do anything else in besides drive.
Of course, life in and outside the car has come a long way over the past 53 years, so we got together with JackThreads footwear master Michael Vincent to reinvent the driving shoe for today's sneaker aficionado. Inspired by the all-new redesigned Honda Civic, we're elevating the basic functionality of the driving shoe, and giving it a style that says "Okay, it's time to acknowledge that we've entered a new millennium."
"We wanted to create a shoe that's unlike anything we've seen before -- something sleek, cool, luxe, and futuristic, but also functional behind the wheel and on the street," says Vincent.
The shoe features the pragmatic and visually pleasing benefits of a clean, simple, multi-layered upper, with premium athletic materials. That means breathable materials like perforated suede, Neoprene, and soft pebble grain leather, and a magnetic closure.
The design was officially unveiled last night at the HT3 Kickoff event, and is available for sale on JackThreads. Car not included.