Cars You Should Know: The Shelby GT500, aka 'Eleanor'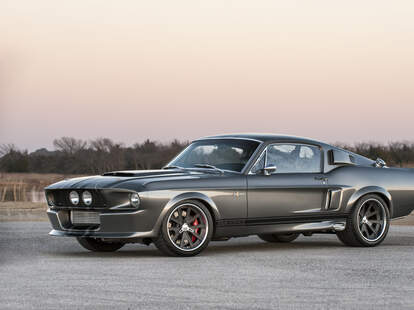 Unless you've been living under a rock since, well, before you were born, you should know what this car is. It's Eleanor, or rather, a replica Eleanor, built from an officially licensed Shelby GT500. It might seem self-evidently badass. Make no mistake, the car so perfectly embodies the essence of badass that the people behind it -- from Classic Recreations -- might as well have a masters degree in the field. But its righteousness is far beyond skin deep. Here's why we love it.
 
It draws on Shelby's iconic motorsport heritage
It's hard to exemplify the essence of the American fighting spirit more than Carroll Shelby. He went from poor Texan chicken farmer to automotive demigod on the heels of talent, showmanship, and a successful vendetta against one of Europe's racing royalty, Enzo Ferrari. The first Shelby Mustang was the GT350, which went on to have plenty of racing success, both domestically and abroad. Then came the GT500-KR, which was never intended for serious racing duty, but rather to be the King of the Road. It also didn't look all that much like the Eleanor that you see here.
Classic Recreations
The original Eleanor wasn't even a Shelby
You probably know that Eleanor was the GT500 hero car's name in Gone in Sixty Seconds, but that's not where the name originated. Eleanor was the hero car in the original Gone in 60 Seconds -- the 1974 we-don't-need-no-special-effects version -- but that car was a Mach 1, not a Shelby. Incidentally, the chase scene in that original movie was so epic that the writer-slash-director-slash-stunt driver literally died trying to film it's even more over-the-top (and never-released) sequel.
It wasn't until the infinitely flashier Jerry Bruckheimer/Nicolas Cage version that Eleanor made the transition from Mach 1 to GT500 superstardom.
 
It's actually more true to a real Shelby than a restoration
Bruckheimer wasn't about to film a movie with any old "boring" car, no matter how much legitimate racing heritage it had. Thus, a trio of real GT500s went under the proverbial knife, taking on a much more modern and stylized look in the process. In an odd way, that almost made the car more original. See, back in the day, Shelbys were basically hot rods, precursors to what today would be called "tuner" cars. They were Mustangs that were properly souped up and came with their own certificates of authenticity, and the Bruckheimer-era Eleanor took that same concept and applied it right back on the Shelby.
Classic Recreations
And that brings us to why this Eleanor is so cool
The car's formal name is the Classic Recreations Shelby GT500CR 900S, and it started out as a Mustang that was allowed (by Shelby American) to be upgraded to Shelby specs, then, (like Eleanor to the GT500, and like the GT500 to the Mustang), the GT500CR was souped up. A lot.
Modern suspension and brakes help keep it somewhat safe, so long as you're not completely indiscriminate about your application of the nearly 800hp, 427cid V8 laying in wait beneath the hood. It's not cheap -- prices start at $219,000 before you get into a slew of options, several of which are in the five-figure range on their own -- but for a souped-up version of a souped-up version of a souped-up version of an American icon, that's kind of a steal.
Want more of the world's best Cars delivered straight to your inbox? Click here to sign up for our daily email.
Aaron Miller is the Cars editor for Thrillist, and can be found on Twitter. He first saw one of these in person nearly a decade ago in Oklahoma. It was sexy.