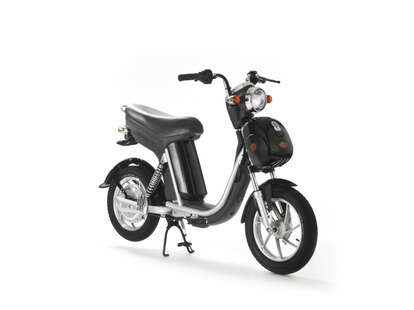 Two-wheelers may be convenient, but each has its drawback -- motorcycles necessitate a license, bikes require physical effort, and getting a moped pretty much means you'll have to choose between riding fat chicks or keeping your bizarrely voyeuristic friends. Bringing you the best of all worlds: FlyKly.
A new, city-ready, dual-wheeled whip designed to solve the issues typically associated with other similar modes of transpo, the FlyKly has a gas-saving lithium-ion battery that goes 1000mi on $1 of electricity, tops out at 20mph (so no license needed), comes with pedals so you can skip traffic using bike lanes, and seats two without needing pegs, which're just lazily waiting around for everything to come back to them. Coming in two distinct models, the Modern leans more towards the traditional moped look, with a digital control panel, a more vertical body with a built-in standard head light & car-like blinkers, and an external hook that would make for a great Blues Traveler joke if it weren't for those damn pegs holds bags, groceries, etc. Rocking exposed suspensions and wheel guards like an urban dirt bike, The Vintage, meanwhile, has traditional gauges on its dash, an external circular headlamp that sits like the unblinking eye of Sauron between curved steel handlebars, '50s-style chrome blinkers protruding from the sides, and, for storage, a tiny locker, which you can fill up with Nerds. Delicious, candied Nerds.
Through July they'll be at the Openhouse Gallery in Nolita, where you can check out the goods, grab a coffee, and even take one out for a joyride, which it'll surely be when your friends see you on it and don't make you stop riding fat chicks.