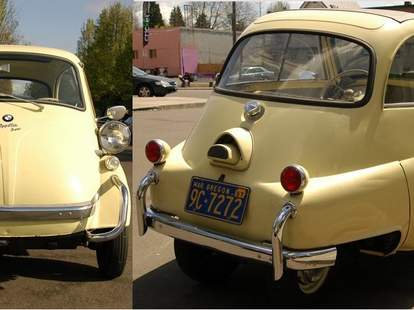 The problem with parking in Portland is that it can be hell to find a spot, it's expensive, and frankly, chicks never want to neck in the back of a Prius after being anointed your best girl at the sock hop. For some parking sure to get your blood pumping, hit Old Parked Cars
A collaboration between two motor-minded brothers, OPC's an obsessive blog wordlessly documenting the aged/parked automotive awesomeness scattered through PDX via doting photos of rides ranging from a ridiculously clown-car-ish 1957 BMW Isetta 300 to a recently posted 1966 Suburban Carryall, previously known as "Mom". Some exclusive insights on being a car spotter
1965 MK1 British Ford Cortina GT Saloon: "The caliber of classic I never thought I'd see in person, let alone parked in my neighborhood. I took lap after lap around the car, and it still stands as my single best car photographing experience. I had never wanted so badly to remember every stunning detail, from the exquisite lines to the text on the original tail lenses" -- why is this car wearing Rick Springfield's night sunglasses?!

1982 Alfa Romeo GTV6 Balocco: "Stumbling on this car instantly brought back memories of a mysterious, exotic, and loud pizza delivery car that I never seemed able to catch up with in my previous neighborhood in Clayton, Missouri. The car is one of 350 built for racing homologation, and Alfa is rumored to have lost thousands on every one they built", something the makers of the Titanic totally understand

1982 Mercury Lynx GL 5-Door Hatchback: "I had shot an '86 Lynx hatchback, and I learned that there was an even earlier generation of the car that was visually even uglier. When I happened upon this one I was absolutely floored by the tri-tone paint, the awkward, wagonesque body style, the intactness of trim pieces, and the straight, un-dented panels," which finally no longer describes the Hall of Fame selection committee

The OPC updates daily (often with two posts), and they also accept submissions from readers, who likely have very little Insight on how to get laid in a car.