Cedar Point Unveils Coaster with World's 'Tallest' & 'Fastest' Drop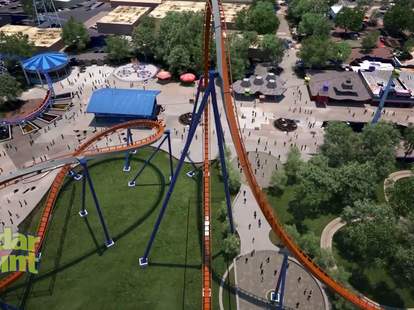 Hold on to your lunch, everyone. Cedar Point announced Wednesday it's building a terrifying new roller coaster it claims will boast the world's tallest, fastest, and longest drop.
Specifically, the beastly scream machine, or Valravn, will plummet riders down a 223ft, 90-degree drop at speeds of 75mph and through three inversions, according to Cedar Point. But before the signature giant drop, the coaster will pause at the top of the lift hill for a few seconds, you know, just in case you haven't already peed your pants.
Here's a video simulation of the ride:
 
Valravn POV

Uncaged in 2016, Valravn will be the TALLEST, FASTEST and LONGEST dive coaster in the world! Swoop 223 feet down the 90-degree drop, free falling at speeds up to 75mph through three inversions. This coaster will dramatically change up the skyline in 2016 at the Roller Coaster Capital of the World!® Take a virtual ride below. #CP2016 #Valravn

Posted by Cedar Point on Wednesday, September 9, 2015
The insane new ride will open at the Sandusky, OH amusement park sometime next year, which gives you plenty of time to work up the courage. Or, at least to digest your lunch first.
Sign up here for our daily Thrillist email, and get your fix of the best in food/drink/fun.
Tony Merevick is Cities News Editor at Thrillist and needs to ride more roller coasters like right now. Send news tips to news@thrillist.com and follow him on Twitter @tonymerevick.