Celeb Chef Michael Mina Opens Globally Inspired Restaurant Inside a Swanky New Fitness Club
The Michelin-starred chef brings a worldly perspective to clean eating with the debut of Mother Tongue, a stylish new rooftop restaurant in West Hollywood.
Published on 7/14/2022 at 3:03 PM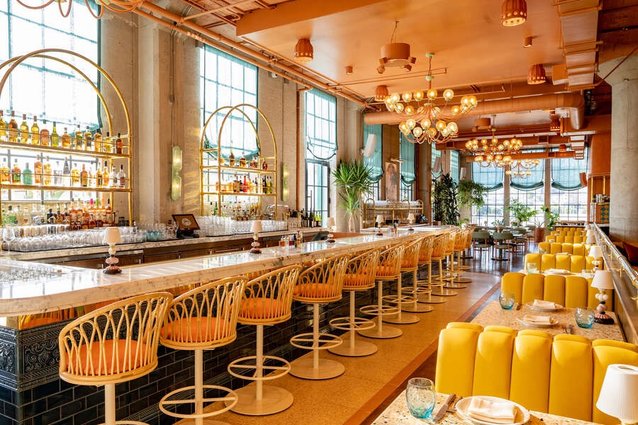 Mother Tongue | Photo by Angelo Clinton
LA is a city of extremes—you'll find raw, plant-based eateries situated next to extravagant dining dens, but rarely do the two concepts meet. That's poised to change thanks to Mother Tongue, the latest restaurant from renowned chef Michael Mina that just opened inside a brand-new fitness club concept and seeks to change the way diners define healthy fare.
Upon entering HEIMAT, you'll immediately understand why the 75,000-square-foot, five-story space is not referred to as a gym. The German word describes the feeling of when your heart feels at home in a place, and the members-only club, which positions itself as "the world's first concept fitness club," hopes to create that comfort with a comprehensive approach to wellness. Members can enjoy an array of fitness classes including cycling, barre, bootcamp, dance cardio, yoga, Reformer Pilates, and more; custom weight and circuit training machines from gym80; a rooftop pool, jacuzzi, and cabanas; a boutique spa with a full range of treatments; a coworking and event space on the top floor; and even valet parking.
Larb | Photo by Angelo Clinton
While HEIMAT membership requires individual approval and a $350 monthly fee, Mother Tongue is the one aspect of the club that's open to all via a dedicated elevator that takes guests directly to the fourth-floor restaurant. Designed by Swedish architect Martin Brudnizki, the dining room is striking yet inviting, with sparkling art deco details and pops of warm yellow and wood tones that offer a welcome contrast to Weho's typically dim and moody haunts. The covered terrace features a coral and turquoise color palette that evokes the Mediterranean, anchored by a central bar and fire pit, with the picturesque Hollywood Hills providing an iconic backdrop.
When Michelin-starred chef Michael Mina was approached with the idea of setting up a restaurant in a fitness club, he knew he didn't want a menu filled with grilled chicken breast and steamed broccoli. "We wanted to think outside the box and create something that would be a natural fit with HEIMAT, but also unexpected and not the traditional "health food" approach," he says.
Striped Bass Moqueca Baiana | Photo by Reuben Mourad
Striped Bass Moqueca Baiana | Photo by Reuben Mourad
The result is a menu that places emphasis on local, high-quality ingredients that boast as many nutritional benefits as they do flavors. "People often think that healthier fare requires you to sacrifice flavor or technique and they're not sure they are going to walk away 100% satisfied and wowed—I think it's just the opposite here," Mina brags.
Helmed by executive chef Fernando Darin, the omnivore- and vegan-friendly menu might seem erratic at first glance, but it's only a reflection of the breadth of clientele the restaurant aims to serve. For example, the Jidori Chicken Noodle Soup is an elevated hybrid of the traditional American comfort meal and Maultaschen, a traditional Bavarian dumpling soup, but instead of pork or veal, you'll find Jidori chicken in the German egg dough dumplings. Other large-format dishes of note include a Brazilian-inspired moqueca stew with Pacifico striped bass and Transparent Sea shrimp in a spicy coconut broth, and Roasted Peking Duck Breast with beets, bing cherries, and hazelnut dukkah, plus shareables you'll want to keep to yourself, like Chilled Peruvian Bay Scallops with passion fruit and hearts of palm, and Shiitake Mushroom Larb, a Loatian dish with toasted rice and crushed tofu. Just in case you're having trouble narrowing down your selection, a key is included at the bottom of the menu that identifies the wellness notations of each dish.
That said, Mother Tongue is not a restaurant where you should skip dessert. You'll find the same global perspective front and center in dishes like MT Carrot Cake Pudding with Gajar Ka Halwa, Sicilian pistachios, and cardamom cream, and Black Forest Trifle with Amatika chocolate crémeux, sumac and hibiscus gelee, spelt flour almond crumble, and cherry foam. The menu even gives a special nod to the Golden State with the inclusion of Harry's Berries Strawberries in a cashew and organic berry panna cotta.
Farmer Crudite and Spreads | Photo by Reuben Mourad
Desserts | Photo by Reuben Mourad
The cocktail menu takes similar inspiration, reinterpreting the classics with ingredients from around the world, like Nikka Days, which blends Avua Cachaca, campari, pineapple, lime, and coconut tincture, and Strange Magic with Japanese whisky, inferno bitters, lime, pineapple gum, curry leaf, and coconut tincture. Chef Mina even adds his own spirits into the mix with Deep Space, which features MINA Single Barrel Rye by Rare Character, rum, coffee, amaro, and Miracle Mile-toasted pecan bitters. The wine program highlights natural wines alongside classic varietals, and you'll also find a list of local beers, hard seltzers, and hard kombuchas on offer. Non-drinkers can choose from a selection of hot or sparkling, cold-brewed teas.
With our long-promised Roaring '20s now in full swing, Mother Tongue disrupts an outdated approach toward clean eating with a new, global perspective that puts eschews restriction in favor of high-end nourishment.
Mother Tongue is open for dinner service Monday through Sunday from 5 pm to 10 pm. Reservations can be made online.
Reuben Mourad is a Los Angeles based food and travel journalist, who more often than not, isn't actually in Los Angeles - but traveling the world, eating instead. Check out what's on his plate on Instagram @reubenmourad.