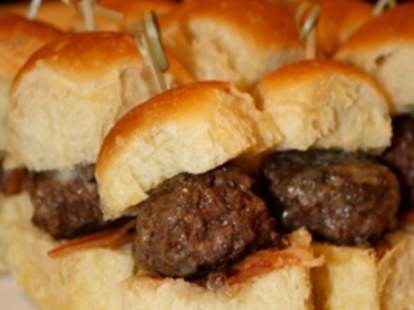 As upsetting as it can be, we all must inevitably grow up, except for Toys 'R Us kids, cause those mofos straight party. To enjoy the benefits of something growing up, hit Tavern on Broad.
Better known for catering to raucous fans at its ballpark bar and original NoLibs spot, McFadden's has transformed the subterranean digs last occupied by JL Sullivan's into a more refined version of their typical sports-spots, a 38-flatscreen-equipped affair with rose and chestnut walls enclosing a 400-seat dining area, a 30-stool bar, four classily semi-private rooms, and a "Jim Beam Nook" in the back with a pool table and Beam everything (for hi-beams, just turn down the thermostat). Bar offerings're relatively extensive, with dishes ranging from seafood bites like Kung Pao calamari, salt-roasted shrimp w/ scampi dip, and crab-stuffed jalapeno fritters w/ honey vinegar sauce, to meatier options including cowboy flatbread w/ flank steak & lemon pepper dressing; filet mignon sliders w/ caramelized onions & bleu cheese; and ribeye tacos w/ horseradish cheddar & onion jam -- and if they're the pearl kind, look out Ticketmaster! The combined lunch/dinner menu's big on sandwiches, like smoked pulled pork in honey BBQ w/ fried onions, grilled mahi-mahi w/ chili lime, and a choice of two 1/2 lb burgers, classic or wagyu beef w/ 5x onion salsa, while entrées include meatloaf w/ brown sage butter; rigatoni Bolognese w/ veal, pork, & beef; and "All crab" cake, which you also enjoyed at your 21st birthday party at the Lake Havasu Señor Frog's.
RSVP for tomorrow's Grand Opening shindig for 1/2 price well drinks and free apps from 5-8, as well as all-night $3 Miller Lites and $5 Three Olives shots or cocktails -- all of which you can currently find Geoffrey the Giraffe sucking down as he gets all Huffy.