A worldly Italian joint hits LA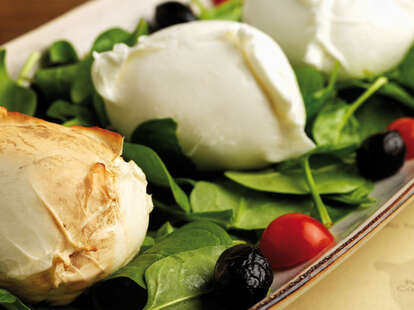 Globetrotting's got its perks: the excitement of landing in new places, immersing yourself in foreign cultures, and legally pulling down a dude's shorts while playfully dribbling around him, though really that's only in Thailand. Touching down in LA after seeing the world: Obika Mozzarella Bar.
Landing Wednesday in Century City after opening up 13 international locations (including spots in Rome, London, NY, Tokyo, and Kuwait City), Obika's a cozy Italian cafe centered around a long, lightwood bar sporting decorative glass-crystal ingredient containers, though not Dark Crystal ones, as nothing can contain a Gelfling's shard-lust. Thrice-weekly from-The-Boot dairy deliveries enable authentic cheesiness like smoked affumicata, creamy stracciatella di burrata, and delicate classica (all avail as tasting), served alongside meats (from prosciutto crudo to felino salame), or in oven-roasted specialty rolls with either ham and radicchio, bresaola and arugula, or smoked wild Alaskan salmon, which Joe Francis'll film spawning despite it being too young to keep. Fuller, non-cheese plates include apps like a warm crostini with spicy sausage pate from Calabria, and entrees like homemade spinach ravioli and bresaola beef carppaccio with arugula and shaved parmigiano reggiano, which's totally convinced itself it looks bigger now.
Dranks-wise, they've got Italian beers and a Tuscany/Campania/Sicily-heavy wine list that's tasty but super small, qualities that'd make for a poor Globetrotter, unless he's pulling his behind-the-back moves in Bangkok.