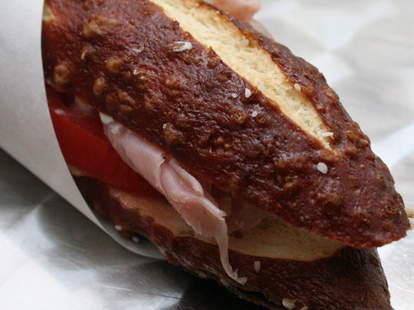 Having a claim to fame's a mixed blessing: embrace it unwisely, and you're Rick Astley, or embrace it wisely and...actually, you're still kinda Rick Astley. For a restaurant who's wisely done the same, check out The Point.
The Point's a new, bright low-profile cafe on a industrial stretch of National, with exposed-brick walls and precariously-stacked wine towers from the previously highfalutin' chef/owners of Campanile, with a menu that picks from the best of that bistro's beloved long-running weekly Grilled Cheese Nights, or, as you knew them in college, nights. Food's available to pick-up or eat-in at a couple tables, with the menu squarely focused on sandwiches; options include cold classics like a caprese w/ fresh mozzarella, arugula, basil, and olive tapenade on a rustic roll, and ham 'n provolone w/ horseradish cream on a pretzel bread bun, as well as hot items like the aforementioned grilled cheese (gruyere/marinated onion/whole grain mustard on sourdough) and the salami/capicolla/mortadella/prosciutto/cherry pepper/provolone Autostrada, not the ErikEstrada, because it doesn't come with CHiPs. In addition, they're also doing up breakfast 'witches (fried egg and creamed spinach w/ roasted mushrooms and provolone on sourdough or corn rye), as well as fresh-made deli salads like a confit of albacore tuna, fire roasted piquillo peppers, and baba ghanoush, which you always thought was just called "Eastern Wasteland".
The Point's also got bottles of wine for in-house or to-go, and are expanding to delivery sometime in the next month, serving both the 5 mile radius around the joint and also Century City, because they'd never want to give you up, never gonna let you down, never gonna run around, and pwn you!