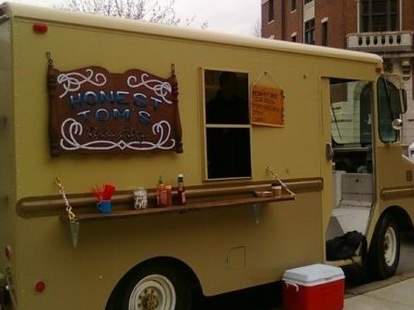 Block parties sound great, but the sad reality is they're generally the kind of thing that only children find appealing, meaning it'll take forever to get a unicorn painted on your cheek. Raising the block party bar, Bloktoberfest.
Taking over the 2000 block of Christian Street Saturday, Blok's delivering eight blessed hours of craft brew/food truck-fueled festivities, complete with nonstop live music from Philly's favorite sons and daughters, all in the name of raising a few bucks to help preserve the Shiloh Baptist Church, the block's historical landmark designed in 1868 by famed architect Frank Furness, who was always extremely forthright about burning his business associates. A 10-spot gets you a cup and three tickets, each good for a fill-up from any of the seven craft breweries pouring 14 varieties of beer (which're $3/pop after that), like Left Hand Swtooth Ale, Bell's Two Hearted Ale, several takes on the Blok-appropriate Octoberfest (Blue Point, Lancaster, Stoudts, Sly Fox), plus Flying Dog Snake Dog IPA and their In-Heat Wheat, so if you strike out with actual guests, at least your beer'll be down for some fun. Foodwise, a fleet of trucks'll be slingin' vittles including Caribbean dishes like oxtail stew and fried fish platters from Denise's Soul Food; tandoori and tikka platters from South Street's Indian staple, Lovash; a choice of tacos between the creations that Honest Tom's tops w/ its signature guac/salsa mix; and shells stuffed w/ more esoteric eats like Southern BBQ and sweet Thai coconut from newcomer Coup de Taco, which'll depose your previous Mexican street food favorite and barricade itself in your heart.
Music'll be provided by four local acts who've all seen some national touring action as of late: Adam Arcuragi, Major Leagues, Paper Monster, Love Language, exactly the kind of communication you were hoping to elicit with that unicorn in the first place.