The iTie Private Collection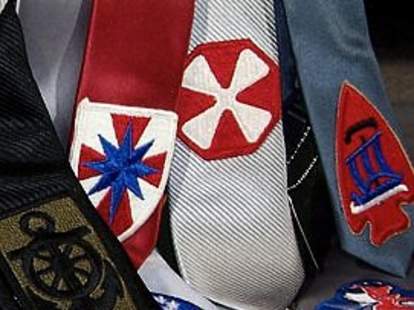 Throughout the years, many have tried to turn the tie into something more proud than an emblem of being dominated by a guy with an even nicer tie. Imply that you're going to kill that man, with the iTie Private Collection.
From the guy behind the Billy Mays-endorsed, iPod concealing iTie, this brand new, crazy-limited line features authentic Military badges sewn onto top-quality silk neckwear, each backed with a detailed history lesson on the respective insignia (strangely cool, given that the only thing you like less than history lessons is ties). Badges come from the founder's super-secret source called the "Internet", with the current 14 including a vintage exploding star 8th Army Field Support Command insignia on a crimson tie; a blue & white standard WWII Air Force Staff Sergeant patch on navy; and a silver tie with a winged biker chick silhouette repping the volunteer group of WWII pilots who flew shark-face-painted aircrafts after Pearl Harbor, named the Flying Tigers "Hell's Angels", which somehow beat out the original "Awesome Shark-Face Guys". Most ties come in skinny and wide versions, all with the original iTie's patented hidden pocket that fits anything from iPod Nanos, to business cards, to firecrackers; each's also fitted with a 2-button fastening strip that keeps your tie securely pinned against your shirt, so you'll just have to throw your entire shirt over your shoulder when you piss.
Each tie/badge combo's limited to 10 pieces, and're rolled out slowly; a portion of each tie's profits go to the Folds of Honor foundation, supporting families of fallen soldiers. Some of the more-limited batches come with iTie-branded dog tags -- helping to identify your broken body when you tangle with a tie even more murderous than yours.