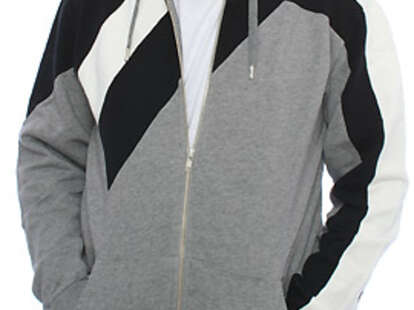 Street Gear:WeSC Warehouse SaleThrough tomorrow at 11099 S La Cienega Blvd, Mid-Wilshire; 310.670.5190 This Swedish streetwear company's blasting 45-80% off jackets, denim, tees, and headphones, because not everyone wants to listen to your Ace of Base. A slew of their gear is at WESC.com
Casual Gear:Live on 9th Sample SaleThrough tomorrow at 200 E 9th St, Downtown Take 50-70% off jeans from Seven7, button-ups from Justin Timberlake's William Rast, and way-soft blank tees from Superdry, which won't be by the time you make it back to your car. Because you're fat, and sweat.
All Sortsa Gear:Multi-Designer Sample SaleTomorrow at 2900 Rowena Ave, Silverlake Pound free Colt 45 and tacos while nabbing 50-90% off 20+ designers' steez, including sneakers from New Balance, PF Flyers, and Sneaky Steve, leather and fleece jackets from Mike & Chris, plus hoodies and button-ups from Brown Sound, who should really be stocking backup underwear.
New & Old Gear:Milkmade'Til Tuesday at: 1413 Abbot Kinney, Venice; 310.581.8890 Buy anything from this Venice boutique's winter sales rack (w/ Trovata coats, House of Cassette jeans, and Spindle and Canister cardigans already marked down 50-60%) and the store'll also give you 20% off new gear from select designers, like Endovanera, Corpus, and Operations, who will make loud buzzing noises and rattle you fiercely when you try to remove their clumsily funny bone. More on the store at Milkmade.eu
Fundraiser Gear: Sup for a Pup Tomorrow at 864 W 16th St, Newport Beach This fundraiser for the dog-rescue nonprofit A Wish for Animals offers up to 80% off on boards from SurfTech, shades from Kaenon Polarized, and sandals from OluKai, as well as on-site puppy adoptions, because your new sandals aren't going to devour themselves. All the brands and more details are at SupForAPup.com
Dress-up Gear:EM Productions Overstock and Sample SaleToday and Tomorrow at 1608 N Las Palmas, Hollywood; 323.644.2684 This showroom's giving you 80% off suits from Wayne Hadley, blazers and slacks from the redundantly named label Kozmetique Label, and graphic tees from Santeria, which feature snakes and banditos, but ain't got no crystal balls.
Pocket Gear:Bang Bang Draw!Tonight 7-10 at Poketo: 510 S Hewitt St, Downtown Artsy wallets-and-more outfit Poketo's throwing a bash with free live tunes from art-rockers My Space Holiday, food from Urth, beer from Sapporo, and 20%-50% off already-inexpensive wallets, tees, mugs, and plates...yes, you heard that right, mofo: plates!!! All the info's at Poketo.com
Rocker Gear:Riot TuxedoThrough Sunday In honor of Earth Day, take $10 off any of this rock-inspired teeshirtery's organic selections, with eclectic offerings including a retro-looking punk rocker smoking a butt with the text "I was a teenage delinquent", and a number with two Indian warriors called "Peyote Ritual", an owl sporting a gas mask, who's thinking: "Give a hoot, don't break the Geneva convention prohibition of chemical warfare". Get yer gear at RiotTuxedo.com