The answers to your Flag Day shenanigans questions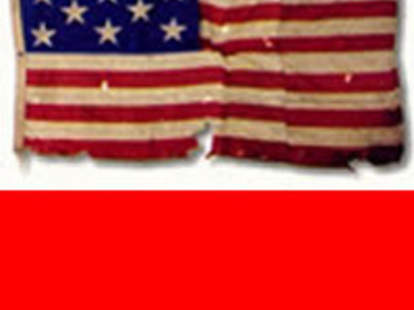 The day you've been waiting for has finally arrived: Tomorrow is Flag Day. Get some rest tonight, because things are going to get crazy. You have Flag Day questions, Thrillist has answers
What am I celebrating? Flag Day is when we commemorate our 1777 adoption of the Stars and Stripes. The idea was conceived in 1885 by Wisconsin schoolteacher B.J. Cigrand. Despite his awful name, his holiday has become our favorite mid-June patriotic celebration
How should I observe?
Take the day off work: Love for your country demands it.
Show your pride: The Flag Day Parade starts at noon in City Hall Park. Attach dozens of tiny flags to your bike. Strap on a boom box and cruise shirtless, blasting "Coming To America" while tossing back tallboy after tallboy of delicious American beer.
Make your own flag: Obtain material from the pile of tube tops and other clothing left by women fleeing your apartment after discovering how ugly you are in daylight. Using your safety scissors and a stapler, do your best to make something vaguely flag-like. It will of course be terrible, but then again so were many of the women whose clothes went into it, so everything's cool.
Where should I celebrate? The parade ends at the historic Fraunces Tavern (54 Pearl Street, $3 draughts from 4-6pm). Or try The Patriot, on Chambers and Church. It's a dive, but they've got pitchers for $5.50 -- lifesaving prices if you've already spent most of your money on flags
Where do I buy my flag? Purchase your flag at Ace Banner & Flag*. Afterwards, drape yourself in Old Glory, and show the world that B.J. was right after all: when you've got patriotism, you don't need pants.
*Ace Banner & Flag: 212-620-9111
Bring this writeup to Ace for 10% off American flags through Flag Day.