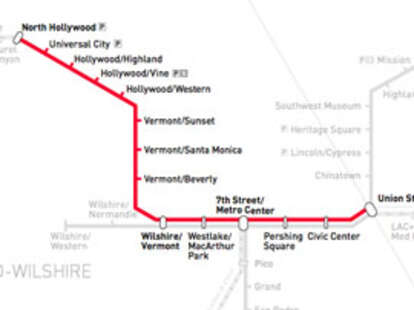 LA barhopping sucks: take your car, and risk DUI, or take the subway, and discover both that we have a subway, and that it stops running before last call. Or at least it did: starting tomorrow, the Red Line from North Hollywood to Downtown's running every 20 minutes, 'til 3am on weekends through the end of the year. Here're some suggestions for each stop -- with the exception of Vermont/Beverly and MacArthur Park/Westlake, where getting off the train risks certain death and, worse, probable thirst:
Union Station (Alameda & Cesar Chavez): The Mountain (425 Gin Ling Way); Redwood (316 W 2nd St): The Mountain's high-ceilinged, artistically-designed lounge is hidden behind an unmarked Chinatown door, while the Redwood's pirate decor (skull & crossbones behind the bar, fishing-net curtains) is backed up with $3 well cocktails if you show your subway pass -- free if you menace them with a cutlass
Civic Center (Hill & 1st): Edison (108 W 2nd St); La Cita (336 S Hill): Hit the easy-speaking Edison on Friday before 7pm for their 35c drink specials, or dress down for the frenetically lit La Cita, site of a recent surprise Jane's Addiction show ("surprise! give me heroin")
Pershing Square (4th & Olive): Library Bar (630 W 6th St); 7 Grand (515 W 7th St): Grab a burger from the Library's new food menu before heading to the whiskey haven 7 Grand for booze and pool; flash your Metro card to get $1 off any drink, or flash it 10 times to get in a fight with a jackalope
7th St/Metro Center (7th and Flower): Golden Gopher (417 W 8th St); Broadway Bar (830 W Broadway): Owned by the 7 Grand dude, both the divey Gopher and the two story BB'll also be scratching $1 off booze for pass-flashers.
Wilshire/Vermont:R Bar (3331 W 8th St): This saloonish dive hosts surprise performances from mostly-great local bands (like recent Neil Young tourmates Everest), with free admission to those armed with their password, currently "I Like Chemicals" -- indiscriminate access for both the savvy, and the most general of drug fanciers.
Vermont/Santa Monica: Little Temple (4519 Santa Monica); 4100 Bar (4100 Sunset Blvd): Lounge out at the Eastern-themed 4100, or hit Little Temple for DJs spinning underground hip-hop -- which will instantly become overground hip-hop just by you listening to it
Vermont/Sunset: Good Luck Bar (1514 Hillhurst); Cheetahs (4600 Hollywood Blvd): Right between Silverlake and Los Feliz, this stop boasts a ton of walking-distance options, including the China-themed pickup spot The Good Luck Bar and the charmingly divey strip joint Cheetahs, where the only pickup is bills between breasts
Hollywood/Western: Jumbo's Clown Room (5153 Hollywood Blvd); Blu Monkey Lounge (5521 Hollywood Blvd): Take your pick from Blu Monkey's Moroccan-themed lounge or Jumbo's Clown Room -- the tassel-and-bikini-bottom no-cover strip club that gave Courtney Love her start, and might yet give her her end.
Hollywood/Vine:Bowery (6268 Sunset); Blue Palms Brewhouse (6124 Hollywood Blvd): Beer it up with Palms's 24 taps, or go bottles at the tiny, NY-themed Bowery, which stocks Delirium Tremens, Chimay, and brews from Lost Abbey.
Hollywood/Highland: The Pig 'N Whistle (6714 Hollywood Blvd); uWink (inside Hollywood and Highland): The multitude of bars here range from spots where you'd be likely to spot your grandfather (British pub The Pig 'N Whistle, est'd 1927) and your ADD-addled nephew (the be-videogame'd uWink)
Universal City (Universal Terrace Parkway & Lankershim): Universal Bar & Grill (4093 Lankershim); The Casting Office (3575 Cahuenga): Mention Thrillist at Universal and get in free for karaoke (Fri) or bands (Sat), or head to the divey Casting Office for their ping pong table, and to sleep your way into a role as "Slut Friend #3"
North Hollywood (Chandler & Lankershim): Skinny's Lounge (4923 Lankershim); The Good Nite (10721 Burbank): Dress a little nice (button up shirt, not-too-baggy-pants) and print this email to bypass Skinny's $5 cover, or enjoy The Good Nite's 80s music and in-house stripper pole. You'll be dancing with yourself, making everyone else Dr. Feelbad.