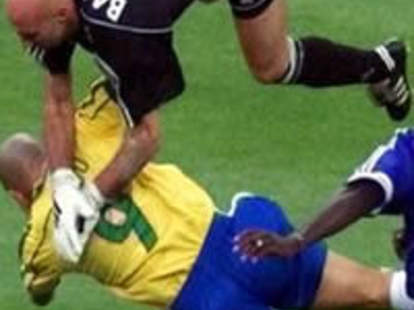 The World Cup starts tomorrow. Cure your American soccer apathy by day-drinking amidst screaming nationalistic "football" fanatics. Instead of standing in the street outside footie-central Nevada Smith's, here are some spots to watch the Cup with the natives:
England:Manchester Pub920 2nd Ave, between 49th and 50th; 212.935.8901 The MP's proximity to the UN building allows for convenient taunting of losing teams' diplomats.
Germany:Loreley7 Rivington St, between Bowery and Chrystie; 212.253.7077 Since Zum Schneider's already sold out their German match "tickets", go here to see Sunday's game vs. Poland, whom ze Germans are predicted to easily dispatch in 19 days.
Sweden:Good World Bar & Grill3 Orchard St, between Canal and Division; 212.925.9975
Poland:The Europa Club98-104 Meserole St, at Manhattan Ave, Brooklyn; 718.383.5723 During halftime, this surreal Polish nightclub will reactivate their strobe lights and smoke machines for a quick "Soccer's Fun, Let's Disco!" party.
France:Jolie Restaurant320 Atlantic Ave, between Hoyt and Smith, Brooklyn; 718.488.0777 Jolie will roll a projection screen into their garden for France's matches against Switzerland, and lovable former colony Togo.
Spain:La Nacional239 W 14th St, between 7th and 8th; 212.243.9308
Croatia:Scorpio Café & Restaurant3515 Broadway, at 35th, Astoria; 718.956.8233 If you thought all Eastern Europeans were chain-smoking Toni Kukoc look-alikes, you were right -- you'll barely be able to see the Croats try to best their 1998 3rd place finish in what's rumored to be the smokiest bar in NYC.
Australia:Sunburnt Cow137 Ave C, between 8th and 9th; 212.529.0005 The Cow's game day deal: a $10 breakfast buffet for Australia's 9am opener (morning's first beer included), and a $25, 2hr open bar for matches starting at less Australian drinking times.
Argentina:Novecento343 W. Broadway, between Grand and Broome; 212.925.4706
Netherlands:Tonic Bar727 7th Ave, between 48th and 49th; 212.382.1059 The Dutch apparently aren't cool enough to have their own bar, so NYC's "Netherlands Club" will be watching at this overly-inclusive bar.
Italy:No. 2828 Carmine, between Bleecker & Bedford; 212.463.9653 Space is limited, and the crowd will hate you for taking a spot away from someone who actually cares about soccer. So get there really early.
Serbia & Montenegro:Café Bar36th St & 34st Ave, Astoria; 718.204.5273
Brazil + Portugal:Girl From Ipanema252 W 14th St, between 7th and 8th; 212.807.0150 Hit GFI to see the Passing of The Ronaldo Torch: from Brazil's 30yr-old Ronaldo to Portugal's 21yr-old Cristiano Ronaldo, a.k.a. "Ronaldo".
Trinidad & Tobago:Mangoville187-30 Jamaica Ave, at Hollis, Queens; 718.468.4100 The official home of T&T's American boosters -- the Cup's most optimistic fans, as not since Cool Runnings has a Caribbean squad been given worse odds to win.
Ukraine:Blue & Gold Tavern79 E 7th St, between 1st and 2nd; 212.473.8918
USA:Stout133 W 33rd St, between 7th and Broadway; 212.629.6191 This enormous bar's got tons of TVs, 22 beers on tap, and almost no Europeans to rain on your parade for thinking the US has a chance in hell of beating Italy.
Africa:Le Dakar Restaurant285 Grand Ave, between Roebling and Havermeyer, Brooklyn 718.398.8900 Senegal didn't make this Cup's cut, so Le Dakar's showing matches for the five African nations that did -- a bandwagon that, given the quality of most of those clubs, should be hopped off quickly, before it gets eaten by lions.
Czech Republic:Koliba31-11 23rd Ave, at 31st, Astoria; 718.626.0430
Cote D'Ivoire:Les Enfants Terribles37 Canal St, at Ludlow; 212.777.7518 Team name: 'Des Elefants. Team motto: "Cote D'Ivoire will stomp your ass."