Chef Daniel Boulud Debuts a Vibey New Bistro Inside the Beekman Hotel
The restaurant is an homage to his hometown of Lyon in France and resides in a building that opened the same year as the Brooklyn Bridge.
Published on 5/11/2022 at 5:30 PM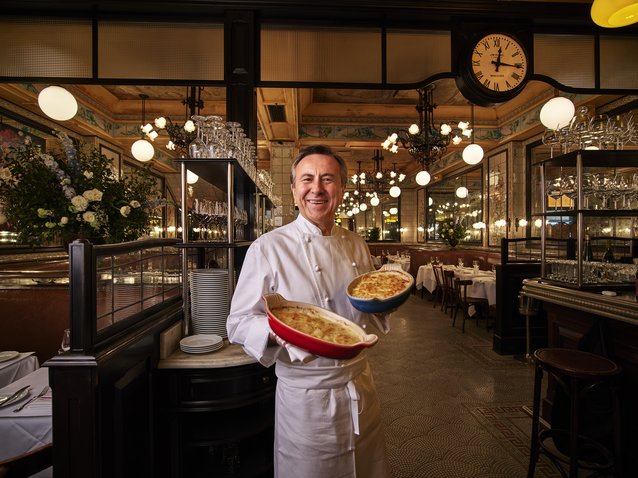 Portrait of award-winning Chef and Restauranteur Daniel Boulud | Photo by Bill Milne
When it comes to French cuisine and fine dining in NYC, award-winning chef and restaurateur Daniel Boulud remains at the top of the game.
Since opening his eponymous white-tablecloth establishment DANIEL in 1993 and launching The Dinex Group—which currently includes local spots like the casual bistro Bar Boulud, Mediterranean-inspired Boulud Sud, bakeries Épicerie Boulud, the seafood-focused Le Pavillion, and more—Boulud continues to inspire new generations of hungry Francophiles with the opening of his latest restaurant, Le Gratin.
As an homage to his hometown of Lyon, France, Le Gratin stands out in Boulud's expansive portfolio of eateries. Along with translating into "who's who" in French, not only is the venture inspired by memories of his mother's gratin (food typically cooked in a shallow dish with a browned crust on top), but is also notable in its particular recognition to Lyonnaise cuisine and more specifically bouchons, which is a centuries-old type of restaurant born out of the city and known for featuring dishes made with local produce that are paired with regional wine.
Interior view of Le Gratin | Photo by Bill Milne
"Drawing upon inspiration from my family and upbringing in Lyon, this restaurant is a project that is very close to my heart," says Boulud. "Le Gratin is a special name for me, reminding me of many symbolic dishes from my childhood, overflowing with love and soul."
Located blocks away from the Brooklyn Bridge in Lower Manhattan, this new bouchon Lyonnais resides in the former ground floor space of Keith McNally's Augustine inside The Beekman, A Thompson Hotel (the original building was completed in 1883, the same year NYC's most iconic bridge opened).
Côte et Ris de Veau aux Morilles | Photo by Bill Milne
Côte et Ris de Veau aux Morilles | Photo by Bill Milne
The menu is helmed by executive chef Guillaume Ginther (DANIEL, Le Coq Rico Bistro), a native of Strasbourg, France, and features classic dishes from Boulud's upbringing with a seasonal approach. Highlights include signatures like the Quenelle de Brochet au Gratin (pike dumpling, gruyère-mushroom béchamel); Salade Lyonnaise (frisée Salad, chicken liver, crispy pork belly); and rotating monthly specials showcasing regional specialities like the Côte et Ris de Veau aux Morilles (veal chop, sweetbread, morel sauce) for May.
Kristyn Onasch, Executive Pastry Chef; Daniel Boulud, Chef and Restauranteur; Guillaume Ginther, Executive Chef | Photo by Bill Milne
The pastry program by executive pastry chef Kristyn Onasch (Boulud Sud) includes desserts like the Chou et Prune à la Crème (cream puff, roasted plum, chantilly) and Crème Caramel (chilled vanilla custard, caramel).
For drinks, there are over 100 wines originating from Lyon and its nearby areas, as well as a few bouchon-inspired cocktails from the region, classic cocktails, fortified wines, bitter liqueurs, aperitifs, and digestifs.
Le Gratin is open for dinner service. The Main Dining Room is open 5 pm-10 pm from Tuesday to Thursday, and until 10:30 pm on Fridays and Saturdays. The Bar is open 4 pm-10 pm from Tuesday to Thursday, and until 10:30 pm on Fridays and Saturdays. Reservations are available via Resy.
Tae Yoon is an editor at Thrillist. You can follow him on Instagram.